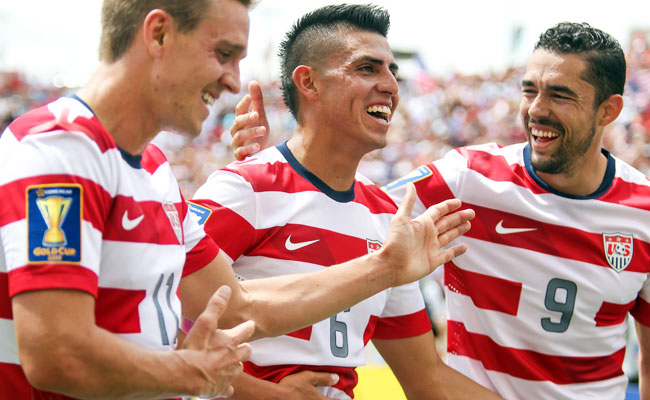 Stuart Holden did not play a single minute of the USMNT's goleada over El Salvador, which was presumably due to the fact that the previous match was the first time he played the full 90 minutes in several years.
With the Gold Cup semifinal against Honduras on the horizon, one would think that United States Men's National Team coach, Jürgen Klinsmann, would start or at least play Holden in that game.
Whether or not Klinsmann starts both Holden and Diskerud is anyone's guess.
As Kyle Beckerman is a Klinsmann favorite and the only defensive midfielder on the roster, the presumption is that Klinsmann will start Beckerman again. It will be interesting to see what Klinsmann decides to do with Mix Diskerud, Stuart Holden, Joe Benny Corona, José Torres, and Brek Shea vying for three spots.
It would be shocking if Klinsmann didn't start Kyle Beckerman, Landon Donovan, Joe Benny Corona, and Eddie Johnson as four of his Front Six. That leaves two spots open that likely would go to Diskerud and Holden as Donovan and Corona can both line up on the left or right with presumably Holden lining up next to Beckerman with Diskerud in a more advanced role.
Brek Shea might be somewhat unlikely to start due to his continued return to full health and fitness, but it wouldn't be surprising to see Torres start again, which would likely force Klinsmann to pick either Holden or Diskerud for the bench.
The semifinal against Honduras marks the addition of Omar Gonzalez to the roster presumably as a starting center back partner for Matt Besler, but then again, Eddie Johnson didn't start against El Salvador at striker, despite being called away from his club team in order to represent the United States. Therefore, maybe Klinsmann doesn't start Gonzalez.
The most likely back four that the coach of the United States will field for the start of the semifinal against Honduras is Michael Parkhurst at right back, Omar Gonzalez and Matt Besler at center back, and DaMarcus Beasley at left back.
With all of this in mind, who will Jürgen Klinsmann likely start?
Klinsmann could likely start this XI below (but perhaps with José Torres taking either Holden's or Diskerud's spot):
Nick RIMANDO; Michael PARKHURST, Omar GONZALEZ, Matt BESLER, DaMarcus BEASLEY; Kyle BECKERMAN; Stuart HOLDEN, Mix DISKERUD; Joe Benny CORONA; Eddie JOHNSON, Landon DONOVAN.
The USMNT XI that Klinsmann will use is certainly a tactically sound and reasonable line-up with three small caveats: 1.) Michael Orozco might just be a better center back than both Gonzalez and Besler; 2.) Orozco could likely fulfill Beckerman's midfield destroyer role better than Beckerman; 3.) Starting Brek Shea might put Honduras on their heels from the beginning of the game.
The concern with Beckerman is of course speed, agility, quickness, the ability to not mistime tackles, and of course the fact that Gonzalez and Besler have always been protected by some two-man combination of Michael Bradley, Jermaine Jones, Geoff Cameron, and Maurice Edu.
Beckerman cannot protect the gap between Besler and Gonzalez like those four defensive midfielders can.
Therefore, starting Michael Orozco allows the U.S. to have a player who alternates between playing as a midfield destroyer and a third center back for the entire game.
As a coach Jürgen Klinsmann has progressed in the balance and tactical acumen of his formations, but his player selection and ability to judge talent soon enough is still lacking.
During the Gold Cup, Klinsmann has improved as a coach because he's been using balanced line-ups that balance defensive coverage with attacking ability.
The line-up proposed above as something that Klinsmann might use against Honduras is balanced and essentially uses almost all of the best options that Klinsmann has on his roster at every position, however flawed that roster itself is.
It will be interesting to see if Klinsmann goes with Stuart Holden and Mix Diskerud in place of Kyle Beckerman, or if he plays some combination of the three.
If Klinsmann starts Clarence Goodson instead of Omar Gonzalez and Michael Orozco, then there can be a legitimate critique that Klinsmann didn't select the best partner for Matt Besler.
Then again, Gonzalez and Orozco as the center back tandem might prove to pay dividends.
There are three major foreseeable problems for the USMNT against Honduras.
First, Beckerman might be exposed as too slow to keep up with Honduras. Secondly, Klinsmann could start Chris Wondolowski over Eddie Johnson at striker. Thirdly, Michael Orozco might start on the bench as opposed to bringing speed and skill to either the center of the defense or to the midfield destroyer role.
Looking just at the players who the United States Men's National Team has to choose from on the Gold Cup roster, the U.S. just might be at full strength without Chris Wondolowski, Kyle Beckerman, or Clarence Goodson starting.
If Orozco is quick, strong on defense, and passes the ball well with both feet, then why does Beckerman need to start as the midfield destroyer, if Klinsmann could start Orozco just behind Holden and Diskerud?
Despite what Klinsmann might decide to do, World Soccer Source believes a strong starting line-up would be the following one below:
Nick RIMANDO; Michael PARKHURST, Omar GONZALEZ, Matt BESLER, DaMarcus BEASLEY; Michael OROZCO; Stuart HOLDEN, Mix DISKERUD; Joe Benny CORONA; Eddie JOHNSON, Landon DONOVAN.