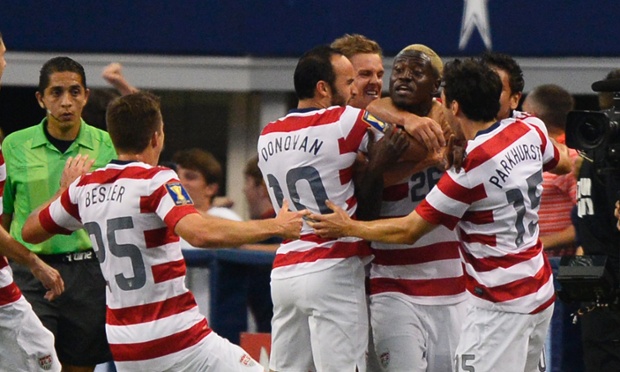 Evaluating the USMNT's progress during the Gold Cup presents some challenges mainly due to the changing starting line-ups and the differing skill level of various opponents.
Before defeating Honduras 3-1, the United States Men's National Team defeated El Salvador 5-1, and Honduras is a much stronger opponent.
Jürgen Klinsmann knew that Honduras was stronger than El Salvador, but based on his line-up, some of the player selections weren't consistent with this reality.
An important and improved starting line-up change that Klinsmann made was the use of Eddie Johnson at first-striker over Chris Wondolowski. Johnson's combination of skill and speed were on full-display on his well-taken goal that showed cool finishing, impressive athleticism, direct-to-goal play, and excellent movement off the ball to get open.
While the USMNT used a better striker in Eddie Johnson, the U.S. didn't start the best playmaker on the roster, Joe Benny Corona.
Surprisingly, Corona was not started against Honduras, but perhaps it was Klinsmann's plan to use him later in the game if needed.
Omar Gonzalez and Matt Besler have been the central back pairing of choice during recent World Cup qualifiers, and yet, Gonzalez didn't play one minute of the Gold Cup semifinal against Honduras, despite being called up to the roster after the group stage and missing the quarterfinal game so that he could participate in a club game.
Additionally, Mix Diskerud didn't start against Honduras despite also having one of the breakout performances of the Gold Cup for the United States.
Despite not starting Diskerud or Corona against Honduras, Klinsmann likely values the creativity and overall skill-set that Corona and Diskerud bring to the team more so they he did in the past.
In addition to the attacking play, scoring, and creativity, Corona provided a lot of tenacious and valuable defense to the USMNT, so it was surprising to see Corona not starting.
In hindsight, the coach of the United States either felt that it was important to give Diskerud and Corona some rest or he simply wanted to give important playing time and experience to both Bedoya and Holden.
Jürgen Klinsmann is a coach who is difficult to predict, but he has substituted well in this Gold Cup, even if some of his starting line-ups haven't looked to include some of his best options.
Against Honduras, Joe Benny Corona, Omar Gonzalez, Michael Orozco Fiscal, Brek Shea, and Mix Diskerud all didn't start, but they were available if Klinsmann needed them.
Clearly the coaching staff of the USMNT was confident in their Starting XI selections to face Honduras, and they ended up being correct in their belief that the 11 players that were selected to start had the tools to beat Honduras.
Looking back at the U.S.' victory over Honduras, one can see from the overall possession and the shots on goal that Honduras proved to be a much tougher opponent than El Salvador and others.
Many members of the American soccer media as well as many USMNT fans view critiques of the United States' play and tactics as inappropriate when the United States wins, but the purpose of critiquing Jürgen Klinsmann is to advocate for producing the best soccer possible out of the United States Men's National Team.
Based on the Honduras game, the exclusion of Joe Benny Corona from the starting line-up is giving Corona one less game to continue to build chemistry with players like Landon Donovan, Stuart Holden, Mix Diskerud (who didn't start), and Eddie Johnson.
While Alejandro Bedoya did well to set up two goals and to put lots of pressure on the defensive back four of Honduras, a playmaker like Corona is a player who clearly has an ability to create goals and score goals, which is on a level above that of Bedoya. The United States beat Honduras, but Klinsmann missed an opportunity to have Corona playing final balls for Eddie Johnson for an entire game.
The quality of the two goals that Corona scored in this Gold Cup were the types of goals that aren't very common from the United States Men's National team, and those goals combined with the smooth passing and creativity of Corona make him a superior player to Bedoya.
The USMNT needs playmakers in the upcoming World Cup qualifiers, and Corona is a skilled goal-scoring playmaker.
The purpose of the Gold Cup for the United States is of course to win it, but the other purpose is to see which players can be incorporated into the so-called "A Team" that participates in qualifiers and friendlies against strong international opponents.
When Clarence Goodson was repeatedly torched by Sebastian Giovinco of Italy in February of 2012, that was a reminder that the U.S. needs quicker center backs to shore up the defense. Therefore, excluding Michael Orozco from this game as a center back wasted an opportunity to get a look at Orozco starting with Matt Besler against one of the better CONCACAF opponents.
Frankly, Orozco and Besler are quicker and more-skilled than Goodson and Gonzalez, although Besler is somewhat one-footed.
The primary improvement for the United States during the Gold Cup is that the United States is passing the ball better in the Gold Cup with players like Landon Donovan, Stuart Holden, Michael Orozco, Mix Diskerud, Joe Benny Corona, and Michael Parkhurst playing, but, with the differing starting line-ups used, it's unclear what the best Starting XI is from this current group of 23 players.