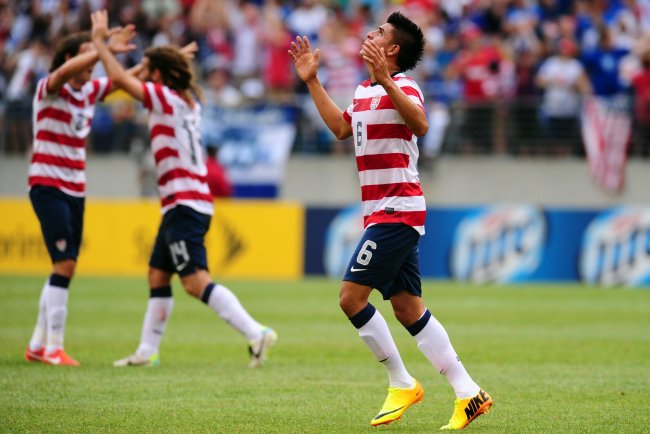 Suspended or not, Jürgen Klinsmann will be picking the USMNT's Starting XI, and he will discuss what substitutions he wants made in certain scenarios.
Klinsmann's USMNT Starting XI against Panama is anyone's guess, but one reality about the United States's Gold Cup roster is that many of the best players Klinsmann had at his disposal were snubbed from this roster.
Turning to the roster than Klinsmann does have, it is imperative that Klinsmann start Nick Rimando, Michael Parkhurst, DaMarcus Beasley, Stuart Holden, Mix Diskerud, Joe Benny Corona, Landon Donovan, and Eddie Johnson. The other three starting line-up spots are debatable.
Given Panama's skill and athleticism, the USMNT should fill the final three roster spots with Omar Gonzalez and Matt Besler at center back with Michael Orozco Fiscal starting as a combination of a midfield destroyer and a third center back.
In the semifinal, Joe Benny Corona, Mix Diskerud, Omar Gonzalez, Michael Orozco, and Brek Shea all started on the bench.
A strong argument could be made that all of those players should be starters in the Gold Cup final.
Of the four defenders making up the back line, Klinsmann will likely start Michael Parkhurst at right back, Matt Besler at left center back, and DaMarcus Beasley at left back. Based on previous USMNT XIs in the Gold Cup, the second center back to partner with Matt Besler could be one of three players: Omar Gonzalez, Clarence Goodson, or Michael Orozco Fiscal.
Although extremely unlikely, Klinsmann could elect to use three center backs and two wingbacks; it is technically possible.
Some of the U.S. coach's starting line-up selections have caught people off guard, and who knows what sort of formation Klinsmann will elect to use against Panama?
Unless the German coach of the United States gives some sort of hint about whom he is going to start at center back, the USMNT will likely use a defensive back four with Omar Gonzalez or Clarence Goodson partnering with Besler.
Panama's striker, Blas Perez, will cause the United States' defense problems, and Kyle Beckerman will lack the athleticism to prevent him from going at the center of the American defense.
Therefore, starting Michael Orozco and Matt Besler might be the best center back pairing the U.S. can use against a skilled and athletic Panamanian side, who will be fired up to win.
If Klinsmann is going to start Kyle Beckerman as a midfield destroyer in front of the back four, then the USMNT will need agile and skilled center backs to keep up with Panama's guile and athleticism.
Turning to the midfield and assuming that Kyle Beckerman is starting, the assumption has to be that Joe Benny Corona will return to the starting lineup to play behind Eddie Johnson and Landon Donovan, even if Donovan is listed as a central attacking midfielder or a winger on the official line-up.
As in other games in the Gold Cup, a decision has to be made about the final two roster spots in the midfield. Should the USMNT start Stuart Holden and Mix Diskerud just behind Corona, or should some other formation be used?
Klinsmann has been picking Holden or Diskerud to partner with Beckerman, but he has also started both of them together without Beckerman. In one game, he started both Diskerud and Holden, but he left Corona on the bench.
Since this is a final that the United States and Klinsmann desperately want to win, the wise decision would be to start Holden, Diskerud, Corona, Donovan, and Johnson.
This writer believes that Beckerman's lack of speed and quickness will be a liability against Blas Perez, but it's very unlikely that Klinsmann doesn't give Beckerman the start as the midfield destroyer lining up directly in front of the back four.
World Soccer Source believes the best Starting XI that the USMNT can use in the final is this line-up below:
Nick RIMANDO; Michael PARKHURST, Omar GONZALEZ, Matt BESLER, DaMarcus BEASLEY; Michael OROZCO; Stuart HOLDEN, Mix DISKERUD; Joe Benny CORONA; Eddie JOHNSON, Landon DONOVAN.
Despite this writer's opinion, Klinsmann will likely start Kyle Beckerman, who this writer believes will work out if both Holden and Diskerud start just in front of Beckerman and if Gonzalez or Orozco or both are starting at center back.
José Torres has had a strong tournament, but Klinsmann has been strategically resting Holden, Diskerud, and Corona throughout the tournament, which seems to indicate that he might be planning on starting all three in the final.
With the two caveats that Torres and Goodson might start in place of Gonzalez and Holden or Diskerud, World Soccer Source believes that Klinsmann will likely field the following Starting XI below:
RIMANDO; PARKHURST, GONZALEZ, BESLER, BEASLEY; BECKERMAN, HOLDEN; CORONA, DISKERUD, DONOVAN; JOHNSON.
On a hypothetical note, as Klinsmann has been known to not use his full strength line-ups when he said he would and as he has mysteriously omitted certain players from starting line-ups for no clear reason, there is a very, very remote possibility that Klinsmann could elect to use a line-up made up of a new combination of proven Gold Cup performers.
The reason for this deviation from previous line-ups would be to neutralize any game plan that Panama intends to employ in order to target certain players to attack or to focus on defensively with more than one marker.
In the line-up below, if Panama focused on double-marking Donovan, then Holden, Diskerud, Corona, or Johnson would always be open.
Additionally, in the line-up below, with Besler moved to left back the USMNT would have a better left-footed defender than Beasley patrolling the U.S.' left side of the field, plus Besler is also fast enough to play left back.
If Besler were used as a left back to provide speed and strong defense out wide, then the center of the midfield would be somewhat overloaded with players who excel at maintaining possession by passing and moving and using one-to-two touch passing to break down defenses with quick, incisive passes.
On the off chance that Klinsmann elected to really alter his usual Gold Cup tactics and formations, an example of an unlikely Starting XI would be the one below:
RIMANDO; PARKHURST, OROZCO, GONZALEZ, BESLER; BECKERMAN; HOLDEN, DISKERUD; CORONA; JOHNSON, DONOVAN.