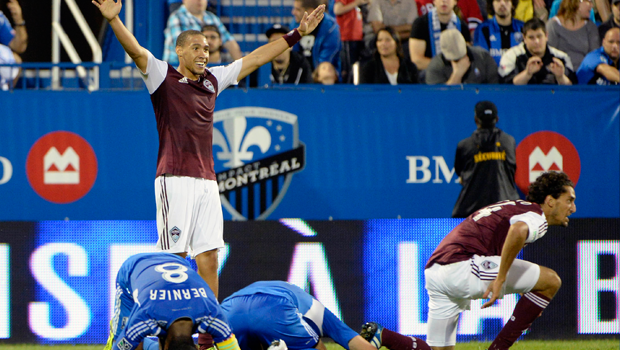 Chris Klute, even as a new name on the American soccer scene, is often over-simplified as a player whose game is primarily based on speed, but Klute uses his electrifying speed to make both his attacking and defending more effective.
They say that you can't teach speed, which is true, but thinking of Chris Klute as just a great athlete who brings world-class speed to the left back position overlooks his technical ability, his skill at breaking down opposition defenses with attacking forays and crosses, and also his ability to run down attackers and execute well-timed tackles.
Defensively, Klute does many things very well. He steers attackers out wide where they are somewhat cornered out along the sideline, but he also dispossesses attackers well whether it's by slidetackling or stripping attackers of the ball on his feet.
The Colorado Rapids' left back is also strong in the air. Klute times his headers well, and he has an outstanding vertical leap, which allows him to clear out balls played over the top or played into the box.
One additional thing that Klute excels at defensively is stopping attacks by the opposition by tracking back with such speed that he forces the opposition to slow down and regroup because his presence forces the opposition to stop and look to work the ball around, which allows Klute's teammates to get into position as they make their recovery runs.
In short, Klute's speed and recovery defense slows down and stops the attacking sequences and advances of the opposition.
Despite the fact that Klute is too often only praised for his speed, it is important to really emphasize just how fast he is and how smooth of a runner that he is.
This ability to run effortlessly for entire games with such speed is a real weapon to neutralize elite opponents who bring a devastating combination of skill and speed.
His speed also is a huge disruptive force for the opposition's midfield and defense. A player of Klute's speed blazing along the sideline or cutting in toward the middle of the field forces more defenders to participate in marking him, which of course means that his teammates are left unmarked.
All of these qualities outlined above signal a real chance for the United States Men's National Team to really use the outside back positions to not only defend well against quick and skillful opponents but also to attack opponents and break down their defensive formations.
All of the best national teams in the world rely on outside backs to provide width to their attack and speed along the flanks defensively, and Chris Klute allows the United States to begin to do this more so than it did in the past.
The main problem for any defender is people like to write them off if they are beaten or if they make a mistake, but all defenders at any level of the game are beaten with combination play, balls played in between defenders, or balls played over the top.
Mistakes happen because defenders are essentially backpedaling as attackers are running at them full speed, and people should learn to accept the reality that defenders will make mistakes and their teammates are supposed to cover for them.
Expecting Chris Klute or any other defender to never make a mistake or to never be beaten is unfair and unrealistic, as even the best outside backs in the world such as Marcelo, Daniel Alves, and Jodi Alba are frequently beaten. Good defenders frequently win the ball back when they are beaten, and Chris Klute also does this.
It's time for the United States Men's National Team to incorporate and use a left back like Chris Klute who gives the U.S. the type of outside back that much better soccer nations use to both attack from wide positions and to defend attackers out wide.
Many people will call it risky, but it's a risk worth taking. Beating top national teams and closing the gap with them requires using players with the physical gifts and skills to be able to compete and win when the talent goes up.
Chris Klute is inexperienced as an international soccer player, but there comes a time when a national team coach has to look at the players at his disposal and play the ones who have shown the capability of competing and impressing at the international level.
Rather than saying that Chris Klute is just one of the best options the United States Men's National Team has at a position that lacks depth, people should recognize the qualities that Klute brings that can't be taught.
Klute does a number of things well such as tackling, relentlessly running the sidelines, using both feet, and playing quality crosses into the box to specific targets, but anything that Klute needs to work on can be taught and improved with practice.
In general, a coach can't teach a player to use their speed to break down opponents and chase down opponents on defense, and more importantly, you can't teach someone to aggressively run at defenders at full speed over and over again. You also can't teach someone to be able to time slidetackles so that they are clean and graceful, even if they are hard tackles.
Chris Klute is definitely a left back who brings qualities to the table that the USMNT needs, and he can be coached to strengthen any areas of his game that need improvement.
Read more about Chris Klute and how he can fit in with the United States Men's National Team by clicking the links below:
http://www.worldsoccersource.com/chris-klute-best-us-left-back/
http://www.worldsoccersource.com/post-gold-cup-usmnt-xi/