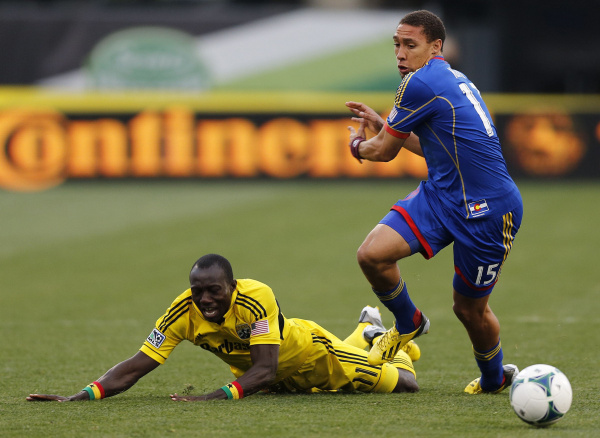 Recently, World Soccer Source examined a Front Six option that Jürgen Klinsmann could start for the USMNT to maximize what he learned from World Cup qualifying and the Gold Cup, but the defensive Back Four is still a big question mark.
In the Front Six, this writer advocated that the USMNT start Geoff Cameron as a midfield destroyer with Michael Bradley as more of the box-to-box variety of defensive midfielder with a line of three attacking midfielders in front of them: Landon Donovan, Joe Benny Corona, and Clint Dempsey.
To read that article and more about the logic of the Front Six click  HERE.
Combining that Front Six with either Tim Howard or Brad Guzan in goal, the best defensive back four is an area that is very much a pressing issue. The popular opinion seems to be that Matt Besler is a lock at one of the center back spots, and that is certainly what Jürgen Klinsmann believes.
The entire defensive back four is still a big question mark because there are new outside backs on the scene who look as though they offer a package of skills and physical gifts that the United States Men's National Team has never had. These outside backs are Chris Klute and DeAndre Yedlin, but it's important to note that Andrew Farrell falls into this category too as he has been used as right back by the New England Revolution instead of his natural position of center back.
Therefore, the Back Four of the USMNT is nothing but questions. Is Matt Besler a lock as a starter? If so, who should partner with him at center back? Should it be Omar Gonzalez or should it be Michael Orozco Fiscal? Furthermore, is it possible that two completely different center backs are the best center back tandem for the U.S.?
One route that the United States could take would be to start Matt Besler at center back with either Omar Gonzalez or Michael Orozco, but give DeAndre Yedlin and Chris Klute a chance to start with them as the outside backs. This approach would keep the center back situation somewhat stable, but it would shake things up at the outside back spots.
Actually letting Chris Klute play against Bosnia-Herzegovina would be a bold move for Klinsmann, if he even puts him on the roster, but it would offer the U.S. the opportunity to really see a gifted and athletic left back storming up and down the left sideline.
DeAndre Yedlin has received much more media attention that Klute, but Klute is likely a more polished defender. Yedlin is a very promising right back who is skilled at attacking and defending, and using him against Bosnia-Herzegovina would be an excellent opportunity for Klinsmann to see two young and talented outside backs who are both exceptionally fast facing off against international competition for the full national team.
No one knows what the best defensive back four for the USMNT is, and the only way to really know is to play outside backs like Yedlin and Klute and see what happens. Anything the U.S. can do to make its defense more equipped to deal with fast and skilled attackers is necessary.
There are several defenders that need to be tested and evaluated by Klinsmann. At center back, Klinsmann needs to see how Shane O'Neill can do with the full national team, and it would be useful to see Andrew Farrell playing his preferred position of center back.
Looking at these two players in regards to their defensive qualities, their comfort on the ball, and their high-level of athleticism, it is possible that Shane O'Neill and Andrew Farrell might prove to be a better center back tandem than Matt Besler plus Omar Gonzalez or Michael Orozco.
If Andrew Farrell can play as an outside back and as a center back, one idea of a list of eight defenders would be Andrew Farrell, DeAndre Yedlin, Chris Klute, Fabian Johnson, Michael Orozco, Shane O'Neill, Omar Gonzalez, and Matt Besler. It's important to note that Geoff Cameron would be listed as a midfielder, even though he obviously excels as a defender as well.
This list presents the USMNT with the opportunity to start a back four of DeAndre Yedlin, Omar Gonzalez, Matt Besler, and Chris Klute, but it also allows for a number of other combinations of center backs and outside backs. For example, Michael Orozco can start as a right back, and Fabian Johnson could start at left back.
Given the group of players listed above, the United States could start any number of defensive back fours. One option would be to start Yedlin, Orozco, Besler, and Klute. Another option would be to start Orozco, Gonzalez, Besler, and Johnson. The youngest and most experimental option would be to start Yedlin, Farrell, O'Neill, and Klute.
These are back fours to consider, and using one of them behind Cameron, Bradley, Donovan, Corona, Dempsey, and Altidore would offer Klinsmann the opportunity to learn more about what his best combination of players is, and there might be more than one. This system allows Cameron and Bradley to cover for Chris Klute and DeAndre Yedlin when they make attacking forays.
Really progressing as a national team will require some new faces to be allowed to play, in order to truly test out more of the American player pool.
While a Front Six made up of Cameron, Bradley, Donovan, Corona, Dempsey, and Altidore is a tactically sound and proven group of players, the best defensive back four for the U.S. is unknown.
Maybe starting Yedlin and Klute will improve the USMNT, and maybe Andrew Farrell deserves a shot to play his natural position of center back or perhaps start at right back over Yedlin.
It's time to see if there is room to improve the defensive back four of the United States.