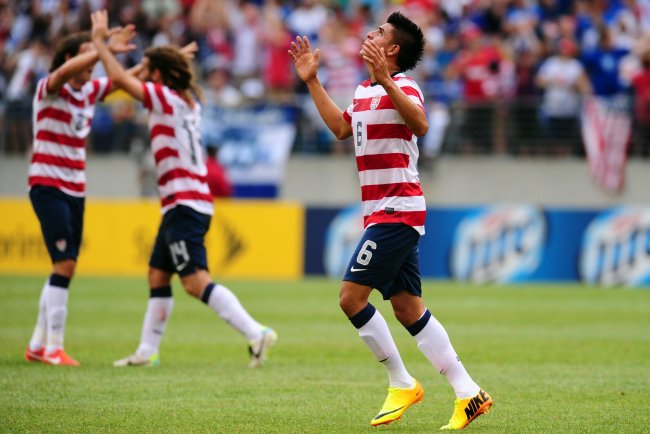 Jürgen Klinsmann has certainly improved his tactical approach to games, and he now should be ready to field a team with better passing and a stronger attack.
The formations and tactics used in the Gold Cup differed from the formations and tactics used in World Cup qualifying.
As of right now, Klinsmann is currently using a defensive back four, a midfield destroyer, and box-to-box midfielder, a line of three attacking midfielders, and a striker. The only problem with this set-up is that the player who is supposed to be a central attacking midfielder has been Landon Donovan, a second striker.
Now that the Gold Cup is over, Michael Bradley, Clint Dempsey, and Jozy Altidore will be incorporated into the Starting XI with Landon Donovan, but Klinsmann has to decide if he wants to start Jermaine Jones or Geoff Cameron next to Bradley. Additionally, there is a spot open for a central attacking midfielder.
Instead of starting Landon Donovan as the central attacking midfielder or using Clint Dempsey as a second striker in place of a central attacking midfielder, Klinsmann would be wise to start Donovan out right, Dempsey out left, and Joe Benny Corona in the middle as the central attacking midfielder.
This gives the USMNT two attacking midfielders in Donovan and Dempsey who are free to roam wherever they see fit without ironing out an exact positional name for them. Klinsmann should just put them down in the Starting XI as a right midfielder and as a left midfielder and just let them roam as they naturally roam.
Given Corona's superior playmaking abilities to both Donovan and Dempsey who are really second strikers/wingers, Corona should be started in order to free up Dempsey and Donovan to make runs, attack the goal, provide support for Altidore, apply pressure on the opposing team's defenders and midfielders, and just do what they naturally do.
Corona is a goal-scoring playmaker, and he is fully capable of simultaneously looking to play a constant stream of final balls to Donovan, Dempsey, and Altidore, in addition to looking to score himself. Corona can play off all three of these players and do whatever the game dictates.
Starting Corona as a playmaker frees up the confusion between Donovan and Dempsey about whether they need to primarily look to make runs into the final third or if they need to be responsible for providing service to Altidore.
Donovan, Corona, and Dempsey in a line of three attacking midfielders foster a style of one-to-two touch soccer based off passing and moving and combing with your teammates as much as possible. Furthermore, this system allows Altidore to not need to drop back into the midfield to get the ball, and it also gives the USMNT four strong attacking threats that will force the opposition to take all of them seriously, rather than focusing their defense on containing one or two of them.
This use of four attacking players actually corresponds with Klinsmann's vision of high pressure team defense because having four attackers like Donovan, Corona, Dempsey, and Altidore provides the United States with a group of players who have the speed, skill, and intelligence to know how to pressure the opposing defenders and midfielders into making mistakes in their own half or final third.
The two players that Klinsmann selects to play behind the four more attack-minded players and the defensive back four is something that Klinsmann will have to decide.
Michael Bradley is a lock as a starter, and his style of play has evolved into playing a box-to-box midfielder role more so than as a midfield destroyer. Jermaine Jones plays a similar style to Bradley, which has caused some miscommunication between the two players.
Both players seemed to want to go forward as much as possible, and frequently Bradley realized that he would have to play a deeper more defensive role than he wanted to because Jones wasn't going to do it.
It's worth mentioning that Bradley and Jones are not as effective in the attack as true box-to-box midfielders such as Paulinho or Arturo Vidal, so both of them can be fairly described as defensive midfielders.
While there is nothing wrong with two defensive midfielders with box-to-box abilities, a high level of overall athleticism, and an advanced technical ability, there does need to be an understanding that only one of the two can make forays at a time.
This similarity between Bradley's and Jones' style of play makes Geoff Cameron's strong showing as a midfield destroyer very appealing. Cameron enjoyed patrolling the back and fulfilling a lot of the defensive responsibilities because he had a lot of touches on the ball, which allowed him to be heavily involved in the passing to the extent that he looked to play final balls from a deep position.
Cameron truly seemed to embrace the role of covering a lot of the ground in the back and being heavily involved in the midfield passing of the United States because he didn't feel that his ability to impact the attack was hampered by his midfield destroyer role.
If anything, Cameron was playing more of an attacking role than when he played center back or even right back because at right back he was confined to only attacking and patrolling along the right sideline. As a midfield destroyer, Cameron was able to cover the entire width of the field and combine with his teammates and mix it up defensively with the opposition.
One more defensive option for Klinsmann and the United States, should the game call for it, would be to use a diamond midfield formation with Cameron as the midfield destroyer, Jones and Bradley as box-to-box midfielders lining up in front of Cameron, Corona as the tip of the diamond as the playmaker, and Dempsey and Altidore as the second and first strikers, respectively.
The United States Men's National Team sits in a better position right now than it did after the most recent set of World Cup qualifying games because Klinsmann seems to have found a new balance of attacking and defensive midfielders. The defensive back four is a big question mark, but the Front Six and the general tactics of the national team shouldn't be.
Cameron and Bradley provide excellent passing and defensive coverage and Donovan, Corona, Dempsey, and Altidore provide a strong attacking threat and a good balance of differing skill-sets that can work together to form a cohesive and efficient team.