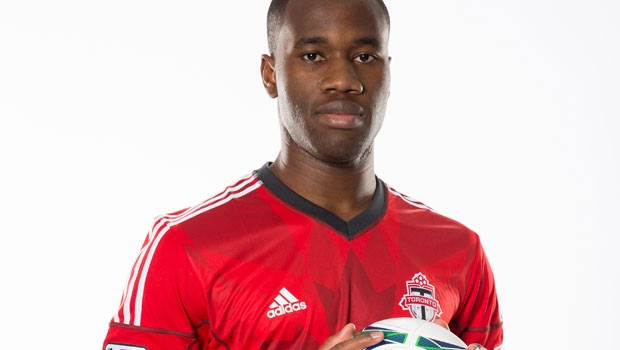 This MLS season has seen the rise or appearance of several quality defenders who look to be international-caliber players who Jürgen Klinsmann and the United States Men's National Team would be wise to call up to the national team or at least closely scout and seriously consider.
Defense is a problem for the USMNT, and with a Front Six potentially made up of Geoff Cameron, Michael Bradley, Landon Donovan, Joe Benny Corona, Clint Dempsey, and Jozy Altidore, the defense appears to be the real problem to be addressed right now.
MLS has seen an increase in skilled American players at every position over time, and this season has shown that there are a number of exciting national team prospects playing in MLS who can improve the national team.
Below is the list of several of the more notable international-caliber MLS defenders who mark an increase in the skill-level of MLS defenders.
Chris KLUTE
The Colorado Rapids left back has been covered in great detail by this writer, but this extremely fast outside back brings excellent defensive timing and fundamentals with a willingness to surge forward in the attack and look to play crosses or cut inside toward the penalty box. Klute is a two-footed left back who has a tall, lean frame that makes him a natural runner and sprinter, but his game is built on using his speed and skill in concert, as opposed to just relying on speed. An excellent athlete who plays with skill, elegance, and aggressiveness.
More on Chris Klute:
http://www.coloradorapids.com/news/2013/07/soccer-website-calls-rapids-defender-chris-klute-best-us-left-back
http://www.worldsoccersource.com/player-profile-chris-klute/
Andrew FARRELL
The New England Revolution right back has described himself as a center back who has been playing as a right back for New England, and his speed and technical ability allows him to be able to defend fast and crafty attackers by dispossessing them and passing or dribbling out of trouble in the back. While Farrell has excelled as a right back, the USMNT could use speed, strength, technical ability, and good defensive qualities in the center of the national team's defense. Farrell has been receiving more media attention that Chris Klute, but both players are new and exciting talents that the national team would be wise to incorporate.
DeAndre YEDLIN
The Seattle Sounders right back has received even more media attention than Farrell and Klute, in addition to a spot on the MLS All-Star team. Yedlin is an exciting player who brings speed and aggressive attacking play at right back, and this is something that the USMNT has never really had. Yedlin looks to go forward as much as possible, and he knows how to play wall passes and make overlapping runs as he looks to break down the sideline. Looking at Klute, Farrell, and Yedlin, there is a nice crop of new MLS defenders who look to be international-caliber defenders in terms of their skill and athleticism. Often described as primarily an outside back that attacks well but lacks some polish defensively, Yedlin doesn't shy away from slidetackles, and he possesses both good timing on his tackles and an ability to tackle leading with either his right or left foot. Yedlin's defending is better than it's made out to be, and perhaps the USMNT would be wise to not hold the age and lack of international experience of Klute, Farrell, and Yedlin against them.
Gale AGBOSSOUMONDE
Gale Agbossoumonde's name has been floating around in American soccer circles for years, and the 21 year old is now playing MLS this year. Agbossoumonde's athleticism, calmness and skill on the ball, and defensive awareness are evident, and he enjoyed a string on starts at center back while other Toronto FC center backs were injured. Agbossoumonde is an important player for MLS and the USMNT because he represents an upgrade in skill and athleticism to Carlos Bocanegra, Clarence Goodson, and Oguchi Onyewu. It will be interesting to see how the rest of the season goes for Agbossoumonde and how much he plays, but the technical and defensive skills combined with excellent athleticism are certainly evident in his game. It might be hard for Agbossoumonde to get close to seeing time with the national team unless he becomes a regular starter for Toronto FC. Regardless of playing time, Agbossoumonde is a player who has the calmness in the back as well as all of the physical gifts and technical skills to be a useful player for the U.S. national team.
Shane O'NEILL
The USMNT needs center backs. Matt Besler and Omar Gonzalez are certainly an upgrade to Carlos Bocanegra, Clarence Goodson, and Oguchi Onyewu, but Geoff Cameron is clearly the most talented and athletic center back, despite being the scapegoat for many observers. Cameron looks to be very useful as a midfield destroyer to partner with Michael Bradley in the line of two defensive midfielders, and even if Cameron were playing at center back, he would still need a capable partner.
Shane O'Neill has looked very capable and free of any serious flaws. O'Neill performed well in the 2013 U-20 World Cup, and he has excelled for the Colorado Rapids this season where he has not only played center back but also as a defensive midfielder and as an outside back. O'Neill like the other defenders listed above is young, which prevents many observers from seriously advocating for him to be included on the USMNT, but O'Neill is certainly good enough.
While Cameron was asked to play as a right back or used as a defensive midfielder, Gonzalez and Besler have held their own as center backs at the international level, but Klinsmann and the United States need more center backs. Shane O'Neill should be a serious contender for one of the center back spots on the USMNT, and O'Neill's play in MLS and with the U-20 squad has received widespread praise. O'Neill's age shouldn't prevent him from being taken seriously for a national team spot, especially since he can perform as a center back, outside back, and as a defensive midfielder.
WHERE DO THESE DEFENDERS FIT INTO THE USMNT POOL?
At center back, the current players who actually have the combination of defensive qualities, technical ability, and athleticism to really compete against better competition are Geoff Cameron, Michael Orozco Fiscal, Michael Parkhurst, Matt Besler, and Omar Gonzalez. The center backs listed above (Agbossoumonde, Farrell, and O'Neill) deserve the opportunity to show how they compare to the defenders listed in the previous sentence. As Cameron looks to be a vital piece of fielding a strong midfield, the younger MLS defenders deserve an opportunity to compete with Orozco, Parkhurst, Besler, and Gonzalez for center back spots.
The situation at the outside back positions is totally different for the national team, as Timothy Chandler's level of commitment is unclear and many of the selections at outside back look to be merely makeshift selections. Additionally, Fabian Johnson appears to be more of a winger than a left or right back.
Furthermore, outside backs like Jonathan Spector and Eric Lichaj have been totally frozen out of the national team set-up by Klinsmann.
Given this outside back situation, players like Klute, Yedlin, and Farrell (who also plays as a center back) deserve serious consideration, rather than holding their age against them. Lots of young players prove to be valuable and necessary additions to national teams, and the USMNT simply isn't good enough to not consider players like Klute, Yedlin, and Farrell.
OTHER AMERICAN MLS DEFENDERS TO WATCH CLOSELY:
Amobi OKUGO
Zach LOYD
London WOODBERRY
MORE COVERAGE OF THE USMNT DEFENSE:
http://www.worldsoccersource.com/usmnt-back-four-options/