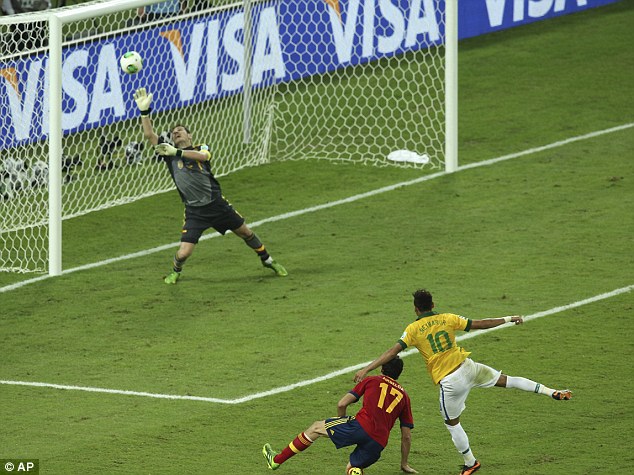 Supposedly, the United States Soccer Federation has been studying Brazilian soccer for years, and looking at some of the young MLS players and younger American products, maybe the USSF and MLS are placing a higher premium on technically-skilled players than they used to.
Nevertheless, Brazil's Confederations Cup formations and starting line-ups are a good case study for the USMNT, even if the USMNT doesn't have players who are as skilled as the very best Brazilian players.
The Seleção is the model that U.S. Soccer should look to study and emulate.
Brazilian soccer is based on skill and allowing the players the freedom to express themselves with the ball, which is Brazil's main weapon against opponents, but Brazilian soccer is not without defense, tactics, or strategy.
Brazilian players are allowed the freedom to be more creative with the ball than other national teams, and Brazilians don't base their attack on merely sending in a steady stream of crosses into the box without a clear target. The premium on working the ball around mostly on the ground is so high that many of the passes that the Brazilian national team executes in its own final third are very risqué by other national teams' standards.
After a series of games intended to find his best formation and combination of players, Felipão found a strong and balanced Seleção XI right before the 2013 Confederations Cup started.
Traditionally, Brazil uses a 4-2-2-2 formation, but the Confederations Cup formation was more akin to a 4-2-3-1 where the right attacking midfielder and left attacking midfielders were really almost forwards.
There was nothing new or revolutionary about Felipão's tactics, but they were well-designed and perfectly implemented. In the 4-2-3-1 formation, Brazil mostly used this XI below:
Julio Cesar; Daniel Alves, Thiago Silva, David Luiz, Marcelo; Luiz Gustavo, Paulinho; Hulk, Oscar, Neymar; Fred.
The Seleção almost always exclusively uses two center backs, who have the technical ability and speed of a defensive midfielder, and outside backs that provide width to the attack while always defending the flanks with speed and skill.
In front of the defense, Brazil normally uses two defensive midfielders: one who is more of a midfield destroyer (Luiz Gustavo) and another who is a box-to-box midfielder (Paulinho).
These two players were one of the keys for Brazil's success because they brought needed defensive skills to a midfield that allowed Brazil to win the ball back without sacrificing technical ability. They also ran without tiring.
There is some important background information about Brazil's use of defensive midfielders.
It's fairly well-known that Brazil uses a system of normally two defensive midfielders. One of them plays deeper and doesn't really go forward, and this midfield destroyer is called a cabeça de área or a volante de contenção. In addition to this player who is associated with the number 5, there is also a more box-to-box midfielder who is associated with the number 8 and called a "volante." "Volante" is a general term for any defensive midfielder, and it means "steering wheel."
In front of these two defensive midfielders, Felipão used a line of three attacking midfielders where Oscar was the playmaker (meia-armador) in the middle and Neymar and Hulk were really almost forwards just lining up out left and right on paper.
Likewise, Jürgen Klinsmann has begun to at least iron out a tactical formation. Recently, Klinsmann starting using a 4-2-3-1 formation where two different kinds of defensive midfielders lined up behind three attacking midfielders and a striker. At times, Klinsmann used two strikers during the Gold Cup.
Klinsmann's switch to the 4-2-3-1 formation was a deviation from his previous use of three defensive midfielders, but Klinsmann has still never fielded three highly-skilled attacking midfielders like Landon Donovan, Joe Benny Corona, and Clint Dempsey at the same time.
In the Gold Cup, a midfield destroyer was used next to an attacking midfielder (Stuart Holden or Mix Diskerud), who was impersonating a box-to-box midfielder, who both lined up behind a line of three attacking midfielders, and this formation and its tactics are covered in detail in other recent World Soccer Source articles.
This formation is somewhat similar to what Felipão used during the Confederations Cup.
Klinsmann is well-aware of how Brazil plays and surely studied their tactics during the Confederations Cup closely, but looking at how Brazil played and why it worked is something that Americans and non-Americans might be wise to do.
This Brazilian midfield formation outlined above is something that Klinsmann has used with the USMNT, but many of Klinsmann's right and left midfielders in World Cup qualifiers have been players who are either married to the sideline or just looking to play crosses or both.
Klinsmann has used Geoff Cameron as a midfield destroyer with Michael Bradley as a box-to-box midfielder, and in Gold Cup games without Bradley or Cameron, Klinsmann has used Joe Benny Corona as a playmaker flanked by attacking midfielders on the right and left with a striker up top.
The system that Brazil used is a perfect example for the USMNT to study and implement, even if it isn't as good as the Brazilian version.
Certainly, the USMNT can use a similar set-up to Brazil, which other national teams and clubs also use, even if the overall skill level of all the players is nowhere near Brazil's.
Tactically, the balance of that Brazilian squad was perfect.
The team was difficult to beat with speed or skill down the middle, and the flanks were patrolled by outside backs, who posed a two-way threat.
Additionally, when the outside backs attacked, the defensive midfielders dropped back to fill the hole left by the outside backs.
Finally, with a playmaker like Oscar combining with Neymar, Hulk, and Fred, the attacking threat was too much for Spain who were humiliated by Brazil in the Confederations Cup Final.
For all the stereotypes of Brazil not defending, Brazil's 2013 Confederations Cup squad showed not only good team defense through pressing, but they also displayed outstanding individual defenders in the line of two defensive midfielders and in the defensive back four.
This system is essentially what Jürgen Klinsmann is trying to implement with the United States Men's National Team, and frankly some of his player selections do not seem to have the physical gifts and skills to fulfill their required roles.
To Klinsmann's credit, in the Gold Cup, he did use a formation that was similar to Brazil's, but now it's time to put the higher-level players together in a balanced starting line-up.
The USMNT hasn't yet used outside backs or center backs like Brazil uses, and given how obvious it is to start Geoff Cameron, Michael Bradley, Landon Donovan, Joe Benny Corona, Clint Dempsey, and Jozy Altidore as the Front Six, Klinsmann will have to start using faster and more skilled center backs who are flanked by modern outside backs who pose an attacking threat and who defend out wide.
While Brazil uses Daniel Alves at right back and Marcelo at left back, Jürgen Klinsmann refuses to use any of the new MLS outside backs like Chris Klute, DeAndre Yedlin, or Andrew Farrell who at least attempt to play with the same aggressive attacking style down the sideline and who can defend skillful and quick attackers.
At center back, Klinsmann has never fielded two players who combine athleticism, technical ability, and the defensive skills of quick, strong, and talented defensive midfielders like Geoff Cameron.
The Brazilian way is one way for the United States to start improving its level of play, but Jürgen Klinsmann will have to field the players with the right tools because the Brazilian way is rooted in having technically-gifted players at every position, even the most defensive positions.