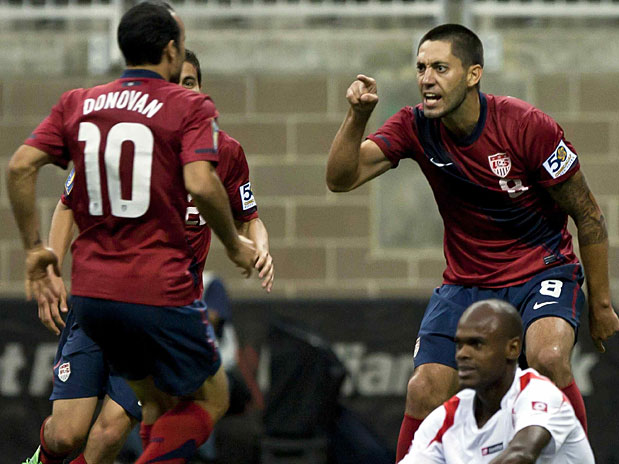 Jürgen Klinsmann should start Clint Dempsey and Landon Donovan together as outside attacking midfielders as opposed to starting one or the other as a second striker because both would be free to roam in support of Jozy Altidore.
Players like Dempsey and Donovan are hard to categorize as players who play just one position, and starting both together is the best thing that Klinsmann can do to immediately improve the USMNT's attack.
Donovan's and Dempsey's positions on paper are irrelevant as long as they have more defensive midfielders like Geoff Cameron and Michael Bradley behind them along with a natural playmaker like Joe Benny Corona starting in an advanced position.
There are new players like Benji Joya who could contribute to the USMNT as a box-to-box midfielder, but starting Geoff Cameron and Michael Bradley behind a line of three attacking midfielders (Landon Donovan, Joe Benny Corona, and Clint Dempsey) is a good first step for Klinsmann to revert back to taking advantage of two talents like Dempsey and Donovan, as opposed to having Graham Zusi play out of position as an outside midfielder and/or winger.
Bob Bradley enjoyed his best success when he started a playmaker along with Clint Dempsey and Landon Donovan together as the left and right midfielders. The playmaker, who was Benny Feilhaber, allowed Dempsey and Donovan to have a player with whom they could not only combine but also who could play them final balls and quality passes in the final third.
One of the best qualities about Dempsey and Donovan is that they are players who adapt to the game they're in and they go wherever the game dictates that they go, so their actual position on paper is largely irrelevant with Bradley and Cameron or Bradley and Jones behind them, not to mention the defensive back four.
As mentioned above, there are a lot of new players in the American player pool that deserve to play some sort of role for the United States or even start, but Klinsmann should make sure that he starts both Donovan and Dempsey together in the next game and games, in order to establish some better attacking play for the United States Men's National Team.
Klinsmann learned a lot in the Gold Cup, but the most important thing that he learned was that players like Joe Benny Corona and Mix Diskerud bring better playmaking qualities to the team than Bradley, Cameron, Jones, Dempsey, and Donovan bring.
Whoever Klinsmann decides to start in the USMNT back four, starting Donovan and Dempsey at the same time with a playmaker in between them is the first step in establishing the exact style of soccer than Klinsmann is looking for.
In the coming weeks and months, Klinsmann and the United States will need to determine which players deserve roster spots and which new players possibly deserve starting line-up spots, but certainly using some sort of playmaker from the Gold Cup along with Cameron, Bradley, Donovan, Dempsey, and Altidore is the best way to continue to improve the team.
The coaching staff of the United States should work hard to incorporate new talent into the roster and decide who else should be on the roster besides Cameron, Bradley, Jones, Donovan, Corona, Diskerud, Dempsey and Altidore, but starting a Front Six of Cameron, Bradley, Donovan, Corona, Donovan, and Altidore should be the first step toward improving the balance, skill-level, and effectiveness of the United States.
Jürgen Klinsmann should at least start with this USMNT Front Six in the following 4-2-3-1 formation: CAMERON, BRADLEY; DONOVAN, CORONA, DEMPSEY; ALTIDORE.