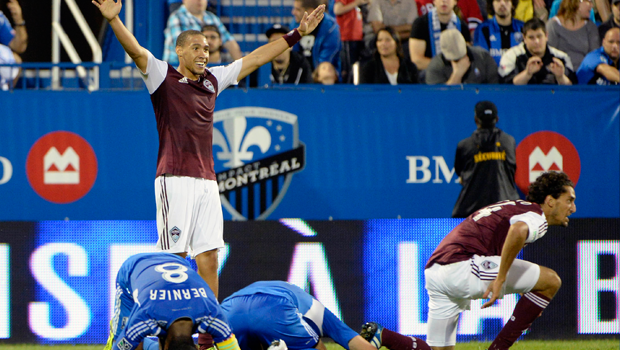 Making an improved 23-man USMNT roster is much easier than choosing the best Starting XI.
The primary difficulty now is not finding quality American players but rather cutting the pool down to 23 players and deciding how many new players should receive roster spots.
Any national team roster normally contains three goalkeepers, four outside backs, four center backs, 4 defensive midfielders, four attacking midfielders, and four forwards, but frequently players can play more than one position so the amount of players at each position can vary.
At goalkeeper, Tim Howard and Brad Guzan are clearly the best two American goalkeepers (excluding Brad Friedel), and the only decision for Jürgen Klinsmann to make is who the the third goalkeeper should be. Maybe it should be Nick Rimando or some other goalkeeper like Clint Irwin, Dan Kennedy, Tally Hall, Sean Johnson, or Luis Robles, but perhaps Cody Cropper or some other young goalkeeper should receive the third goalkeeper spot.
When selecting center backs, a wise decision would be to have four center backs. The primary center backs to choose from for the USMNT are Geoff Cameron, George John, Omar Gonzalez, Michael Orozco, Michael Parkhurst, Tim Ream, and Matt Besler. These center backs are some of the more experienced center backs that aren't too slow for or not skilled-enough for international play.
Additionally, there are younger center backs like Shane O'Neill, Andrew Farrell, Amobi Okugo, Gale Agbossoumonde, and Caleb Stanko who are worthy of a look. Assuming John Anthony Brooks plays for the United States, which isn't definite, he also has to be strongly considered as a front-runner for one of the four spots.
Therefore, at center back, the coaching staff of the USMNT has at least 12 players to look at without doing more extensive scouting of all of the other options.
When choosing four center backs, the final decision comes down to deciding which center backs have the defensive instincts and fundamentals combined with the technical ability and athleticism to realistically be able to compete at the international level.
Outside back is an area of some concern for the United States. Without any exploration of new players, the obvious starting point is to choose from Eric Lichaj, Jonathan Spector, Timothy Chandler, and Fabian Johnson, but then one has to strongly consider new players like Chris Klute, DeAndre Yedlin, and Andrew Farrell. Furthermore, Steve Cherundolo when healthy is still likely the best American outside back.
The United States has several quality defensive midfielders, and Michael Bradley, Jermaine Jones, Geoff Cameron, and Maurice Edu are the first names that come to mind. There are additionally some MLS defensive midfielders like Perry Kitchen, Jared Jeffrey, and Jeremy Hall who need to be looked at.
Without even including Shane O'Neill and Caleb Stanko, who were listed above in the center back section, Jürgen Klinsmann has seven defensive midfielders to choose from for four spots.
Just looking at this list of defensive midfielders, Bradley, Jones, Cameron, and one other player are the obvious choices.
At the very least, Bradley, Jones, Cameron, and Edu are a good starting point unless Klinsmann is willing to pick one of the newer defensive midfielders instead of Edu.
Benji Joya falls in between the realm of the defensive midfielders and the attacking midfielders. Joya is somewhat more of an attacking midfielder than he is a defensive midfielder, even though he has stated that he is a holding midfielder. Joya has also stated that he can play a variety of positions. A young, complete midfielder like Joya is another name that deserves serious consideration for the USMNT because he can bring defensive coverage and excellent passing and attacking skills to the American midfield.
The decisions now are attacking decisions.
For a country that has a reputation for not having very technically-skilled players, the United States has more quality attacking midfielders than it has roster spots. Clint Dempsey and Landon Donovan should be obvious choices, and then the team realistically needs to select two playmakers. The obvious group of playmakers to choose from includes Benny Feilhaber, Joe Benny Corona, Mix Diskerud, and Freddy Adu.
While contending that Corona and Diskerud should be the playmakers on the roster is a logical and good decision, both Feilhaber and Adu have demonstrated their ability to perform well against strong opponents in international play.
Choosing Feilhaber should be a much easier choice than it appears to be for Klinsmann because Feilhaber has an excellent track record at the international level, and his comfort on the ball, passing ability, set piece taking, and his excellent shooting skills are quite evident.
Nevertheless, Corona and Diskerud have recently shown their ability to bring strong playmaking qualities to the United States, but of all of the playmakers, Feilhaber has the most international experience and the most proven-ability on the international level.
Additionally, the USMNT has wingers like Brek Shea and Joe Gyau in the player pool who can bring speed and skill as well attacking strength out wide.
At striker, the United States actually has more than four capable and effective strikers. The player pool includes Jozy Altidore, Juan Agudelo, Terrence Boyd, Eddie Johnson, Herculez Gomez (injured), and the pool has newer strikers like Mario Rodriguez, José Villarreal, Alonso Hernandez, Gyasi Zardes, Teal Bunbury, Aron Jóhannsson, and Tony Taylor.  With the exception of Villarreal, those are all first strikers including Tony Taylor, but a roster normally has four forwards who are not always just first strikers.
The goal is to close the gap with the world's best national teams, and Jürgen Klinsmann's roster selections always contain way too many players that are solid at the club level but lacking that next level of skill and athleticism needed to do battle with elites and magicians.
The next step for Jürgen Klinsmann should be to at least call up all of his players with the most proven-ability at the international level, and he also needs to play them together. The starting line-up of proven-players would be something like this formation below:
Tim Howard; Jonathan Spector, Michael Orozco, Maurice Edu, Fabian Johnson; Geoff Cameron, Michael Bradley; Landon Donovan, Benny Feilhaber, Clint Dempsey; Jozy Altidore.
On the other hand, if the USMNT was willing to use more inexperienced players in the defense to try and improve the level of play of the United States, then perhaps this line-up below would be a good place to start:
Howard; Yedlin, O'Neill, Farrell, Klute; Cameron, Bradley; Donovan, Feilhaber/Corona, Dempsey; Altidore.