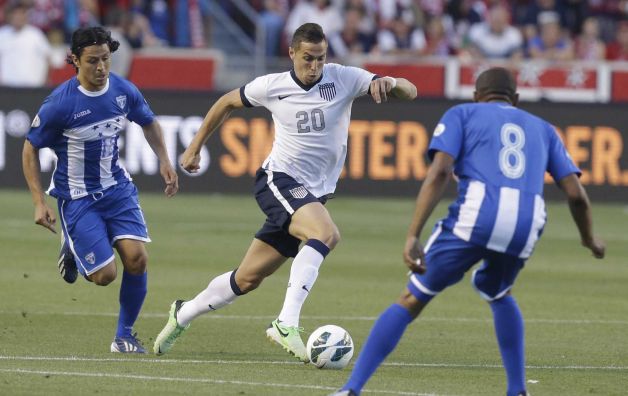 Jürgen Klinsmann announced the United States Men's National Team roster to face Bosnia-Herzegovina on Wednesday that is made up of proven international players, new international players, and less experienced but stand out performers from the Gold Cup.
While the group of players that Klinsmann has selected contains a good balance of defensive and attacking midfielders in addition to a talented group of strikers, the defensive selections make it harder to predict who will start.
It's unclear which goalkeeper will start for the United States, but Klinsmann has elected to go with the best two American goalkeepers in Tim Howard and Brad Guzan, in addition to Cody Cropper, the starting goalkeeper from the U-20 ranks.
The selections at right back would appear to be Michael Parkhurst, Brad Evans, Michael Orozco, and Geoff Cameron, but Parkhurst, Orozco, and Cameron are also center backs. Additionally, Cameron is a defensive midfielder who put in a commanding performance at midfield destroyer against Panama in World Cup qualifying, which allowed Michael Bradley more freedom to go forward more with the attack.
Right back is anyone's guess. Will Klinsmann use Cameron at right back because he plays there for Stoke, or will Klinsmann elect to use Cameron at center back or at the midfield destroyer role?
Klinsmann used Evans at right back in recent World Cup qualifying games and friendlies, but Klinsmann used Parkhurst as the right back in the Gold Cup. This writer thinks that Parkhurst will receive the start at right back.
Center back is more guesswork as well. Michael Orozco showed excellent technical ability along with good athleticism and defending in the Gold Cup, so perhaps Orozco starts at center back along with Cameron. Despite Cameron's excellent showing as the midfield destroyer where he showed that he was more willing to stay back than Jermaine Jones, the Bradley and Jones tandem as defensive midfielders of the more box-to-box variety seems to be Klinsmann's duo of choice.
It will be interesting to see if John Anthony Brooks sees any playing time at center back against Bosnia, or perhaps Klinsmann will start him and toss him into the deep end to get him some experience with the USMNT. Playing for the United States cannot be any more pressure than playing in the Bundesliga, but Brooks is young and new to the team.
Fabian Johnson is listed as a midfielder, so perhaps Klinsmann plans to start Edgar Castillo at left back with Fabian Johnson playing as a left winger. When Castillo makes overlapping runs, then Johnson and the defensive midfielders will be there to cover for the space left by Castillo.
Turning to the Front Six, Klinsmann has a variety of choices. He can start Bradley and Jones as the two defensive midfielders, or he could possibly use Cameron as a midfield destroyer with both Jones and Bradley in front of him as box-to-box midfielders. Choosing this second option would alter the defensive back four, and it would likely mean that Fabian Johnson would be moved to left back, as there wouldn't be space for a left wing with a diamond midfield formation containing Cameron, Bradley, Jones, and a playmaker.
On the other hand, if Bradley and Jones start as the defensive midfielders, then Klinsmann will likely use a line of three attacking midfielders in front of them. If Klinsmann does this, then perhaps the line of three attacking midfielders would be Joe Benny Corona out right, Mix Diskerud in the center, and Fabian Johnson out left.
Jozy Altidore is Klinsmann's first-choice striker, so Altidore will likely start against Bosnia. Perhaps, another striker will start, but it seems likely that Klinsmann will use the other strikers as substitutes.
Another scenario to consider is one in which either Corona or Diskerud would start in the midfield but not both, and Eddie Johnson and Fabian Johnson would start as the two wingers, even though Eddie Johnson isn't a winger.
Looking at all of players and positions discussed above, there are a number of possible line-ups that Klinsmann might use. Below are several options:
Howard; Parkhurst, Orozco, Cameron, Castillo; Bradley, Jones; Corona, Diskerud, F. Johnson; Altidore.
Howard; Evans, Orozco, Cameron, Castillo; Bradley, Jones; Corona, Diskerud, F. Johnson; Altidore.
Howard; Parkhurst, Orozco, Brooks, F. Johnson; Cameron; Bradley, Jones; Diskerud; Altidore, Corona.
The options go way beyond a couple of the starting line-up options listed above, but those are just a few possibilities.
If World Soccer Source were picking a USMNT Starting XI to face Bosnia, then World Soccer Source would select the Starting XI below:
Howard; Parkhurst, Orozco, Brooks, F. Johnson; Bradley, Cameron, Jones; Corona, Diskerud; Altidore.
Below is the official roster release from U.S. Soccer:
http://www.ussoccer.com/news/mens-national-team/2013/08/klinsmann-calls-23-players-for-friendly-against-bosnia-herzegovina.aspx
**NOTE: After the publication of this article, U.S. Soccer announced that Michael Orozco Fiscal withdrew from the USMNT camp due to a hamstring injury.