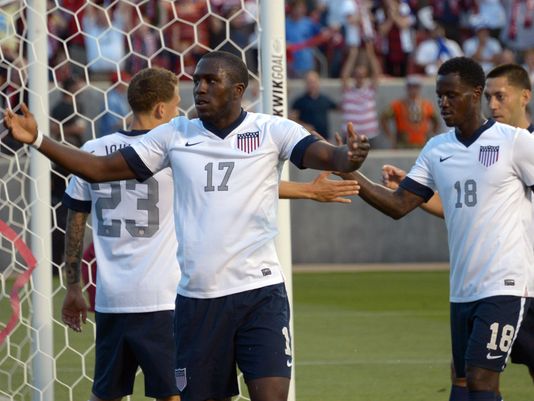 The United States has a world-class first striker. Jozy Altidore is now the first world-class American striker.
From age 16 until roughly age 22, Altidore was labeled as another example of a overly-hyped American soccer player who wasn't the answer to the United States Men's National Team's lack of a world-class striker to spearhead the attack.
Two years ago, Altidore began to display an increased ability to score goals against better competition in European club soccer, which began a two year process of refining his technical ability and finishing to match his exceptional athleticism and physique.
In many ways, the weaknesses that critics pointed to in Altidore's game were true. His movement off the ball often wasn't good enough to force his teammates to pass to him, and he simply didn't move enough without the ball. In the past, Altidore used to not attack the goal as aggressively as he does now because now Altidore will dribble with both feet through crowds of players to get himself into position to shoot.
It would appear that the primary reason for the enormous improvement in Altidore's technical ability, his 1v1 skills, his finishing, his movement off the ball, and his increased attacking aggression was playing club soccer in Holland, which is one of the best soccer nations in the world in terms of technical ability.
To be fair to Jozy Altidore, he really became more of a finished product and a better first striker at a normal age, which was around age 22.
Altidore's time spent club hopping was largely time when he was honestly quite young, even by professional soccer standards, so it makes sense that his promise and skill didn't really manifest themselves until he was about 22.
By the time he arrived at a club team like AZ Alkmaar in a country like Holland that placed a premium of technical skill and attacking soccer, he was the right age to begin to make drastic improvements in his game.
One conclusion that can be drawn from Jozy Altidore's recent increase in technical ability and attacking skills is that by playing in an environment that valued quality soccer and in which he saw consistent playing time Altidore was able to blossom and begin to harness his full potential.
Looking back at the years that Villarreal loaned Altidore out when he was a teenager and before he turned 22, it's hard to really decide if the environments that he played in weren't conducive to his development or if those experiences were part of the process that made him ready to blossom in Holland.
Altidore's hat-trick against Bosnia-Herzegovina yesterday was a statement game where he showcased his ability to score with his left foot in traffic, his ability to score off free kicks, and his ability to quickly pounce on balls in the penalty box and put them away while avoiding an onrushing goalkeeper and a defender behind him.