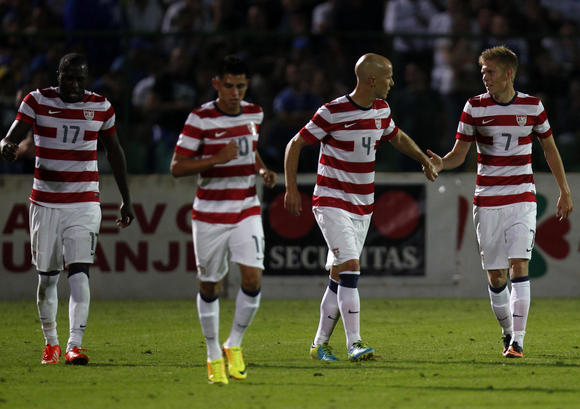 Each USMNT game brings more questions about player selection for the roster and the Starting XI.
Should Geoff Cameron start as the midfield destroyer over Jermaine Jones?
Who should start at center back?
Should Fabian Johnson be used as a left winger?
If Michael Bradley, Geoff Cameron, Landon Donovan, Clint Dempsey, and Jozy Altidore start, who should receive the sixth spot in the Front Six?
Who should be in the U.S.' Back Four?
*Below is a list of many of the players available to the USMNT, and it is by no means comprehensive. Names may have been forgotten, and there are surely numerous talents that are flying under the radar.
Consider the following names below, and look how difficult it is to decide on three goalkeepers, four center backs, four outside backs, eight midfielders, and four forwards.
Of all the names on the list, only a number of them are locks: Tim Howard, Brad Guzan, John Anthony Brooks, Geoff Cameron, Michael Bradley, Jermaine Jones, Clint Dempsey, Landon Donovan, Fabian Johnson, Aron Jóhannsson, and Jozy Altidore.
Additionally, Joe Benny Corona, Mix Diskerud, Terrence Boyd, and Juan Agudelo should also be locks.
Straying into the more controversial, there's not a lot of evidence that the United States has a better pure playmaker than Benny Feilhaber.
A Look at Part of the USMNT Player Pool
GOALKEEPERS: Tim HOWARD, Brad GUZAN, Nick RIMANDO, Cody CROPPER, Luis ROBLES, Sean JOHNSON, Tally HALL, Clint IRWIN, Bill HAMID, Dan KENNEDY.
CENTER BACKS: John Anthony BROOKS, Shane O'NEILL, Michael OROZCO FISCAL, Gale AGBOSSOUMONDE, Caleb STANKO, Andrew FARRELL, Michael PARKHURST, George JOHN, Amobi OKUGO, Matt BESLER, Omar GONZALEZ, Tim REAM, Javan TORRE.
OUTSIDE BACKS: Steve CHERUNDOLO, Eric LICHAJ, Jonathan SPECTOR, Chris KLUTE, DeAndre YEDLIN, Zach LOYD, Kofi SARKODIE, Zarek VALENTIN, Sheanon WILLIAMS, Kellyn ACOSTA, Boyd OKWUONU, Juan Pablo OCEGUEDA, Eric MILLER, Anthony WALLACE, Jorge VILLAFAÑA.
DEFENSIVE MIDFIELDERS: Michael BRADLEY, Geoff CAMERON, Jermaine JONES, Maurice EDU, Jeremy HALL, Perry KITCHEN, Ricardo CLARK, Jared JEFFREY, Will TRAPP, Brad EVANS, Kyle BECKERMAN.
ATTACKING MIDFIELDERS: Clint DEMPSEY, Landon DONOVAN, Benny FEILHABER, Freddy ADU, Joe Benny CORONA, Mix DISKERUD, Benji JOYA, Fabian JOHNSON, Brek SHEA, Joe GYAU, Dax MCCARTY, DaMarcus BEASLEY, José TORRES, Sacha KLJESTAN, Daniel CUEVAS, Luis GIL, Graham ZUSI, Sebastian LLETGET, Alejandro BEDOYA, Edgar CASTILLO, Dillon POWERS, Nick DeLEON, Conor O'BRIEN, Daniel GARCIA, Mikey LOPEZ, Chris PONTIUS, Soony SAAD, Dillon SERNA, Junior FLORES, Corey BAIRD.
FORWARDS: Jozy ALTIDORE, Aron JÓHANNSSON, Juan AGUDELO, Terrence BOYD, Gyasi ZARDES, Julian GREEN, José VILLARREAL, Mario RODRIGUEZ, Alonso HERNANDEZ, Tony TAYLOR, Paul ARRIOLA, Teal BUNBURY, Lamar NEAGLE, C.J. SAPONG, Herculez GOMEZ, Kenny COOPER, Conor DOYLE.