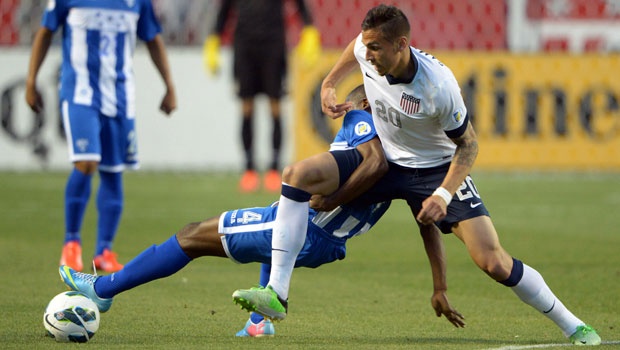 Geoff Cameron and Michael Bradley should be the starting USMNT defensive midfield tandem with Cameron playing the midfield destroyer role and Bradley playing the box-to-box role.
Brazil uses this exact system of starting a midfield destroyer with a box-to-box midfielder, as do many other top national teams and club teams, and it works quite well.
While seeing U.S. center backs with the skill, size, and athleticism of John Anthony Brooks and Geoff Cameron against Bosnia and Herzegovina was a promising sign of improvement for the United States, Cameron can likely help the United States more by playing the midfield destroyer role, which allows Bradley more license to attack than the Jermaine Jones and Michael Bradley tandem.
Cameron as the midfield destroyer helps protect the USMNT's defensive back four, in addition to giving the U.S. a skilled passer who can help the U.S. to maintain possession and pass better against better teams. Bradley would still play a lot of defense as a box-to-box midfielder, but using Cameron allows Bradley to venture far enough up field to play final balls closer to goal, as opposed to having to play most of his final balls from a deeper position.
While Bradley wouldn't be playing as a playmaker and Cameron wouldn't just be playing defense, the Cameron and Bradley tandem allows for Bradley to receive more defensive coverage from an athletic player who is a good passer and calm on the ball.
Starting Geoff Cameron over Jermaine Jones is important because both Bradley and Jones like to play more box-to-box roles when they are playing for the United States, and both players are constantly looking to advance into the final third, which leaves a hole in front of the defensive back four. This hole allows the opposition to play balls behind the American defense either by playing balls over the top of the defense or by playing incisive through balls.
Since Cameron is more willing to play deeper, he is a better choice to partner with Bradley because Cameron provides more defense without a drop in technical ability and passing quality. Cameron is a complete midfielder who brings skill on the ball, strong tackling, lots of running, one-to-two touch play, and good positional sense.
With Cameron being the gatekeeper that guards the space between the two center backs, he is able to also direct passing from the back, which in turn allows Bradley more freedom to attack.
This set-up allows for four more attack-minded players in front of Cameron and Bradley, and this gives the United States a balanced midfield that passes and defends well in addition to generating scoring chances and goals.
Jermaine Jones is a highly-skilled two-way Champions League and Bundesliga midfielder who brings a lot of qualities, but the chemistry between Cameron and Bradley is better because each player has a clear understanding of his role.
If Jürgen Klinsmann wants Jones and Bradley starting, then perhaps he should start both of them as box-to-box midfielders in front of Cameron in a midfield diamond with a playmaker at the tip of the diamond.
Both Jermaine Jones and Michael Bradley are capable of setting up goals and helping the United States to maintain possession, so using Cameron, Bradley, and Jones together is possible because it gives the United States technically-skilled central midfielders who all defend very well.
If all three of these players are started, then their skills need to be balanced by using a playmaker and two strikers or by using two attacking midfielders plus a first striker. This would allow the USMNT's Front Six to not be somewhat overly-defensive. Adding Joe Benny Corona, Clint Dempsey, and Jozy Altidore to the Front Six to balance out the use of Geoff Cameron, Jermaine Jones, and Michael Bradley would be one way to balance the line-up.
Cameron, Bradley, Jones, Corona, Dempsey, and Altidore would be a strong combination of players in front of the defense with the tools necessary to compete against top national teams and beat them.