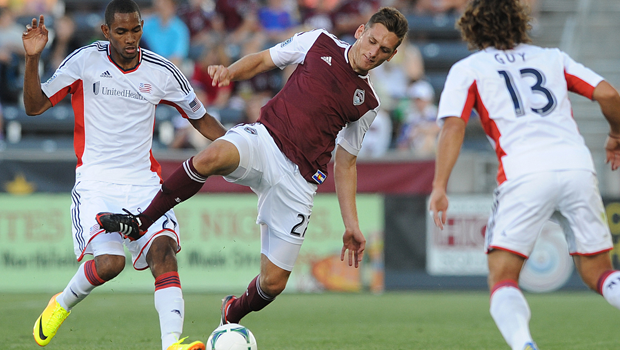 New players like Chris Klute, DeAndre Yedlin, and Shane O'Neill have been thoroughly covered by this writer, and with the arrival of John Anthony Brooks, it would appear that the United States Men's National Team has a new crop of young and talented defenders who can improve the quality and efficacy of the USMNT's Back Four.
Despite being perhaps the U.S.' most talented center back, Geoff Cameron isn't included in this list because he can be more effective for the USMNT as a midfield destroyer to partner with Michael Bradley who plays the more box-to-box defensive midfield role.
World Soccer Source has covered in various articles how Cameron and Bradley can partner together better than Jermaine Jones and Michael Bradley, and World Soccer Source has also extensively covered how a new Front Six has emerged for the U.S. national team that has the potential to produce better and more effective soccer.
Using a Front Six made up of Geoff Cameron, Michael Bradley, Landon Donovan, Joe Benny Corona, Clint Dempsey, and Jozy Altidore should greatly improve the USMNT, but a new and improved Back Four is needed as well.
Many observers view change as risky, but Jürgen Klinsmann's defenses and line-ups have been characterized by change.
With the skill and athleticism that John Anthony Brooks and Geoff Cameron showed as center backs against Bosnia and Herzegovina, the United States displayed for perhaps the first time ever a tandem of higher-level center backs playing technically-advanced soccer against a top national team.
Given this writer's belief that Cameron would be better served in the midfield, Brooks will need a new center back partner, and it's time to start incorporating or starting Shane O'Neill of the Colorado Rapids as Brooks' center back partner.
O'Neill has shown over almost a full MLS season a much higher level of technical ability, athleticism, and defensive skills than both Omar Gonzalez and Matt Besler; O'Neill just didn't receive the credit for it.
O'Neill surpasses both Gonzalez and Besler in a number of areas, including the ones outlined above, but more importantly, O'Neill is quite visibly a better overall soccer player who shows an excellent understanding of the game and where he needs to be.
Based on how well Brooks played against Bosnia and Herzegovina, in addition to the fact that he's a Bundesliga starter, Brooks has to be considered a starter from now on for the USMNT, and O'Neill gives Brooks a center back partner, who like Cameron, isn't just a good defender, but a good all-around player with a thorough understanding of the game and the ability to play well when the competition goes up.
Taking nothing away from Besler and Gonzalez, the next step for the United States would be to employ more athletic and more skilled center backs like Brooks and O'Neill who are also tall with two modern outside backs like Chris Klute and DeAndre Yedlin who present a two-way threat from their outside back positions.
The United States Men's National Team continues to have more quality players in the American player pool, but it's time to use these players rather than waiting for some unknown amount of time to use them.
Yedlin, O'Neill, Brooks, and Klute have all shown a glimpse of what using four defenders with excellent athleticism and technical ability could look like for the USMNT, and the key to improving the national team is to actually use these better players.
While many people do not feel comfortable using new or younger players in a World Cup qualifier, it is important to not remain complacent and just ride out a winning streak, especially when the very last game against Bosnia and Herzegovina used many different players than the players responsible for the wins before.
Therefore, the USMNT has been winning with different players during the winning streak, and the next step is to have the courage to use fast and skilled two-way outside backs with tall, athletic, and skilled center backs.
Defensively, mistakes can always happen whether a coach uses the same defenders or new defenders, so there is never a guarantee that merely using most of the same defenders will eliminate mistakes. At any time, a ball can be played over or through the defensive back four, no matter how experienced they are.
If Jürgen Klinsmann learned anything during his time as head coach of the United States Men's National Team, it's that many of the new players that he introduced into the line-up exceeded his expectations. Players like O'Neill, Yedlin, and Klute have an extensive body of MLS performances, and in some cases, international performances that show the types of players that they are.
While playing out of position, Brad Evans and DaMarcus Beasley have held their own at right back and left back, but Yedlin and Klute look to be a higher-caliber of natural, modern outside backs who present a threat attacking and defending.
To continue to improve and close the gap with top national teams, in addition to being better prepared for the 2014 World Cup (assuming the U.S. qualifies), it is time to use the new players who have the tools needed to compete against better competition, rather than just using defenders who hold their own.
For a country that has been producing better and better players, the path to greater soccer success at the international level is to incorporate and field the new and better players.
A close examination of Chris Klute, DeAndre Yedlin, Shane O'Neill, and John Anthony Brooks will reveal a more talented group of defenders than Brad Evans, Omar Gonzalez, Matt Besler, and DaMarcus Beasley, even if the four defenders just mentioned have done well against CONCACAF competition.
It's important to remember that Omar Gonzalez, Matt Besler, and DaMarcus Beasley didn't play against Bosnia and Herzegovina, and that the USMNT's winning streak has included a revolving door of players.
Some of the new defenders are very impressive, and they have earned the right at the very least to be strongly considered for the USMNT.
MORE ON THE USMNT'S FRONT SIX AND BACK FOUR:
http://www.worldsoccersource.com/american-mls-defenders-to-watch/
http://www.worldsoccersource.com/the-cameron-bradley-defensive-midfield-tandem/
http://www.worldsoccersource.com/usmnt-back-four-options/
http://www.worldsoccersource.com/better-usmnt-front-6-emerges/
http://www.worldsoccersource.com/new-progress-in-usmnt-tactics/