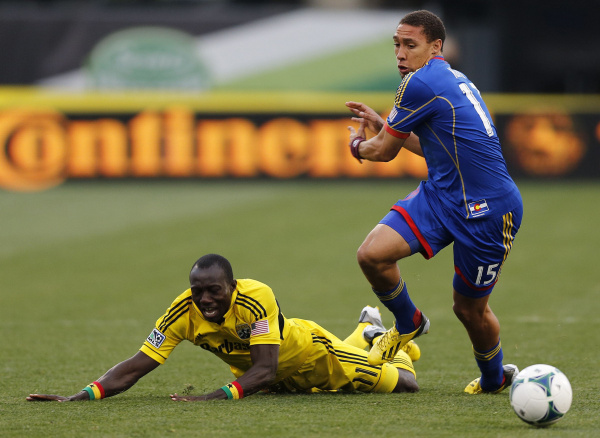 With Steve Cherundolo out indefinitely and Fabian Johnson performing better as a left winger, as opposed to as a left back, Jürgen Klinsmann needs DeAndre Yedlin and Chris Klute at right back and left back, respectively, now.
Both Klute and Yedlin are two-footed and technically-skilled players with a good first touch, and they can both pass and dribble out of the back.
Yedlin has been enjoying more publicity, but Klute is perhaps an even better outside back. Nevertheless, Yedlin is a right back and Klute is a left back, and both players are sorely needed by the USMNT.
Klute has been amassing a laundry list of starts and 90 minute performances where he showcases his excellent defending, his dangerous attacking and passing ability, and his blazing speed.
On the other hand, Yedlin too has been amassing excellent performances, including a very strong showing in the U-20 World Cup and a strong showing against Roma.
Yedlin faced strong competition both in the U-20 World Cup and against Roma, so there is some real evidence that his game translates to the international level.
Despite not having the same opportunities as Yedlin, Klute's skill both as a defender and as a participant in the attack is undeniable.
On one occasion this season, Klute passed the ball to himself by playing the ball past the defender and then sprinting out of bounds to the left of the defender only to come back in bounds to collect the ball again.
In addition to dribbling displays like this, Klute has also produced seven assists off crosses plus a highlight reel of dispossessing opposing players either by perfectly timed slidetackles or simply taking the ball of the opposition's feet.
Using Yedlin's and Klute's skill and speed at the outside back positions gives the USMNT a new and needed element to its play: excellent attacking and defending out wide.
By using natural outside backs who bring skill and speed, the United States can not only defend faster and craftier attackers out wide, but the U.S. can also disrupt the opposition by attacking them with blazing speed out wide, which causes opposing defenders to have to frequently use more than one defender to try and stop the marauding runs of Klute and Yedlin.
Using Andrew Farrell might also be an option at right back or even center back, but using Jonathan Spector or Eric Lichaj would make more sense than using Brad Evans or Michael Parkhurst at right back, even if they have held their own.
There is certainly a greater number of talented young American players than there used to be, but it is important that Jürgen Klinsmann and the USMNT actually use or at least incorporate the new players like Yedlin and Klute who have distinguished themselves and displayed the ability to improve the United States Men's National Team.
Any defender can be wrong-footed, caught out of position, or beaten, but DeAndre Yedlin and Chris Klute simply look too skilled and too fast not to use, even if they are young and inexperienced at the international level.
The USMNT really doesn't have the luxury of not using players of this caliber, especially if Klinsmann wants to really challenge the top teams.
Mistakes may come, but it's vital to use the players with the tools to compete and excel against top national teams.