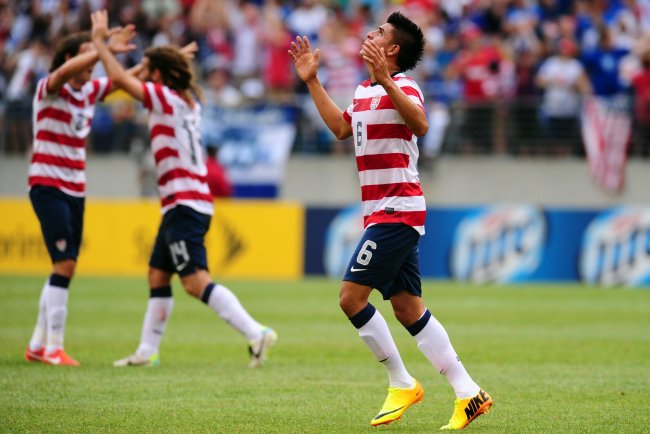 Brazil, Spain, Germany, Italy, and many other top national teams all use playmakers.
Top national teams clearly value playmakers, and if the USMNT is trying to close the gap with top national teams, then the U.S. should probably use a playmaker too.
With the exception of the two times that Jürgen Klinsmann has used Benny Feilhaber, the 2013 Gold Cup might have been the first time that Klinsmann really deployed an actual playmaker for the United States Men's National Team.
The use of players like Joe Benny Corona and Mix Diskerud in the Gold Cup increased the amount of scoring chances that the United States produced compared to previous World Cup qualifying games.
For the most part, Klinsmann's hasn't used a playmaker because he has opted to use either Clint Dempsey or Landon Donovan as second strikers to be tasked with the creative responsibilities in the attacking third.
Against Bosnia and Herzegovina, Klinsmann used Diskerud as a playmaker in front of Jermaine Jones and Michael Bradley, and Diskerud did actually create a scenario where he himself was the player in the penalty box looking to score. Diskerud was fouled multiple times in the penalty box on that particular play, but no penalty was called.
In the very same game, Klinsmann moved Eddie Johnson up to center forward to partner with Jozy Altidore, and this set-up allowed for Altidore and Johnson to combine to produce a goal that started off an initial Bradley pass played over the top of the defense.
While this situation didn't involve a playmaker, it did involve Altidore having more attacking support with him up top in a game without Dempsey or Donovan.
Whether Altidore has an additional center forward playing with him or perhaps a second striker (as opposed to a first striker), the additional support in the attack allows for more combination play in the final third.
Going into the upcoming World Cup qualifiers, Klinsmann has to be planning on using Dempsey, Donovan, and Altidore in the attack, and the best way to maximize all of these players would be to use a playmaker to combine with them and be tasked with more of the playmaking responsibilities, which would free these three up to combine with each other and play off each other.
Bradley, Cameron, and Jones have all shown the ability to set-up goals and play final balls, but none of those players are playmakers. They are skilled passers with the ability to play well-weighted killer balls, but truly being a playmaker is a gift.
While Dempsey, Donovan, and Altidore would be creating for each other and combining in the attacking third, certainly all three of these players are better at scoring and combining with each other than they are at producing a steady stream of final balls. They can play final balls, but all three players excel more when they are making the runs to score themselves.
Therefore, adding a playmaker to set these players up to score is a way for the USMNT to increase the amount of shots created and the goals scored. Based on the playmakers that Klinsmann has recently used, it appears that Klinsmann has a choice between using Joe Benny Corona, Mix Diskerud, or even both.
While this writer believes using Geoff Cameron and Michael Bradley as the defensive midfield tandem produces better passing than the Jermaine Jones and Michael Bradley tandem, both Diskerud and Corona possess more playmaking skills than Cameron, Bradley, Donovan, Dempsey, and Altidore.
Klinsmann would be wise to call up both Corona and Diskerud to the World Cup qualifying roster, and he should pick one of these players to start to give the USMNT a nice balance of different types of players started in the Front Six.
Whichever playmaker Klinsmann elects to start, if he even starts one, he always has the option of substituting one playmaker in for the other if the starting playmaker is having an off game, becomes injured, or is carded.
Bradley, Cameron, Donovan, Dempsey, and Altidore can certainly foster a brand of one-to-two touch soccer that produces goals, but adding a playmaker to that group of players should take the USMNT's passing to a higher level, not to mention the fact that Corona has a knack for scoring.