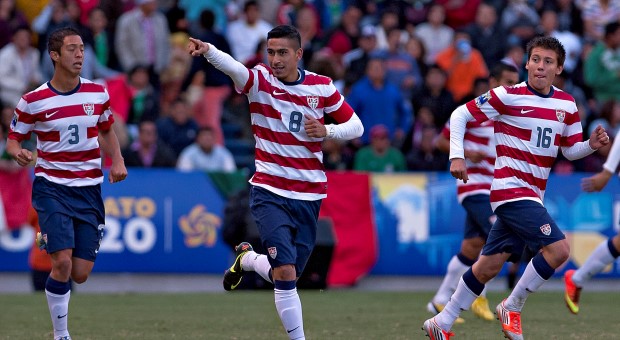 Jürgen Klinsmann should strongly consider using a formation where Michael Bradley and Benji Joya start as box-to-box midfielders with Geoff Cameron as a midfield destroyer.
Benji Joya's playing style is very similar to Stuart Holden's playing style, and Joya just might be the player who offers the USMNT the creative attacking play combined with the quality defense for which Stuart Holden has been so valued.
Benji Joya is one of the new American talents tagged with the inexperienced label by many people in the American soccer media and in the American fan base, but no one skips college soccer, MLS, and makes it in La Liga MX who doesn't have a lot of talent.
In many ways, Benji Joya is the box-to-box midfielder in the USMNT player pool who possesses the most creativity and attacking skill.
While Michael Bradley is outstanding at controlling the tempo of the passing, pushing the attack, and at providing defensive coverage, Joya provides more creativity and flair than tireless running. One of Bradley's best qualities is that his tireless running allows him to be constantly involved in the game all over the field.
By using Joya, the USMNT can have a technically-skilled attacker who looks to play one-to-two touch soccer but who also provides defensive coverage in the midfield.
Joya's competitiveness was on full display during the U-20 World Cup when he faced off against Paul Pogba, and this mentality combined with Joya's skill-level means that Joya shouldn't be dismissed too quickly just because he doesn't see significant club minutes for a famous Mexican club team at just 19 years old.
To really evaluate Joya, critics and skeptics need to move past the fact that Joya doesn't have a lot of appearances for Santos Laguna.
After all, Joya is only 19.
The relevant question is whether or not Joya has the athletic and physical gifts along with the technical ability to play international soccer, and those questions were answered by Joya's play in the U-20 World Cup.
This writer would argue that the competition in the U-20 World Cup was high enough to indicate that Joya is ready to play for the USMNT.
Just because Santos Laguna isn't starting a 19 year old doesn't mean that the USMNT can't use Joya's unique skill-set.
World Soccer Source has discussed starting Geoff Cameron, Michael Bradley, and Jermaine Jones together, but this is probably an overly-defensive midfield, even if three attack-minded players are the other three players in the Front Six.
On the other hand, Joya is a technically-skilled midfielder who provides quality defense, but it's nothing like the level of defense that Bradley and Cameron provide.
This difference between players like Cameron, Bradley, and Joya is a good thing because Bradley's defensive strengths combined with his smooth passing could benefit from a creative and technical player like Joya to combine with who has the benefit of providing much more defense than Clint Dempsey, Joe Benny Corona, Landon Donovan, and Jozy Altidore.
Joya is a nice complement to Cameron and Bradley because Joya's technical ability tends slightly more toward the creative than Bradley's does, even if Bradley is skilled at pushing the attack and playing final balls.
Going forward, a Front Six with a complementary set of unique skill-sets can help the United States to close the gap with better national teams, and the criteria for inclusion on the USMNT should be expanded to include player's with unique and needed qualities and playing styles, even if they don't have as many club minutes as less-skilled players who see more playing time.
At some point in the near future, the United States needs to incorporate Benji Joya. Using a Front Six like the one below would offer a balanced combination of types of players and skill-sets making up the Front Six of the USMNT:
Geoff CAMERON; Michael BRADLEY, Benji JOYA; Joe Benny CORONA; Jozy ALTIDORE, Clint DEMPSEY.