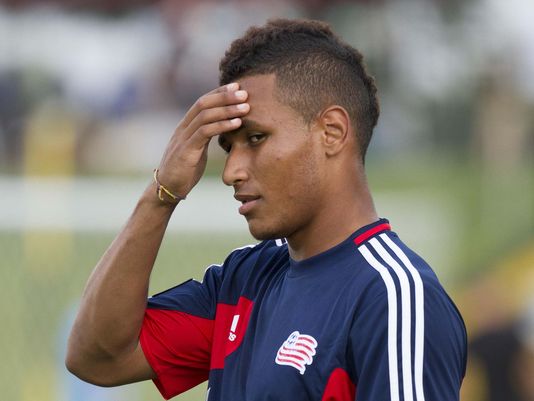 Many observers criticize soccer players who are willing to continue to attempt tricks or audacious plays even if many of those attempts are failed attempts.
People who criticize showmanship and flair view it as wasted energy, but individual brilliance also wins games.
Juan Agudelo has been identified as a special American talent since he was 17 years old, and ever since that time, he has reaffirmed his skill-level, athleticism, and effectiveness as a striker on the club and international level.
Nevertheless, Agudelo is more of a finished product than he used to be because his 1v1 abilities, his movement off the ball, and his finishing all look more effective and refined than they used to be.
Everyone knew that Agudelo had talent that couldn't be taught, and everyone knew that Agudelo wasn't afraid to play with bravado. But, despite all of the highlights and despite quality international play, it was apparent that Agudelo was still a young striker who was ironing out weaknesses and honing his craft.
Over the course of this MLS season, Agudelo has become more efficient and more clinical in his technical ability, in his finishing, and in his execution of tricks, which is making him a more polished striker that can play a major role with the United States Men's National Team.
The evidence of Agudelo's increased level of play isn't just in his collection of electrifying and high-difficulty goals, but it's also evident in the overall-quality of his play, which includes two-footed technical ability, textbook heading technique, a soft first-touch, good vision, a nose for goal, and intelligent movement off the ball.
Agudelo has improved his movement off the ball, his ability to not be dispossessed in the penalty box, and in his increased sense of when to pass, when to shoot, and when to take defenders off the dribble.
What's on display now is a striker who is ready to use all of his physical gifts and skills to excel against better competition on the international and club level.
For example, there's a difference between being able to execute smooth stepovers, and being able to smoothly execute stepovers close enough to elite defenders to use the trick to leave the defender for dead.
Many people are critical of soccer players who play with flash and flair, but Agudelo seems to have learned how to use his flash more productively and more efficiently.
Whereas Jozy Altidore was criticized in the past for not enough movement off the ball, not enough aggressiveness, and not enough smooth technical ability, Agudelo has been criticized for being overly-flashy and losing the ball too often, due to his willingness to attempt multiple tricks in succession.
The major pieces of criticism of Altidore are a thing of the past, but now Agudelo too is close to going from being criticized to being praised.
As Altidore has refined his technical ability and attacking prowess, Agudelo has also been improving.
Agudelo has learned how to eliminate excess energy and movement by using his creativity, skill, size, and athleticism with more purpose and efficiency.
Juan Agudelo is now harder to mark, harder to dispossess, and harder to keep off the United States Men's National Team because a striker with his skill-level, his athleticism, and his size has simply become too qualified to not be a fixture on the roster.
While Altidore has displayed an enormous improvement in his technical ability, his movement off the ball, and his finishing, which bodes well for the future of the USMNT, the prospect of Altidore playing alongside a polished Agudelo marks a new milestone for American strikers.
American midfielders like Clint Dempsey, Landon Donovan, and Michael Bradley have distinguished themselves among American soccer players and broken a lot of barriers for American players, but the United States Men's National Team has been missing a ruthless first striker until Altidore went on a totally mean-spirited hat trick rampage against Bosnia and Herzegovina. Despite two years at AZ Alkmaar with an excellent scoring rate, the game against Bosnia and Herzegovina was a turning point for Altidore.
With strikers like Jozy Altidore, Aron Jóhannsson, and hopefully Juan Agudelo on the USMNT, the threat that the United States poses to top national teams has become very real.
Aron Jóhannsson is looking too good not to start, but starting Altidore and Agudelo together could take the United States to another level in terms of the skill, size, and athleticism of its strikers, and it should help the USMNT become closer to closing the gap with soccer's giants.
Juan Agudelo's Individual Highlights From This Season: