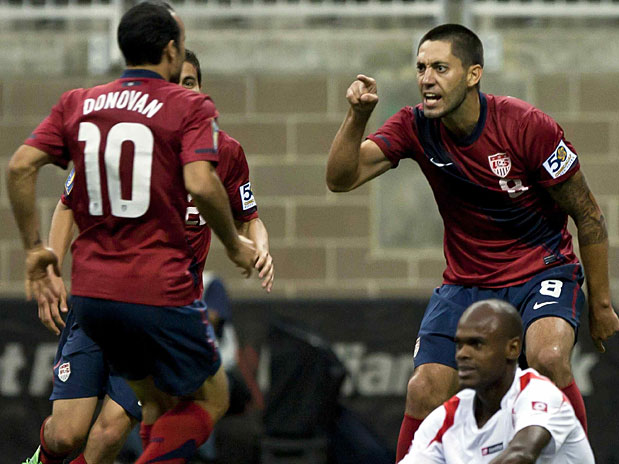 Yesterday, Jürgen Klinsmann selected a 23-man roster for the United States Men's National Team for the upcoming World Cup qualifiers against Costa Rica and Mexico. Several other players are on standby in case of injury.
Below is the roster for the September qualifiers:
GOALKEEPERS (3): Tim HOWARD, Brad GUZAN, Nick RIMANDO
OUTSIDE BACKS (3): Brad EVANS, Edgar CASTILLO, DaMarcus BEASLEY
CENTER BACKS (5): Geoff CAMERON, John Anthony BROOKS, Matt BESLER, Omar GONZALEZ, Michael OROZCO.
DEFENSIVE MIDFIELDERS (3): Michael BRADLEY, Jermaine JONES, Kyle BECKERMAN.
ATTACKING MIDFIELDERS (4): Mix DISKERUD, Fabian JOHNSON, Graham ZUSI, Alejandro BEDOYA.
FORWARDS (5): Jozy ALTIDORE, Aron JÓHANNSSON, Eddie JOHNSON, Clint DEMPSEY, Landon DONOVAN.
To see the official U.S. Soccer press release, click HERE.
REACTION:
For the most part, the roster is fairly balanced in the midfield (with some of the attacking midfielders actually listed as forwards), but the outside back selections are the most controversial.
Additionally, Joe Benny Corona was omitted from the roster, even though a strong argument can be made that Corona is a superior and more versatile attacking midfielder than Graham Zusi, and Corona provides the USMNT with another playmaker in addition to Mix Diskerud.
Having both Alejandro Bedoya and Joe Benny Corona on the roster instead of Graham Zusi and Alejandro Bendoya offers more of an attacking threat, and Corona has shown a real willingness to play defense.
Despite many of the younger American players who haven't been introduced into the fold yet, Klinsmann has selected a fairly strong roster, and the most notable omissions were Joe Benny Corona, Eric Lichaj, Jonathan Spector, and Juan Agudelo.
Many of the young players who will eventually bolster the USMNT haven't been introduced into the fold, even as players to use in case of injury or suspension, because Klinsmann has chosen to not experiment with new players during World Cup qualifying.
This rationale makes sense, even if some of the newer and less internationally-experienced players are actually better than several of Klinsmann's selections.
Eric Lichaj and Jonathan Spector would have been useful to have as outside back options because both Brad Evans and DaMarcus Beasley aren't natural outside backs, and both Fabian Johnson and Edgar Castillo are left backs who are better as left wingers. Nevertheless, this roster has three players who can play left back without counting Geoff Cameron.
At right back, Klinsmann's plan is likely to start Brad Evans at right back, and if there is some sort of problem, then both Geoff Cameron and Michael Orozco Fiscal can play right back. Fabian Johnson can also play as a right back.
This USMNT roster has a number of quality center back options including John Anthony Brooks, Geoff Cameron, Michael Orozco Fiscal, Omar Gonzalez, and Matt Besler, so at center back, all of the selections are capable center backs.
On the other hand, guessing which two Klinsmann will actually start will be easier to do as the Costa Rica game approaches.
In general, the United States can field a very strong Starting XI from the players selected to the roster, and based on Klinsmann's comments, it appears that Klinsmann plans on starting a Front Six made up of Michael Bradley, Jermaine Jones, Landon Donovan, Clint Dempsey, Fabian Johnson, and Jozy Altidore.
While Cameron and Bradley have shown signs of being a better defensive midfield tandem with better chemistry than Jones and Bradley, Jermaine Jones is a very talented and athletic Bundesliga and Champions League defensive midfielder.
Fabian Johnson has been playing as a left back for Hoffenheim, so perhaps the United States would be more effective by starting Johnson at left back with a playmaker like Mix Diskerud starting in between Landon Donovan and Clint Dempsey as a line of three attacking midfielders.
The main problem with the roster is that it's set up to use Brad Evans at right back and DaMarcus Beasley at left back, but Michael Orozco, Geoff Cameron, Edgar Castillo, and Fabian Johnson are available at outside back if there are any problems.
After these two games, the time has really come to incorporate Chris Klute, DeAndre Yedlin, Andrew Farrell, Eric Lichaj, and Jonathan Spector into the American defense.
Looking forward, players like Benji Joya and Juan Agudelo are too good to leave off the World Cup roster, if the United States qualifies for the World Cup.
By factoring in Klinsmann's past line-ups and his comments to the press, the line-up below is the line-up that the Klinsmann will likely field.
Jürgen Klinsmann's Likely USMNT XI:
Tim HOWARD; Brad EVANS, Geoff CAMERON/Omar GONZALEZ, John Anthony BROOKS/Matt BESLER, DaMarcus BEASLEY; Michael BRADLEY, Jermaine JONES; Landon DONOVAN, Clint DEMPSEY, Fabian JOHNSON; Jozy ALTIDORE.
While Klinsmann's Likely Starting XI looks capable enough, World Soccer Source would like to see Fabian Johnson starting at right back, Edgar Castillo starting at left back, Geoff Cameron starting as the midfield destroyer, and Mix Diskerud starting as the central attacking midfielder or playmaker.
World Soccer Source would like to see the Starting XI below because it includes natural outside backs, a better defensive midfield tandem, and a true playmaker.
World Soccer Source's Preferred USMNT XI:
Tim HOWARD; Fabian JOHNSON (RB), Michael OROZCO FISCAL, John Anthony BROOKS, Edgar CASTILLO (LB); Geoff CAMERON, Michael BRADLEY; Landon DONOVAN, Mix DISKERUD, Clint DEMPSEY; Jozy ALTIDORE.