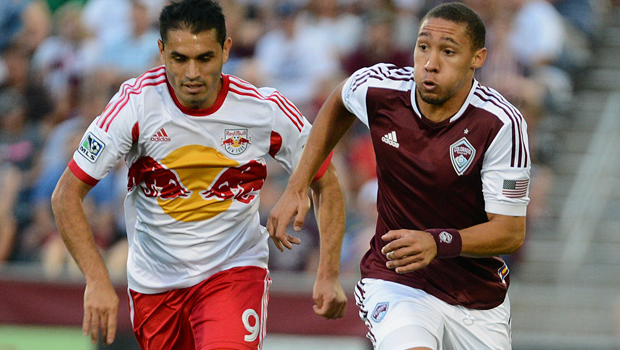 Chris Klute's attacking abilities as a left back are the usual focus for any discussion of him, but Klute's defensive qualities are equally as good.
While his attacking runs down the sideline and the visual effect of his speed and crossing ability are what observers normally notice about Klute, his actual defensive qualities are underrated.
Specifically, Klute is hard to take off the dribble in 1v1 situations because he knows how to strip players of the ball, and he has the instincts and technique to block passes and shots.
Furthermore, the timing of Klute's tackles is particularly good.
He waits until the moment when he can get the ball before the player, and then he goes in hard to win the ball with a slidetackle without making dangerous contact with the attacker.
Klute is hard to beat with 1v1 dribbling skills from a standstill, and he is hard to get past using speed because, if a player gets past him, he simply chases the player down and cleanly dispossesses them with a slidetackle or by taking the ball off their feet or out of the air.
Any American left back who is as fast and defensively-sound as Klute, and who has the skill and technique to dribble and pass out of the back with both feet has to be seriously considered for the USMNT.
If Klute is in a situation where there isn't the time or the space to dribble or pass out of trouble, he knows when to simply clear balls out of bounds or downfield.
There is more to defending than knowing when to clear balls out and when to pass or dribble out of the back; there is also the skill of tackling attackers without fouling them or without being cautioned.
The United States doesn't have another left back option who brings all of these qualities to the national team, and the exclusion of Chris Klute from the roster again by Jürgen Klinsmann, even to be used as a substitute, shows Klinsmann's unwillingness to consider using new talent in vital games, even when it is necessary.
While Klinsmann does call up Fabian Johnson, Klinsmann has stated that he views Fabian Johnson as a left winger.
Calling up Johnson and Klute would have made sense because it would have provided Klinsmann with a more experienced option and a new and talented option.
Improvement for the USMNT will require risk and change, but Klinsmann's changes are mostly biased toward the selection of dual-citizens over talented American players who grew up in the United States.
Furthermore, many of the players who are selected by Klinsmann are played out of position and clearly less-talented than other options at Klinsmann's disposal, and using Brad Evans and Michael Parkhurst at right back over Eric Lichaj, Jonathan Spector, DeAndre Yedlin, and Andrew Farrell is the obvious example of this tendency.
The friendly against Bosnia and Herzegovina would have been the perfect time for Klinsmann to evaluate Chris Klute with the national team, but Klinsmann chose to waste more time before evaluating the player who is likely the best American left back.
Now, Jürgen Klinsmann has selected a USMNT roster where his best left back, Fabian Johnson, is going to be deployed as a wing, but the starting left back is going to be DaMarcus Beasley who has been played at left back instead of using any of the natural outside backs at Klinsmann's disposal.
The point of using Chris Klute against Bosnia and Herzegovina would have been to get him ready to play left back against Costa Rica and Mexico, but now Klinsmann is going to be using a makeshift defensive back four again.