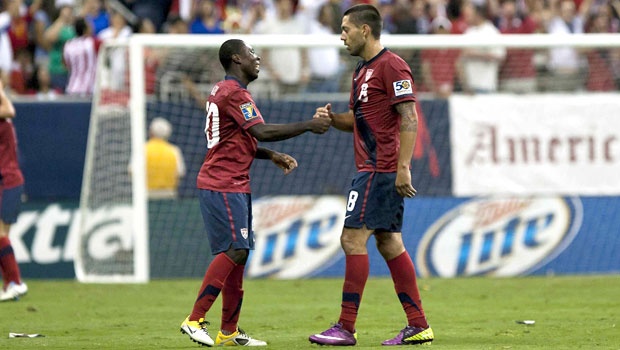 There's no zealot like a convert.
The negative opinion that many Americans have toward playmakers in soccer is likely rooted in the fact that a fair amount of American soccer fans and coaches didn't play soccer as children or watch the best players play enough, even in highlights.
The Americans who show no real appreciation for playmakers, creativity, and individual brilliance with the ball were baptized in the church of the English Premier League as adults where they came to know soccer through the biased lens of the English media and English football fans who glorify overly-physical play over skill soccer.
There's a reason that England never wins anything.
No other American soccer players provoke the polarizing reaction that Freddy Adu and Benny Feilhaber provoke, and this is likely due to the fact that both of these playmakers' greatest strength seems to be a quality that is greatly undervalued in American soccer circles: creativity.
While Americans certainly value players who show excellent skill on the ball and advanced technical ability, there has never been a strong belief in the United States that at least one member of a starting line-up should be a creative playmaker whose defensive tendencies are heavily outweighed by a focus on quick passing, playmaking, creative play, and unlocking defenses.
Playmakers should be expected to put pressure on the opposition when the opposition has the ball in order to attempt to force the opposition to give up possession, but expecting playmakers to bring the same gifts and qualities that defensive or box-to-box midfielders bring is unrealistic and unnecessary.
Every type of player brings their own strengths and weaknesses to the table, and the American soccer community (including ex-players and member of the media) needs to learn the difference between skilled attacking players and playmakers because they aren't the same thing.
This failure by many people to recognize this difference between skilled attacking play and playmaking abilities creates a strong belief that players like Clint Dempsey and Landon Donovan who are skilled attacking midfielders can bring the unique combination of playmaking abilities that Dempsey and Donovan themselves need to thrive.
Now, Michael Bradley's improved technical ability and passing skills have some American soccer fans classifying him not as a defensive midfielder but as some sort of attacking midfielder or some sort of box-to-box midfielder who plays like Arturo Vital, Paulinho, Paul Pogba, Kevin-Prince Boateng, or Bastian Schweinsteiger.
Any examination of the play of the United States Men's National Team since the 2006 World Cup will reveal that Michael Bradley, Clint Dempsey, Landon Donovan, and Jozy Altidore were all able to perform at their best and play the way they wanted to play when they had a playmaker to fulfill a role that they themselves couldn't play.
Many American critics of Benny Feilhaber and Freddy Adu have a variety of reactions to either player's name, and those reactions range from laughter to anger.
The real root of this phenomenon appears to be a strong belief that true playmakers either don't play enough defense or that many of their passes don't find their target or result in conceding possession.
The role of the playmaker is to have the vision, the willingness, and the ability to make the passes that unlock the defense or create scoring chances.
Additionally, a playmaker is supposed to constantly be available to receive a pass and quickly release a pass to a teammate in order to establish a good passing rhythm and maintain possession.
With playmakers, people remember the passes that don't quite squeak through the defense or the chipped pass that is played a yard too long or the ambitious pass that is blocked or intercepted.
People remember mistakes more than they remember successes, and this is the reason behind the criticism of Freddy Adu and Benny Feilhaber.
While Benny Feilhaber has 40 caps for the USMNT, Freddy Adu pops up out of nowhere on the international level like the Pink Panther and performs really well only to then disappear from the USMNT for months or years.
Years later American soccer fans remember a few good passes, but they forget the way that the playmaker changed the momentum of the game or the way the playmaker improved the passing of the United States.
Years later these performances are dismissed as some examples of playmakers providing a few nice passes and a few memorable highlights, but the position and the player is dismissed as a wasted starting line-up spot that could have been occupied by someone who offered more grit, more running, or more toughness.
The problem with this dismissal is that the unique skill-set of the playmakers and the ability to perform against very skilled and famous opponents was in fact the reason for the memorable win or tie.
The United States wouldn't have played as well in the 2009 Confederations Cup and in the 2010 World Cup without Benny Feilhaber, and the United States might have not made the 2011 Gold Cup Final without Freddy Adu filling in for Benny Feilhaber.
These are realities, and even years later, new playmakers like Joe Benny Corona or Mix Diskerud aren't being considered as vital players who allow Michael Bradley, Clint Dempsey, Landon Donovan, and Jozy Altidore to play their natural positions and do what they do best.
Closing the gap with Brazil, Spain, Germany, Italy, France, Argentina, and the like will require that Americans and whoever is coaching the United States Men's National Team truly acknowledge that elite national teams can't be beaten without players who can unlocked balanced and organized national teams who have world-class players at every position.
Running a lot and pretending that skilled attacking midfielders are all playmakers will not give the United States the tools to unlock defenses where the center backs have the skill-sets of elite midfielders.
Whether the United States uses Joe Benny Corona, Mix Diskerud, Benny Feilhaber, or Freddy Adu, there must be a player who links the running and smooth passing of Michael Bradley with the goal-scoring and attacking threat of Clint Dempsey, Landon Donovan, Jozy Altidore, and Juan Agudelo.
Without a playmaker to provide service for the goal-scorers, the United States won't ever pose a real threat to the best national teams in the world playing at full-strength.
There's a reason that the amount of defensive players and attacking players in a Starting XI is roughly equal, and the reason is because the delegation of responsibilities is supposed to make sure that there is a strong enough defense to partner with a dangerous enough attack.
Not using a playmaker is a good way to try and contain elite national teams, but it's not a good way to try to actual beat them in a World Cup.
There's no American Zidane yet, and there's no American Ronaldinho Gaúcho (who was a goal-scoring playmaker).
But, a healthy appreciation of the importance of American soccer players with playmaking qualities would be an important sign of progress for American soccer.
Playmakers in other countries are treated like kings and treasured, but many Americans view true playmakers as surplus to requirements.