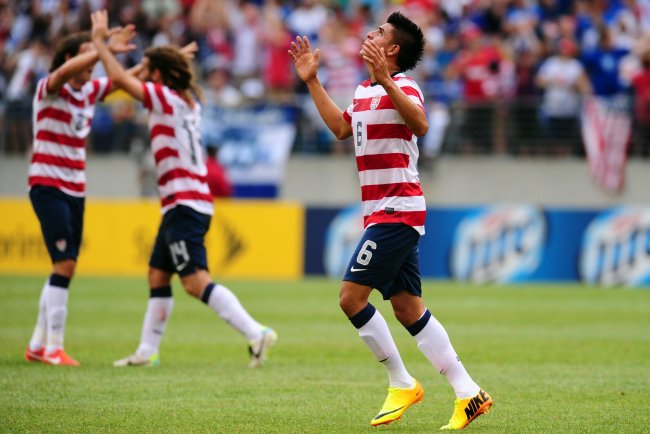 Jürgen Klinsmann finds himself in a difficult situation as Michael Bradley is injured for the United States Men's National Team's crucial World Cup qualifier against Mexico, especially since Klinsmann has relied on a combination of Michael Bradley and Clint Dempsey to fulfill playmaking responsibilities for the United States Men's National Team, as opposed to using a true playmaker.
For all of Klinsmann's talk about this not being the time to experiment, the defensive back four that Klinsmann used against Costa Rica was a makeshift back four including Michael Orozco, who was blamed for the loss, besides not being responsible for a single Costa Rican goal.
The game was lost in the midfield, and Costa Rica was one goal away from victimizing the United States with a goleada.
With Michael Bradley injured and Geoff Cameron, Matt Besler, and Jozy Altidore suspended, Klinsmann replaced those four players with Joe Benny Corona, Clarence Goodson, José Torres, and Brad Davis.
There's no way for an objective observer to look at the replacements called in and not be concerned. While Joe Benny Corona has proved his skill and worth against top competition in the Copa Libertadores and against Bosnia and Herzegovina, Brad Davis, Clarence Goodson, and José Torres never really have.
The United States needed a right back, a defensive midfielder, a talented first striker, and a playmaker to face Mexico, and Klinsmann was incapable of making the selections that were necessary with the exception of Joe Benny Corona.
Once again, Klinsmann will be using a makeshift Starting XI where the outside backs will likely be scrambling, and the center backs likely won't be agile enough to keep up with Chicharito, Oribe Peralta, and Giovanni Dos Santos, among others.
As Klinsmann called up Clarence Goodson, it's very possible that he will start with Omar Gonzalez at center back, but maybe, just maybe, Klinsmann elects to start Orozco at center back to keep up with Mexico's speed and skill on the ball.
Looking objectively, Goodson and Gonzalez do not really have the agility, skill, or overall speed to keep up with Mexico's attackers.
If Chicharito, Peralta, Dos Santos, and Reyna or Aquino all start for Mexico, then the American defense is in trouble, if Klinsmann uses Orozco, Gonzalez, Goodson, and Beasley as his back four.
Circumstances dictated that Jürgen Klinsmann should have called in a dynamic defensive midfielder to play in place of Michael Bradley, and Kyle Beckerman definitely does not have the physical gifts to keep up with Mexico's attackers without fouling them.
If Jermaine Jones elects to constantly push up, then Beckerman will be forced to hold off superior Mexican players who can beat him with speed, quickness, skill, or all three.
Nevertheless, Klinsmann's likely strategy is to start Jermaine Jones and Kyle Beckerman in front of a back four of Michael Orozco, Omar Gonzalez, Clarence Goodson, and Fabian Johnson.
Klinsmann could go with something else, but his past history, his recent roster replacements, and his comments to the press seem to make a deviation from the formation described above unlikely.
There is an argument to be made that since Clarence Goodson wasn't on the original roster (presumably because Geoff Cameron, John Anthony Brooks, Omar Gonzalez, Matt Besler, and Michael Orozco were), then Orozco is more likely to feature at center back with Omar Gonzalez.
Either way, divining Klinsmann's Starting XIs is total guesswork.
In front of the players prognosticated above, the USMNT is sure to use Landon Donovan, Clint Dempsey, and either Eddie Johnson or Aron Jóhannsson.
With Joe Benny Corona and Mix Diskerud on the roster, Klinsmann could start Diskerud alongside Jermaine Jones, or he could start him in between Donovan and Dempsey as a central attacking midfielder, which would then mean that Fabian Johnson would be started at left back.
Another option is for Klinsmann to use the following Front Six: Jones, Diskerud; Donovan, Corona, Dempsey; Jóhannsson or Eddie Johnson. This option would relegate Beckerman to the bench and Fabian Johnson to left back.
There is really no way to predict whether Klinsmann will start Diskerud or Corona or both in some capacity, nor is there any way to accurately predict his Starting XI, given all of the problems against Costa Rica, the roster additions, and the need to neutralize a talented and motivated Mexican national team.
Nevertheless, looking at the roster, it appears that Klinsmann plans on starting the following Starting XI:
Tim HOWARD; Michael PARKHURST or Michael OROZCO, Omar GONZALEZ, Clarence GOODSON or Michael OROZCO, Fabian JOHNSON; Jermaine JONES, Kyle BECKERMAN; Landon DONOVAN, Joe Benny CORONA or Mix DISKERUD, Clint DEMPSEY; Aron JÓHANNSSON or Eddie JOHNSON.
World Soccer Source believes that Mexico poses a major threat to the United States and that major changes are needed to beat Mexico.
Possession was a problem against Costa Rica, and the United States needs to use a faster and more skilled defensive back four to face Mexico.
Starting Fabian Johnson at right back and Edgar Castillo at left back may be the best the United States can do with this roster.
Using Michael Parkhurst and Michael Orozco at center back gives the United States defenders with the skill, positional sense, and quickness to do a better job of containing Mexico's attackers.
Both Mix Diskerud and Joe Benny Corona need to be started to allow Landon Donovan and Clint Dempsey to have teammates who can maintain possession and play on their level.
The 4-6-0 formation used against Costa Rica was a bad idea, and the USMNT would be smart to start a talented and in-form European goal-scorer like Aron Jóhannsson.
Jóhannsson should create plenty of scoring opportunities for himself, and he should put himself in good positions in order to receive final balls from Jones, Diskerud, Donovan, Corona, and Dempsey.
World Soccer Source would like to see the Starting XI below:
Tim HOWARD; Fabian JOHNSON, Michael PARKHURST, Michael OROZCO, Edgar CASTILLO; Jermaine JONES, Mix DISKERUD; Landon DONOVAN, Joe Benny CORONA, Clint DEMPSEY; Aron JÓHANNSSON.