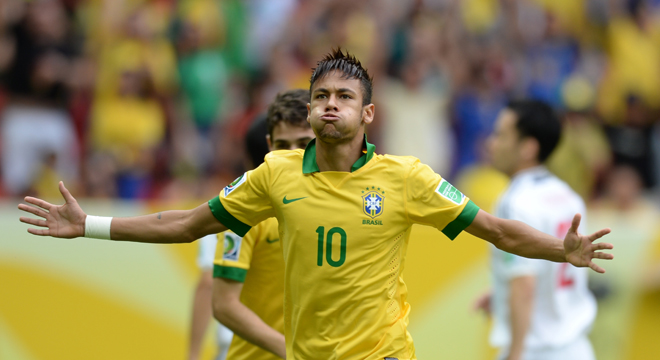 It only took a few games for Neymar to fully adapt to European football and playing with Barcelona.
The Neymar critics have been circling around like vultures for the last few years with the bizarre logic that the best Brazilian player of his generation would somehow not be able to cut it in Europe, despite an abundance of video evidence showcasing incredible ball control, creativity, and athleticism on the club and international level.
Even after Neymar and Brazil humiliated and dominated Spain in the 2013 Confederations Cup Final with skill, athleticism, physicality, and psychological warfare, the Neymar critics still doubted whether Neymar would be able to mesh with Lionel Messi and fit in with Barcelona's style of play.
The uniqueness of Barcelona's style of play is somewhat of a historical fallacy because one-to-two touch soccer based on a passing and moving without the ball has been the recognized gold standard of world football since Pelé and before.
Even people who hate soccer and know nothing about it know that Brazil is the best soccer nation in the world, and most of the best soccer players come from Brazil. Even Americans who hate soccer associate soccer excellence with Brazil.
Therefore, it's a mystery why so many people in the United Kingdom and in Europe insisted on perpetuating the ludicrous opinion that Neymar would struggle to adapt to La Liga, Barcelona, and Champions League football.
Over the last few years, Neymar's body has filled out and matured quite a bit, even if he still has a thin physique as his natural body type, and it is surprising that more of Neymar's detractors didn't notice that Neymar was becoming more muscular and taller.
From the very first game of this summer's Confederations Cup, Neymar announced to the world with his electrifying goals, assists, and overall play that critics would be eating their words.
The final nail in the critics' coffin was the ruthless left-footed half-volleyed goal that Neymar scored near post by crushing a shot off the bounce straight at Iker Casillas' face, even though Casillas, arguably the best goalkeeper in the world along with Gigi Buffon, had the near post covered.
The cold-blooded nature of that goal and the ability and confidence it took to pound it straight at Casillas' head in the Confederations Cup Final should have silenced the critics once and for all because once he repeatedly scored and excelled against the best national teams and embarrassed Spain on international television, what more did Neymar need to do to prove that he was ready for European football?
As Barcelona's season began, the critics were still out in full force saying that it would take Neymar a while to adapt to Spanish and European football until Neymar scored the game-winning header off a Daniel Alves cross to beat Atlético Madrid in the first leg of the Supercopa de España.
Not only did Neymar score, but by scoring a contested header with his head, Neymar showcased his complete skill-set to doubters who viewed him as a soft player who wouldn't put himself in harm's way.
Neymar knows how to compete in a physical sport while still avoiding injuries and protecting himself from reckless and dirty players.
In Neymar's most recent game, which was against Sevilla, Neymar outplayed Messi, and Neymar showed that not only adapting to Spanish football but thriving was mere child's play for a player of his abilities.
The Brazilian sensation's real battle will be to win enough trophies and individual awards by continuing to balance individual brilliance while still being a player who plays for the team and makes his teammates better.
More so that Cristiano Ronaldo and maybe Messi, Neymar is likely a player who is better-equipped to make his teammates better while still distinguishing himself as the best player on the field.
Neymar wants the crown and the glory, but he will likely achieve both by not competing against his peers but by competing with his own standards and doing what is needed to win games.
Cristiano Ronaldo definitely views Messi as a competitor just as he viewed Kaká as a competitor, but like Tiger Woods, Neymar seems to only be competing with himself.
Contesting the fact that Messi is the world's best footballer is considered blasphemy, but the 21-yeard-old Brazilian master looks to be a more complete player, who unlike Messi, uses both feet interchangeably and who is a more gifted passer with a bigger arsenal of individual skills to score and best opponents.
The problem for Neymar will be winning the Ballon d'Or four times with players like Mario Balotelli, Paul Pogba, Arturo Vidal, and many others around.
If the Brazilian maintains his relaxed personality and his big-game mentality, then focusing on success with Brazil and Barcelona will also bring the individual awards.