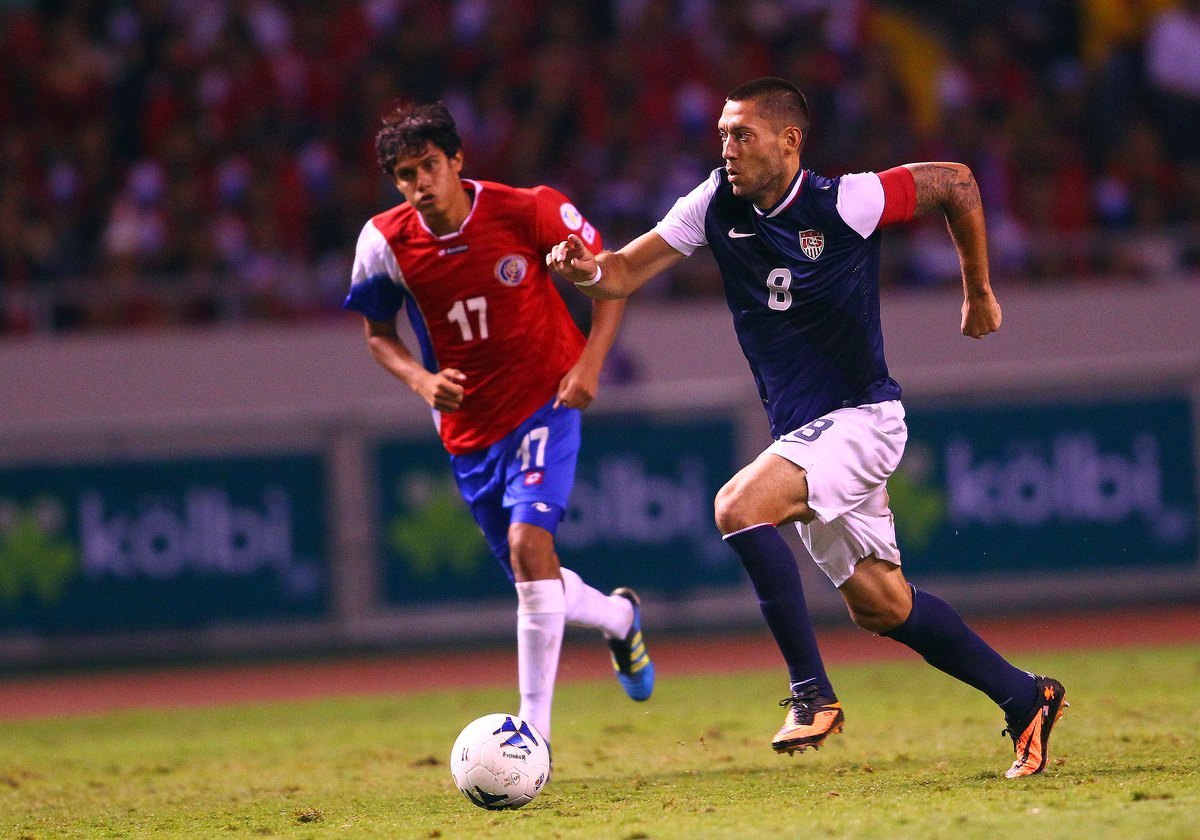 All playmakers are attacking midfielders, but not all attacking midfielders are playmakers.
For this reason, Clint Dempsey and Landon Donovan were not listed in World Soccer Source's article entitled "Depth Chart: USMNT Playmakers."
Playmakers are rare, and the best two American soccer players, Clint Dempsey and Landon Donovan, are not playmakers. Attacking midfielders can be playmakers, wingers, or players like Neymar who has no clear positional name. Frequently the very best players in the world are hard to classify with a single positional name.
USMNT Depth Chart: Attacking Midfielders
1.) Clint Dempsey (Seattle Sounders)
Many journalists and fans consider Landon Donovan to be better than Clint Dempsey and the best American soccer player ever, but World Soccer Source disputes this. Clint Dempsey has shown a level of technical-ability, trickery, killer instinct, physical and mental toughness, and a competitive spirit above those of Landon Donovan.
Some people think Clint Dempsey is better, and some people think Landon Donovan is better. The most important thing is that both players can start together on either side of a playmaker and work together to win.
Clint Dempsey scored goals on a consistent basis in the English Premier League for seven years, and Landon Donovan has played basically his entire career in MLS. Dempsey outplayed Donovan in the 2006 World Cup and in the 2010 World Cup where Donovan scored one goal thanks to a tap in off a rebound, which Dempsey forced, and Donovan scored a penalty kick and one ruthless point blank head shot, which was his one notable goal from the 2006 and the 2010 World Cups.
The Texan is a more technically-skilled player than Donovan, and Dempsey shows a greater ability to disrupt the defensive cohesion of top national teams.
If you were to compile the individual highlights and goals of both players, Dempsey's would be much more impressive. But more important than the highlights or the trickery, is the combination of fire, skill, toughness, and irreverence that Dempsey brings to all of his games.
Whereas Donovan sometimes puts on a disappearing act in games, Dempsey shows absolutely no respect for his adversaries, and this makes him more of a threat and more of a cold-blooded assassin against elite national teams.
The USMNT needs both Donovan and Dempsey playing together and combining with one another, but this writer views Clint Dempsey as the better player with a better track record against higher-level competition on the club and international level.
Dempsey's left-footed upper 90 wonder strike scored against Germany in a friendly after losing Lukas Podolski with a Cruyff turn, his chipped golazo against Juventus (without Gigi Buffon playing), and his goal scored against Gigi Buffon in a friendly against Italy in 2012 are just a view examples of the Clint Dempsey Supremacy over Landon Donovan.
2.) Landon Donovan (LA Galaxy)
Landon Donovan is without question the very first American soccer player who was born and raised in the United States who demonstrated an enormous boost in the skill-level of American soccer players.
Donovan excels at using his speed and both feet to beat defenders off the dribble and play one-to-two touch passing. Donovan is the all-time goal-scoring leader and assist leader for the USMNT, but he enjoyed a four year head start on Clint Dempsey who was playing in obscurity, despite being just one year younger.
For this writer, Donovan has never shown the same technical-ability and big-game mentality as Clint Dempsey, but no one can deny Donovan's achievements or abilities.
It's a shame that Donovan didn't elect to make more of an attempt to play his club soccer in Europe, as opposed to playing in MLS. People can say that he helped developed the league, but that wasn't his responsibility. Playing in Europe for 10 years would have made Donovan an even better player than he is today.
Despite all of this, Donovan and Dempsey aren't mutually exclusive, and they shouldn't be competitors on the national team, as the Unites States needs both of them starting.
As the poster child for American soccer, there can be no doubting that Landon Donovan's four year head start caused Clint Dempsey to be unjustly underrated and underappreciated by American soccer fans who worshipped Landon Donovan for being the first world-class American soccer player.
3.) Benny Feilhaber (Sporting Kansas City)
Benny Feilhaber was heavily discussed in the article entitled "Depth Chart: USMNT Playmakers," but nevertheless Feilhaber has been the attacking midfielder other than Dempsey and Donovan who demonstrated the greatest ability to play one-to-two touch soccer against top national teams, and he still is one of the most technically-skilled American soccer players.
Whenever you see highlights of the United States performing its best against the best national teams since 2007, you will see Benny Feilhaber who proved to be a needed midfield piece to Bob Bradley's midfields which almost always started two defensive midfielders in the middle with Landon Donovan and Clint Dempsey out wide.
There's nothing to suggest that Benny Feilhaber's abilities and athleticism have dropped over the last few years under Klinsmann's tenure as head coach of the national team.
4.) Freddy Adu (E.C. Bahia)
Freddy Adu remains one of the only American attacking midfielders who can truly put even top players on their heels, and Adu possesses a combination of 1v1 abilities and quickness that Donovan and Dempsey do not have. Additionally, Adu's passing and vision are well above those of Dempsey and Donovan.
There's a reason that teams continue to sign Freddy Adu. Say what you want about Freddy Adu and his club playing time, but he was signed by Benfica, where he actually played and scored goals, and he was signed by the famous Brazilian club, Bahia, where he has done his best to continue to fight for a spot in the game-day rosters and in the starting line-ups.
No one gets to even sit on the bench for Bahia or Benfica, if they aren't good, and claiming that American soccer and the USMNT doesn't need a player like that is perhaps rating the United States Men's National Team too highly.
Conclusion:
Selecting four attacking midfielders among Clint Dempsey, Landon Donovan, Benny Feilhaber, Freddy Adu, Joe Benny Corona, Mix Diskerud, and several others is a tough decision, and Jürgen Klinsmann doesn't seem to particularly rate several of these players (most notably Benny Feilhaber and Freddy Adu).
Selecting a 23-man roster for the World Cup will require factoring in which players can play more than one position, but for this writer, Alejandro Bedoya, José Torres, Brad Davis, and Graham Zusi have never demonstrated the same still-level as players like Benny Feilhaber, Freddy Adu, Mix Diskerud, and Joe Benny Corona.
There aren't any real wingers among the four players highlighted in this article, except for Landon Donovan, and the reason for this is because the width in the attack can come from the outside backs.