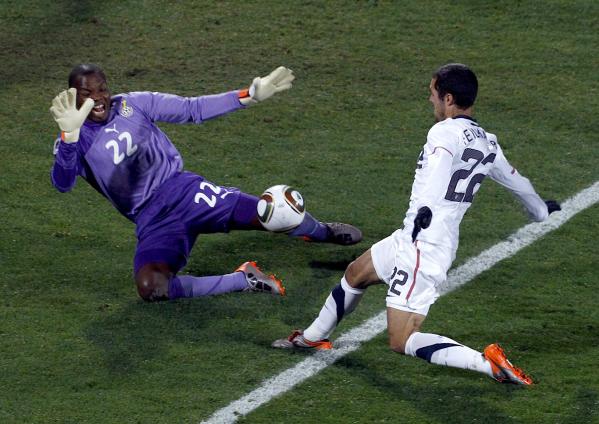 Jürgen Klinsmann hasn't been using playmakers in his United States Men's National Team starting line-ups for the most part, but he did start Mix Diskerud as a playmaker against Bosnia and Herzegovina.
Rather than using true playmakers who have the unique skill-set and abilities to see openings in the defense and play killer final balls, Klinsmann has preferred to use Clint Dempsey or Landon Donovan as second strikers who are tasked with the responsibility of setting up goals for strikers like Jozy Altidore.
The United States has the option of starting a playmaker in between Clint Dempsey and Landon Donovan who should be allowed the freedom to roam around in the attack where they see fit, and starting a playmaker would force the opposition to contend with marking Dempsey, Donovan, and Altidore who would all be making final runs.
Recently, Mix Diskerud and Joe Benny Corona have shown how the way that they play the game and the way that they see the game is more along the lines of a playmaker than Dempsey and Donovan, who are really attacking midfielders or second strikers.
American soccer fans and the American soccer media should be mindful that despite the good winning streak under Jürgen Klinsmann, only Benny Feilhaber and to a less extent Freddy Adu have ever really proven that they can excel as playmakers against quality international competition.
Until there is a real contest between Corona, Diskerud, Feilhaber, and Adu, no one will know which American playmaker truly performs the best against international competition.
1.) Benny Feilhaber (Sporting Kansas City)
Of all the playmakers, Benny Feilhaber has been the one who has a track record of success on the international level.
There are many journalists and fans who want Feilhaber to play more like a box-to-box midfielder, but this over-emphasis on playing more defense makes little sense especially in a system with one or two defensive midfielders playing in front of four defenders.
Feilhaber should certainly apply defensive pressure on the opposition to make mistakes when they have the ball, but expecting Feilhaber to bring the same amount of defense and tackling that defensive midfielders bring is unnecessary and unreasonable.
Feilhaber's role is to constantly make himself available as a passing option for his teammates and to facilitate the quick movement of the ball around the field, and he should be focused on doing this and looking to unlock the defense with incisive passes or final balls whenever the opportunity presents itself.
Being a playmaker requires hitting effective and quality passes as soon as the playmaker sees the opening to play the pass, and Feilhaber has been the American playmaker who has the best track record of being able to do that in World Cup games and in other big games.
2.) Freddy Adu (E.C. Bahia)
No one ever questions Freddy Adu's talent, but he has been on the receiving end of lots of criticism for the amount of club teams that he's played for and the lack of consistent playing time at the club level.
From the United States Men's National Team's perpective, Adu has always shown the ability to not only play up to the level of top competition but also to distinguish himself.
Regardless of Adu's club history, he remains a special talent blessed with excellent vision, trickery, 1v1 abilities, passing skill, goal-scoring abilities, and great quickness.
The United States is not at the level yet where players of Adu's individual ability who can win games with one pass, one trick, or one shot can be left off the roster.
Like it or not, the United States will have a hard time beating top national teams in the World Cup without Adu or one of the other playmakers in this article on the national team.
Freddy Adu is a controversial enigma, but if he's physically fit to play, then his skills are needed by the USMNT.
3.) Joe Benny Corona (Tijuana)
While Benny Feilhaber and Freddy Adu were given the opportunities to show what they could do for the USMNT under Bob Bradley, Joe Benny Corona hasn't been given the same amount of chances to show Jürgen Klinsmann how he can improve the play of Michael Bradley, Clint Dempsey, Landon Donovan, and Jozy Altidore.
Corona has proven himself in the Copa Liberatores against teams like Corinthians, but Corona has only been given limited opportunities to play as a playmaker under Klinsmann.
Based on Corona's playing-style, his ability to use both feet, his touch, and his ability to score and set up goals when deployed as a number 10, the United States would benefit from seeing what Corona can really do.
With the World Cup one year away, Klinsmann will need players like Corona if he hopes to unlock elite defenses in the World Cup, and if Klinsmann is going to totally freeze out Benny Feilhaber and Freddy Adu.
3.) Mix Diskerud (tied with Joe Benny Corona) (Rosenborg)
Mix Diskerud may be equal to, better than, or worse than Joe Benny Corona, but until Klinsmann really lets both players play more, it's hard to decide which playmaker is better.
Certainly, Diskerud has shown that his passing, vision, and playmaking abilities are rare in the American player pool, but the way to evaluate playmakers is to play them with the best attacking players on the team and see what happens.
Both Corona and Diskerud haven't really been started with or seen significant minutes with Bradley, Dempsey, Donovan, and Altidore, and giving them these minutes will help to answer questions about who the best American playmakers are and which ones the USMNT needs.
Conclusion:
Benny Feilhaber is the most proven playmaker of all American playmakers, and his play in MLS this season has demonstrated that there is nothing to suggest that he's experienced any drop in skill or fitness that would somehow make him not play as well now with Bradley, Dempsey, Donovan, and Altidore as he did in the past.
The most bizarre aspect of Klinsmann's line-ups and formations is why he has refused to use a true playmaker when he is using two defensive midfielders, four defenders, and a goalkeeper. The use of a playmaker to link the defensive midfielders with the attackers and to set up goals is internationally-recognized as a key aspect of soccer tactics.
It's unclear why a former striker of Klinsmann's level would not place more of a premium on using true playmakers to set up the U.S.' strikers and attacking midfielders.
If Jürgen Klinsmann doesn't want to use Feilhaber and Adu, then he would be wise to put Corona and Diskerud on the roster and actually start one or the other on a consistent basis.