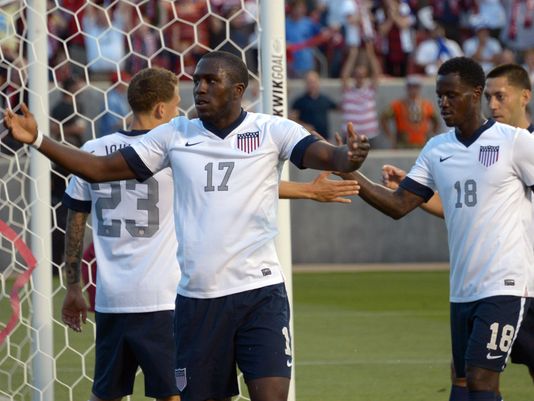 Over the past two years, Jozy Altidore has dramatically improved his movement off the ball, and he has refined his technical ability and finishing skills.
Now, Jozy Altidore has blossomed into a first striker whose athleticism and physique are matched by his technical skill and movement off the ball. Altidore has two years playing club soccer in Holland to thank for these improvements, and now Jozy Altidore tops the list of World Soccer Source's best American strikers.
After Jozy Altidore, Juan Agudelo and Aron Jóhannsson are tied for second due to the difficulty in trying to scientifically rank all of the various criteria like finishing, club form, the league played in, technical ability, scoring-rate, and athleticism.
1.) Jozy Altidore (Sunderland)
Easily the best American striker, Altidore showed just how far he'd come in polishing his technical ability, finishing, and movement off the ball when he scored an outstanding hat trick against Bosnia and Herzegovina after two years with a prolific scoring-rate with AZ Alkmaar in the Eredivisie. Two months shy of his 24th birthday, Altidore is a complete first striker, and he will continue to improve in all areas of his game as the years go by.
2.) Juan Agudelo (New England Revolution / Stoke City)
Juan Agudelo is one of the crown jewels of American soccer, and it will be interesting to see how he compares to Jozy Altidore in a few years or sooner.
It took Altidore several years and the right club situation to become a more finished product who had harnessed his physical gifts and honed his skills, so Agudelo should be allowed the same amount of time to become more polished and deadly.
Whereas Altidore was accused of needing to refine his technical ability several years ago, Agudelo was never criticized for his technical ability. Agudelo has been criticized for trying to do too many tricks, for overcomplicating things, and for taking too many touches, but Agudelo has become more efficient without eliminating the trickery and creativity from his game.
The young American striker has had multiple opportunities to showcase his talent against top national teams playing at full strength, and he has never looked overmatched or fazed by the opposition.
There are too many excellent goals with both feet and his head to not consistently have Juan Agudelo on the United States Men's National Team, and despite a few injuries, there have been plenty of occasions when Agudelo has been unjustly snubbed by Jürgen Klinsmann and the national team.
2.) Aron Jóhannsson (AZ Alkmaar)
Aron Jóhannsson is as good as or better than Juan Agudelo, and Jóhannsson plays for Jozy Altidore's former club, AZ Alkmaar.
Altidore has backed Jóhannsson due to his time playing with Jóhannsson and seeing him in action, but Jóhannsson's play last season and this season combined with his excellent play against Bosnia and Herzegovina prove Jóhannsson's skill and ability to excel against top-level competition.
The AZ Alkmaar striker is fast and clinical with a nose for goal, and he never hesitates to go straight to goal or hit shots the instant the opportunity presents itself.
If started right now for the United States, there's no reason to think that Jóhannsson couldn't do as well or better than any other American striker who has played for the USMNT in the past.
He will continue to grow and get stronger, but Jóhannsson is already a tall striker with excellent speed and textbook technical ability.
Jóhannsson's biggest strength is the combination of his technical ability with his instinct to attack the goal.
4.) Terrence Boyd (Rapid Wien)
A year ago, the young Terrence Boyd looked poised to make a run at Jozy Altidore's starting spot, but with Altidore's improved international form came less playing time for Boyd.
Nevertheless, Boyd is a direct-to-goal first striker who attacks the goal constantly with his skill and athleticism. Unlike Altidore who took some time to develop more of a ruthless streak, Boyd has always been very aggressive and his ability to score with both feet should serve the United States well.
Boyd has all of the tools to be a starting striker with the USMNT, and it's time for Klinsmann to start seasoning more of his strikers besides Altidore.
Boyd is a faster and more athletic player than Altidore, Agudelo, and Jóhannsson, and his technical ability is equally good.
A striker with Boyd's gifts and skills should prove to be a very valuable weapon for the United States. Once Boyd plays more with the United States, it will be easier to compare and contrast him with Jozy Altidore.
Of all the American strikers, Boyd is the most ruthless, and he attacks opponents with pure rage and no respect.
Conclusion:
Jozy Altidore leads the pack as the best American striker, but Juan Agudelo, Aron Jóhannsson, and Terrence Boyd deserve more opportunities to gain international experience. Until the other three play more for the United States, it's unclear how they compare to one another or if one of them partners particularly well with Altidore. There is also the real need to make sure that the United States has four first strikers who are ready to play well in the World Cup.