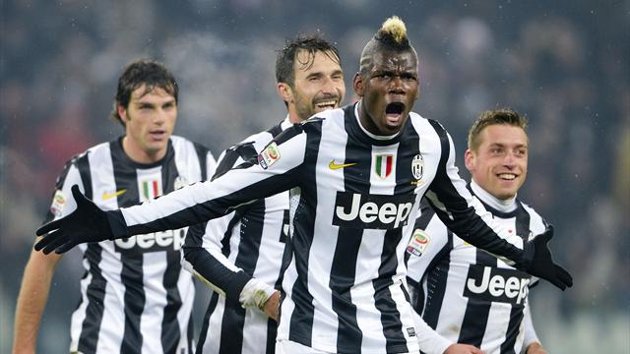 World Soccer Source's World's Best XI
Disclaimer:
This list includes some criminal snubs of players like Lionel Messi and Cristiano Ronaldo.
There is no excuse for snubbing them, but the reason that there were snubbed is because World Soccer Source believes this XI to be a more complete and well-balanced team without them.
This is extremely controversial, but World Soccer Source didn't snub them for the sake of controversy; the intention was to have a balanced midfield and attack that included box-to-box midfielders like Arturo Vidal, Paul Pogba, and Kevin-Prince Boateng who are exactly the type of players needed to win back possession in the midfield and heavily contribute to the attack.
With the exception of Julio Cesar and Hulk, one could almost just select the Starting XI for the Seleção in the 2013 Confederations Cup Final and essentially have the World's Best XI.
Here is World Soccer Source's World's Best XI (Formation: 4-1-2-1-2):
GOALKEEPER: Gigi BUFFON (Juventus/Italy)
Gigi Buffon, along with Iker Casillas, has long been recognized as the best goalkeeper in the world, and he shows no sign of slowing down.
Snub: Iker CASILLAS (Real Madrid/Spain)
RIGHT BACK: MAICON (Roma/Brazil)
With Maicon's return to the Seleção and his excellent form at AS Roma after serving a prison sentence with Manchester City, Maicon the Marauder, reclaims his spot as the most terrifying right back in the world. The Brazilian combines fantastic and intimidating defense with inspired runs down the sideline. Of all the right backs in the world, Maicon is the one that defenders really do not want to see coming at them. Stong, skilled, and fast, Maicon also brings with him a tendency to smash outside of the foot shots from distance that are usually dipping, swerving, and on target.
Snub: Daniel ALVES (Barcelona/Brazil)
CENTER BACK: Thiago SILVA (Paris Saint-Germain/Brazil)
Thiago Silva is internationally-recognized as the best center back in the world. A totally flawless defender with blazing speed, graceful defending, and technical ability. Easily the best center back in the world.
Snub: Raphaël VARANE (Real Madrid/France)
CENTER BACK: David LUIZ (Chelsea/Brazil)
There was a time when people criticized David Luiz for being a walking yellow card, but the Brazilian defender has become a more elegant tackler while still being the most technically-skilled center back in the world along with Thiago Silva. After David Luiz played his first game with Chelsea, no one made any comments about David Luiz being a soft Brazilian defender who would have trouble adapting to England again. David Luiz's goal-line sliding save against Spain in the 2013 Confederations Cup Final was impossible.
Snub: DANTE (Bayern Munich/Brazil)
LEFT BACK: MARCELO (Real Madrid/Brazil)
The best left back in the world without question. Marcelo used to be somewhat lacking in his defensive abilities, and he used to be one-footed. Not any more. Marcelo is very hard to beat with pace, and he has developed a knack for dispossessing opponents only to take the ball and dribble and pass his way out of the back without losing possession. No left back in the world rivals Marcelo in the attacking category.
Snub: Mattia DE SCIGLIO (Milan/Italy)
CENTRAL MIDFIELDER: Paul POGBA (Juventus/ France)
The French phenomenon is so complete that no one knows what midfield position he is really playing. He isn't a trequartista or a true number 10, but Pogba is a complete midfielder and a freak of nature. While not as athletic as Mario Balotelli, Pogba is an incredibly athletic and technically-skilled midfielder with no flaws. Standing at 6'4" with zero body fat, Pogba combines power with elegant passing and ball control. Pogba is so good that World Soccer Source selected him over Andrea Pirlo, who himself is one of the greatest midfielders to ever play the game.
Snub: Andrea PIRLO (Juventus/Italy)
RIGHT MIDFIELDER: Arturo VIDAL (Juventus/Chile)
The Chilean is a ruthless midfielder who defends without mercy and without being reckless. Vidal is as talented on the ball and in the attack as he is as at defending, and his style of play has earned him the nickname, "The Warrior." Vidal is an essential component to making a Starting XI to beat any opponent because, like Paul Pogba, he is a totally complete midfielder who would start for any team in the world, including the Brazilian national team.
Snub: RAMIRES (Chelsea/Brazil)
LEFT MIDFIELDER: Kevin-Prince BOATENG (Schalke/Germany & Ghana)
Underrated and underappreciated, Milan fans are now seeing just how good Kevin-Prince Boateng is, and Milan fans are missing him. Boateng has proven that he can make a huge impact in any game against any opponent, and his playing style is one of the most unique in the world, as he combines trickery with physicality powered by a crazed mentality to win. Boateng is another complete midfielder who can score with either foot, take defenders off the dribble, and emphatically dispossess opponents with fantastic slide tackles. Boateng plays very much like a Brazilian, and Boateng's unique combination of skills makes him a player who is ready and able to face any opponent at any time. Boateng has a fantastic collection of golazos to his name, and until he played for Milan, only Jürgen Klopp and those who had played with him knew just how good he was.
Snub: PAULINHO (Tottenham/Brazil)
PLAYMAKER: RONALDINHO (Atlético Mineiro/Brazil)
Ronaldinho is still way too good to keep off a World's Best XI, and probably no footballer ever has been as technically-gifted as Ronaldinho. When Ronaldinho is inspired to play, no one in the world is better than he is. Ronaldinho's vision and technical-ability is unmatched by anyone, and even now he continues to provide strong performances and a steady stream of goals, assists, and highlights. Until Ronaldinho is no longer physically-fit to compete at the same level, Ronaldinho remains the greatest playmaker and the most-talented player in the world. Ronaldinho's ability to never suffer a serious injury is often over-looked by critics who call him fat and past his prime. The ability to avoid injuries is a testament to his fitness and longevity as a player. Avoiding injuries while being hacked and fouled so much is truly an art form.
Snub: OSCAR (Chelsea/Brazil)
FIRST STRIKER: Mario BALOTELLI (Milan/Italy)
Mario Balotelli is the best first striker since Ronaldo and Thierry Henry. There's never been a footballer with Balotelli's athleticism, and his physique has never been seen before in world soccer. The scariest aspect about Balotelli is that not only are his technical ability, physique, and athleticism basically better than everyone else's, but he is a merciless competitor with ice in his veins. Balotelli brings everything to the first striker position: a sniper's accuracy, a perfect first touch, unmatched speed and strength, and a full arsenal of tricks and striking techniques. The Italian prodigy is famous for his penalty kicks due to the fact that he's never missed one in a competitive match and due to the fact that he looks into the goalkeeper's eyes throughout the entire process of approaching the ball to strike it. Balotelli is the King of the Paradinha, and no defender in the world can really contain either his skill, his athleticism, his size, or his strength. The Milan striker and Italian number 9 shouldn't be dismissed as just an incredible athlete with great technical skill because his technical skill matches any footballer on the planet. After UEFA Euro 2012 and after the 2013 Confederations Cup, most of Balotelli's harshest critics faded to black.
Snub: Zlatan IBRAHIMOVIC (Paris Saint-Germain/Sweden)
SECOND STRIKER: NEYMAR (Barcelona/Brazil)
Neymar is not only the best Brazilian footballer since Ronaldinho Gaúcho but the best footballer of any nationality since Ronaldinho as well. Neymar's 1v1 dribbling abilities and tricks surpass those of Pelé, Diego Maradona, Ronaldo, Ronaldinho, Cristiano Ronaldo, and Lionel Messi. In his first games with Barcelona, Neymar has been more dangerous and effective throughout matches than Messi, but Messi continues to have the ability to finish free kicks or score anything when there is a glimpse of the goal. With Barcelona, the Brazilian has been displaying his passing and his ability to improve his teammates, but he has also displayed the ability to penetrate European defenses and create scoring opportunities for himself better than Messi. Neymar's performance against Spain in the Confederations Cup Final and his seamless transition to La Liga and European football show that Neymar is poised to have a breakout season in just his first season with Barcelona. As an attacker, Neymar's ability to leave any opponent for dead is unmatched, and his finishing with both feet is off the charts. The Brazilian is without a doubt the greatest player of his generation, and he will only continue to improve and collect trophies and individual awards.
Snub: Thomas MÜLLER (Bayern Munich/Germany)
OTHER SNUBS: Lionel MESSI, Cristiano RONALDO, Andrés INIESTA, XAVI, Philipp LAHM, Luiz GUSTAVO, Franck RIBÉRY, FALCAO, Robert LEWANDOWSKI, Mario MANDZUKIC, Jordi ALBA, Leonardo BONUCCI, Giorgio CHIELLINI, Daniele DE ROSSI, Tony KROOS, Mario GÖTZE, Blaise MATUIDI, David ALABA.