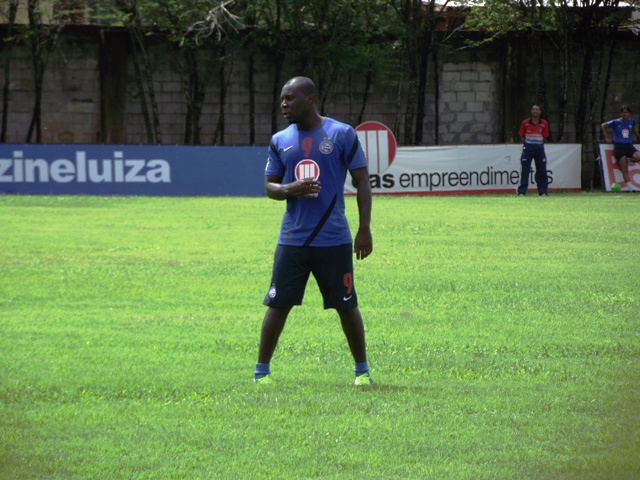 World Soccer Source considers Juan Agudelo and Aron Jóhannsson to be first strikers also known as number 9s, and for this reason, neither one is listed on the depth chart below.
Depth Chart: USMNT Second Strikers
1.) Clint Dempsey (Seattle Sounders)
Clint Dempsey plays a similar position to Robinho, Thomas Müller, Jérémy Ménez, or Neymar in that they are attacking midfielders or forwards without being out-and-out strikers like Mario Balotelli or Jozy Altidore. As long as Clint Dempsey isn't deployed as a lone striker like Spain has done with Cesc Fàbregas, Dempsey's positional name isn't as important as him being included in the USMNT Starting XI as an attacking midfielder or a second striker. Jozy Altidore and Clint Dempsey have developed a nice partnership up top, and seeing both players starting together highlights the difference between a first striker and a second striker. Of all the American players, Dempsey is the player who can best play off a first striker in a supporting role, which not only helps the first striker be less closely marked but also draws defenders away from Clint Dempsey. Given the fact that the Texan is the best American player and given his penchant for scoring goals and disrupting defenses, Clint Dempsey is the best second striker in the American player pool.
2.) Freddy Adu (E.C. Bahia)
Freddy Adu is ranked above Landon Donovan as a second striker because Donovan is best used out wide where he can use his speed to run at defenders and cut inside from out wide, but Adu is more adept at playing final balls and setting up goals than Donovan. Obviously, Donovan has a much higher amount of assists for the United States, but he's played in a lot more games. Donovan excels at using speed to beat defenders and attacking from wide positions, but Adu has a more refined ability to play passes of a higher degree of difficulty that unlock defenses. As far as 1v1 abilities, Adu possesses probably the best ability of any American to beat quality defenders off the dribble, and Adu knows how to put the ball in the back of the net. Adu's aggressive playing style and skills combined with his ability to take risks forces defenders to leave a first striker like Altidore unmarked as they turn their attention to the penetrating dribbling and quick passing of Adu. Donovan has better stats and accolades to his name, but using Adu as a second striker doesn't exclude starting Landon Donovan at the same time.
3.) Landon Donovan (LA Galaxy)
Landon Donovan is more suited to start out wide as a winger or just as an attacking midfielder starting out wide than he is as a second striker because starting out wide allows Donovan to receive the ball and beat defenders with pace down the sideline, quickly combine with his teammates from a deeper position, and use his speed to cut inside towards the penalty box, which causes Dempsey and Altidore to be open when the defenders run over to mark Donovan. Along with Dempsey, Donovan is the best American soccer player, but using Donovan as a second striker doesn't maximize his speed in the same way that starting him in the midfield does because up top Donovan would be waiting to receive service rather than sprinting at defenders from a deeper and wider position.
4.) José Villarreal (LA Galaxy)
José Villarreal is ideally suited to play as a second striker because it allows him to use his technical ability and trickery to support a first striker and draw defenders away from a first striker. Villarreal will continue to improve, but the 20-year-old is a member of a group of young American players who are demonstrating that the United States is producing more technically-skilled players than it used to. Villarreal's general play for the Los Angeles Galaxy and his goal against Real Madrid make him too talented to not be part of the discussion for inclusion on the United States Men's National Team. When Clint Dempsey and Landon Donovan stop playing in four or five years or more, the USMNT will be in good hands, as long as Villarreal is playing.