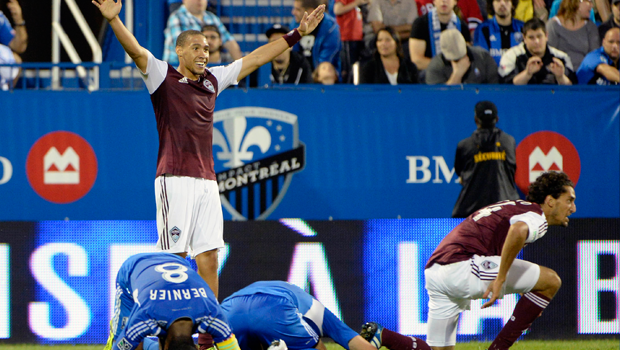 Below is a proposal for a 23-man United States Men's National Team World Cup roster that can be competitive in time for the 2014 World Cup. This is the October 2013 edition of World Soccer Source's "USMNT: 23 For Brazil."
Several players like Geoff Cameron, Shane O'Neill, and Andrew Farrell can play multiple positions, and when their names are repeated, they are inside parentheses. Geoff Cameron, Shane O'Neill, and Andrew Farrell can play as center backs, midfield destroyers, and as right or left backs.
In addition to playing his normal position of left back, Chris Klute can also play as a right back or center back.
Benji Joya is on the roster because he is a complete midfielder who brings great technical ability and attacking play along with more defensive grit than the other attacking midfielders.
Freddy Adu is a necessity for the World Cup roster due to his special skill-set and his ability to play in the place of Clint Dempsey or Landon Donovan should they be suspended or injured.
The United States Men's National Team is going to have to use a young roster along with some of the more established or older players like Clint Dempsey, Michael Bradley, Jozy Altidore, Landon Donovan, Geoff Cameron, and Tim Howard, if the United States is serious about really competing with better national teams in the 2014 World Cup. Merely using players who held their own in qualifying won't be enough in the World Cup, so the United States will have to roll the dice and call up many of the younger players with the tools to compete against better players from better national teams.
USMNT: 23 For Brazil (October 2013)
GOALKEEPERS: Tim HOWARD, Brad GUZAN, Nick RIMANDO.
CENTER BACKS: Geoff CAMERON, John Anthony BROOKS, Shane O'NEILL, Andrew FARRELL.
OUTSIDE BACKS: Chris KLUTE, DeAndre YEDLIN, Kellyn ACOSTA, *(Andrew FARRELL),  *(Geoff CAMERON), *(Shane O'NEILL).
DEFENSIVE MIDFIELDERS: Michael BRADLEY, Jermaine JONES, Benji JOYA (Box-to-Box Midfielder), *(Geoff CAMERON), *(Shane O'NEILL), *(Andrew FARRELL).
ATTACKING MIDFIELDERS: Clint DEMPSEY, Landon DONOVAN, Benny FEILHABER, Joe Benny CORONA, Mix DISKERUD.
FORWARDS: Jozy ALTIDORE, Juan AGUDELO, Aron JÓHANNSSON, Terrence BOYD, Freddy ADU.
* Already Listed
ALTERNATES: Fabian JOHNSON, Eddie JOHNSON, Jonathan SPECTOR, Mario RODRIGUEZ, Alonso HERNANDEZ, José VILLARREAL, Michael OROZCO, Joe GYAU, Brek SHEA, Will TRAPP, Luis GIL, Dax MCCARTY, Jeremy HALL, Maurice, EDU, Eric LICHAJ, Clint IRWIN, Dan KENNEDY, Sean JOHNSON, Gyasi ZARDES.
USMNT World Cup Starting XI:
HOWARD; YEDLIN/FARRELL, O'NEILL, BROOKS, KLUTE; CAMERON, BRADLEY; DONOVAN, FEILHABER, DEMPSEY; ALTIDORE.
Notes on the Starting XI:
-7 of the 11 starters are proven international performers (Howard, Cameron, Bradley, Donovan, Feilhaber, Dempsey, Altidore), and John Anthony Brooks (who was recently named to the Bundesliga Team of the Week) is a starting Bundesliga center back for Hertha Berlin.
– The Starting XI is based on a Front Six made up of two defensive midfielders, three attacking midfielders (including a playmaker), and a first striker, and the Back Four includes modern two-way outside backs with athletic and technically-skilled center backs that represent an improvement in the skill-level of the usual USMNT Starting XI.
-It's still unknown whether DeAndre Yedlin or Andrew Farrell is the better right back. Each player has different strengths and weaknesses, and it's unclear, at this time, which player is the better right back. Farrell's speed and technical ability might better serve the USMNT at center back since Yedlin is an excellent outside back that can't play as a center back.
-Chris Klute is actually right-footed, despite playing left back, but the USMNT desperately needs him at left back. Farrell has been used as a right back this season, so he hasn't been able to work on being a center back.
– The line-up above is a balanced XI with a more talented and a more athletic group of players than the United States used in the 2006 and 2010 World Cups, and possibly the 2002 World Cup as well.
– The Starting XI above has defenders with good defensive instincts and skills combined with technical ability and athleticism, and the Front Six is a balance of various types of defensive midfielders and attacking midfielders plus a striker, which creates a Front Six that can recover possession, keep possession, and score goals.