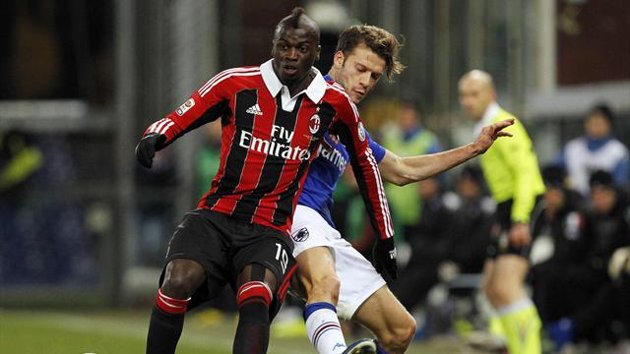 With Mario Balotelli suspended for the next three Serie A matches, the time has come to start the 18-year-old 6'4″ French striker, M'Baye Niang, and let him blossom into an elite striker.
Despite being a teenager and even without Balotelli's suspension, Niang's special gifts and abilities needed to be unleashed on Milan's opposition on a more consistent basis sooner. A striker with Niang's speed, agility, 1v1 abilities, shooting ability, and combination play isn't something that Massimiliano Allegri can ignore.
Milan need Niang to disrupt defenses with his movement off the ball and his skill on it — all of which constantly threaten the goal. Niang is a great finisher with both feet, even though he received some criticism for having a shot hit off the post against Barcelona in the Champions League last season.
Without Kaká and Riccardo Montolivo, or Stephan El Shaarawy for that matter, a player with Niang's workrate and effectiveness at putting himself in scoring-positions can help to compensate for a current midfield lacking in creativity, but Niang's own qualities warrant a starting spot, even with a full squad.
The logical thing for Milan to do would be to start Robinho with Niang in order to facilitate combination play in the attack and to use Robinho as the player to drop back to collect the ball from the likes of Nigel De Jong, Sulley Muntari, Antonio Nocerino, and Andrea Poli who are all playing slightly deeper in the midfield.
For AC Milan's purposes, even without the current injuries, a striker of M'Baye Niang's physique, athleticism, aggressive and creative playing style, and world-class technical ability is simply too talented to leave watching the games from the bench.
Of all of the players in world football, finding one who is a faster and smoother mover than Niang who also has trickery and striker instincts that are off the charts is close to an impossible task.
Niang isn't a raw striker who needs to refine his technical ability, but rather he is one of the best young talents in world football. What Niang needs is playing time: playing time to get into a rhythm and start scoring goals. Any striker who can smoothly execute textbook elásticos and pull them off effortlessly is truly a special striker indeed.
Whatever excuse that Massimiliano Allegri has for not making Niang a core element of his Milan squad in no way justifies the exclusion of a player who wrecks so much havoc in the attack and who draws so many defenders toward him.
None of Milan's injuries rationalize the decision to not start M'Baye Niang every game they can because his abilities already demand it, and he needs the experience to continue to grow and improve as a striker.
Soon, M'Baye Niang will be one of the elite strikers in the world, and any club would be hard-pressed to find a striker with his combination of elite technical ability and creativity combined with incredibly smooth and superior athleticism inside such a tall and agile frame.