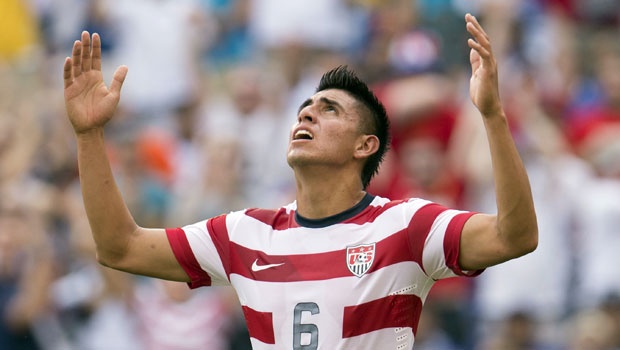 Despite the possibility of Michael Bradley and John Anthony Brooks still being injured, Jürgen Klinsmann still has a lot of new options for the United States Men's National Team's October World Cup qualifiers.
A prudent decision for the future success of the USMNT is for Klinsmann to start many of the proven players who he has chosen to snub in the past, but he should fill the rest of the roster with new players that need to be given experience.
The math on this is simple; Klinsmann has 11 starting line-ups spots that he can reserve for some of the more-experienced American players who he has chosen to not use, and he has 12 roster spots for the new talents in American soccer.
The other alternative is to use the same roster outlined above but start the new players.
If Klinsmann wants to start more-proven players, then this is a topic that can be discussed with specificity.
For example, Klinsmann could start Brad Guzan in goal with Jonathan Spector at right back, Shane O'Neill and Michael Orozco at center back, and Eric Lichaj at left back.
In front of them, Klinsmann can start Geoff Cameron as a defensive midfielder with Joe Benny Corona, Benny Feilhaber, and Mix Diskerud as a line of three attacking midfielders.
Up top, Klinsmann could start Juan Agudelo (if he's healthy) or Terrence Boyd with Aron Jóhannsson.
The line-up proposed above leaves 11 or 12 roster spots open for Klinsmann, depending on the health of Agudelo.
Starting in the defense, the obvious names are DeAndre Yedlin, Chris Klute, and Andrew Farrell.
This leaves eight or nine roster spots (depending on whether or not Agudelo is healthy) for goalkeepers, midfielders, and forwards.
If there are eight roster spots, calling up Nick Rimando and some other goalkeeper like Clint Irwin, Dan Kennedy, Sean Johnson, Luis Robles, or Tally Hall leaves six more roster spots to fill.
For the final six roster spots, Perry Kitchen as a defensive midfielder, Amobi Okugo as a center back and defensive midfielder, Benji Joya as a midfielder who plays as an attacking midfielder or as a box-to-box midfielder, José Villarreal as a forward or attacking midfielder, Joe Gyau as a winger or forward, and Freddy Adu as midfielder or forward (it's time for Klinsmann to check in with Adu).
The roster proposed above includes three goalkeepers, four outside backs, four center backs, four forwards, five attacking midfielders, three defensive or box-to-box midfielders (plus Shane O'Neill and Geoff Cameron).
To be clear, the USMNT could start the following fairly-experienced XI below:
Guzan; Spector, O'Neill, Orozco, Lichaj; Cameron; Corona, Feilhaber, Diskerud; Agudelo/Boyd, Jóhannsson.
On the bench, the USMNT would have the following players available:
Rimando, Irwin/Kennedy/Robles/S. Johnson/Hall, Yedlin, Klute, Farrell, Kitchen, Okugo, Joya, Villarreal, Gyau, Adu.
Starting Guzan in goal with Spector, O'Neill, Orozco, and Lichaj forming the Back Four should be a strong enough defense to win or at least they should be strong enough to win.
In front of them, Cameron as a defensive midfielder behind a line of three attacking midfielders (Corona, Feilhaber, Diskerud) should be a midfield with a strong defender and good passer patrolling the back with three creative midfielders helping the United States to maintain possession and set up goals.
Up top, Agudelo or Boyd with Jóhannsson is a potent young strike force who at the very least should cause problems for all but the very best of international defenders.
These forwards still have room to improve, but all three of them are real threats on the international level. There is no reason to think that they aren't capable of easily scoring against CONCACAF opposition unless they simply don't receive enough service.
Something similar to the roster and starting line-up proposed in this article combines the best of both worlds for the United States Men's National Team: more-experienced players that Klinsmann hasn't favored as starters with new talents who can gain experience and help to strengthen the national team.
On the other hand, if Klinsmann wanted to use mainly new and/or younger players, then he could start the following XI:
Guzan; Yedlin, Farrell, O'Neill, Klute; Cameron, Joya; Adu, Feilhaber, Corona; Agudelo/Boyd/Jóhannsson.
What Jürgen Klinsmann really needs to learn is whether or not he's been using the best players and if the new talents or some of the out of favor talents can improve the ability of the USMNT to better compete or win at the highest level against better national teams.
The coach of the United States enjoys using the metaphor about tossing players into the cold water, and with the 2014 World Cup approaching next summer, it's time to see who the best American soccer players are and prepare them for the big stage.