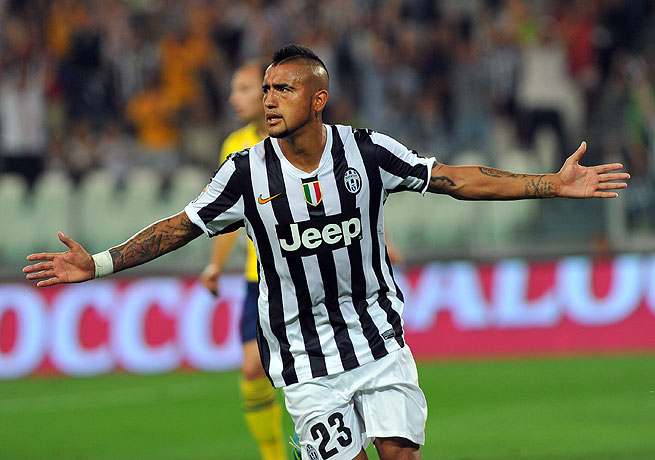 The talent pool available to the United States Men's National Team is the deepest it has ever been, but Jürgen Klinsmann's recent comments about young American players like DeAndre Yedlin not really being close to the national team picture were disconcerting.
Given Yedlin's talent-level, youth, and athleticism, not to mention the fact that Klinsmann is using Brad Evans out of position at right back, there is simply no way for Klinsmann to justify his claims that Yedlin might not be ready for the national team for a few years. Yedlin has to be considered for the 2014 World Cup, if the United States hopes to be competitive against the better teams.
As a thought exercise, consider Jürgen Klinsmann's favored Starting XI and consider who the best players in the world are who would hypothetically play in the same position.
If you make a 4-2-3-1 formation made up of the very best players in the world in the same system that Klinsmann uses with the United States, the overall gap in skill between the Klinsmann's USMNT Starting XI and a Starting XI made up of the best players in the world in the same system is quite frightening from an American perspective.
This is the single biggest problem with Klinsmann as the coach of the United States Men's National Team: his refusal to use upgrades at certain positions to improve the national team.
Klinsmann needs to let the kids play. From an American perspective, many of Klinsmann's roster and starting line-up choices are not the best options at his disposal when one considers the need to field players with the tools to compete with international competition and the best players in the world.
Below is a side-by-side comparison of Klinsmann first-choice players and something resembling the best in the world.
GOALKEEPER: Tim HOWARD vs. Gigi BUFFON (Juventus / Italy)
Tim Howard or Brad Guzan are both excellent goalkeepers who excel at the international level. The goalkeeper position is not a liability for the United States. Gigi Buffon is obviously better, but Guzan and Howard are excellent international keepers.
RIGHT BACK: Brad Evans vs. MAICON (Roma / Brazil)
This gap in skill is like The Grand Canyon. This isn't Brad Evans' fault; Klinsmann has just stuck him at right back and tossed him to the wolves. Evans has proven to be a seaworthy international player who has demonstrated good skill, even if he has oddly been starting at right back for the United States over about five other better options. Insisting on starting Brad Evans at right back is bizarre. Maicon is a force of nature whose right foot has the stopping power of a Georgian Mountain Dog.
CENTER BACK: Omar GONZALEZ vs. Thiago SILVA (Paris Saint-Germain / Brazil)
Without question, Thiago Silva is the best center back in the world. Taking nothing away from the fact that Omar Gonzalez represents progress in the ability of American center backs and that his skill and defending eclipses many of the center backs that the United States has used in the past, the difference between Thiago Silva's ability to defend predators and Omar Gonzalez's is visible from outer space with the naked eye.
CENTER BACK: Matt BESLER vs. David LUIZ (Chelsea / Brazil)
Like Omar Gonzalez, Matt Besler's mobility, defending, and skill on the ball is a nice upgrade compared to many of the American center backs of years past, but he isn't better than Eddie Pope or Jay DeMerit.
John Anthony Brooks, Shane O'Neill, or Geoff Cameron are all better than Besler when one considers the complete package of defending, athleticism, and skill on the ball. Anyone who has seen David Luiz at center back can see the vast difference between elite center backs and Matt Besler and Omar Gonzalez.
It may be unfair to compare Besler and Gonzalez to Thiago Silva and David Luiz, but the United States needs to accept that the elite center backs in world soccer are much more equipped to handle the world's best attackers than Klinsmann's first-choice center back pairing. Other American center backs like John Anthony Brooks, Shane O'Neill, Geoff Cameron, and Andrew Farrell have more of the tools needed to excel at the international level.
LEFT BACK: DaMarcus BEASLEY vs. MARCELO (Real Madrid / Brazil)
Even if DaMarcus Beasley held his own in CONCACAF, he isn't even a left back. Marcelo is the starting left back for Brazil and Real Madrid.
CENTRAL MIDFIELDER: Jermaine JONES vs. Paul POGBA (Juventus / France)
Jermaine Jones is a high-level defensive midfielder who is a Champions League and Bundesliga veteran with refined technical ability, tireless running, and machete tackles. Nevertheless, Paul Pogba is a total monster who haunts your soul at night. At 20-years-old, Pogba is easily the best French soccer player since Zinedine Zidane and Thierry Henry, and the best midfielder of his generation, if not the best midfielder in the world.
CENTRAL MIDFIELDER: Michael BRADLEY vs. Arturo VIDAL (Juventus / Chile)
Michael Bradley, like Clint Dempsey, is one of the only American players who can swim with the sharks. Bradley's position is not one of the United States' weak areas. Nevertheless, Arturo Vidal moonwalks on Michael Bradley.
RIGHT MIDFIELDER: Landon DONOVAN vs. Lionel MESSI (Barcelona / Argentina)
This isn't a weak area for the United States either, but Lionel Messi is clearly better than Landon Donovan. Donovan isn't part of the talent gap that exists between the United States Men's National Team and top national teams.
CENTRAL ATTACKING MIDFIELDER: Clint DEMPSEY vs. OSCAR (Chelsea / Brazil)
Clint Dempsey has essentially been used as a second striker tasked with playing a true playmaker's role for the United States. Dempsey is used incorrectly by Jürgen Klinsmann, as he has to drop very deep to receive the ball, which leaves Jozy Altidore stranded up top. As a playmaker and creator, Oscar is almost second to none. Klinsmann would be wise to play Dempsey out left with a true playmaker in the center.
LEFT MIDFIELDER: Fabian JOHNSON  vs. NEYMAR (Barcelona / Brazil)
Fabian Johnson is an international-caliber winger who starts in the Bundesliga, but nobody is better than Neymar.
STRIKER: Jozy ALTIDORE vs. Mario BALOTELLI (AC Milan / Italy)
Jozy Altidore harnessed his athletic and technical potential, and he is still on the rise. Nevertheless, Mario Balotelli is the best first striker since Ronaldo and Thierry Henry. There's no defender who wants to defend Balotelli. If you're strong, Balotelli is stronger. If you're fast, Balotelli is faster. If you're skilled on the ball, Balotelli is better.
Conclusion:
Some of Jürgen Klinsmann's preferred-starters are excellent international players, but this only applies to Clint Dempsey, Michael Bradley, Jozy Altidore, Landon Donovan, and Tim Howard. The coach of the United States needs to accept that he needs to start swapping out many of his starters for inexperienced upgrades.
The enormous strides the United States has made in soccer and the increase in talented players at every position in the American player pool should be celebrated, but Klinsmann needs to prove that his preferred players are truly the best players the United States has to offer.
If one looks at Klinsmann's Preferred USMNT XI compared to something close to the World's Best XI, the talent gap is huge. Below are both Starting XIs listed one on top of the other for the purpose of displaying the disparity in talent:
HOWARD; EVANS, GONZALEZ, BESLER, BEASLEY; JONES, BRADLEY; DONOVAN, DEMPSEY, JOHNSON; ALTIDORE.
BUFFON; MAICON, THIAGO SILVA, DAVID LUIZ, MARCELO; POGBA, VIDAL; MESSI, OSCAR, NEYMAR; BALOTELLI.