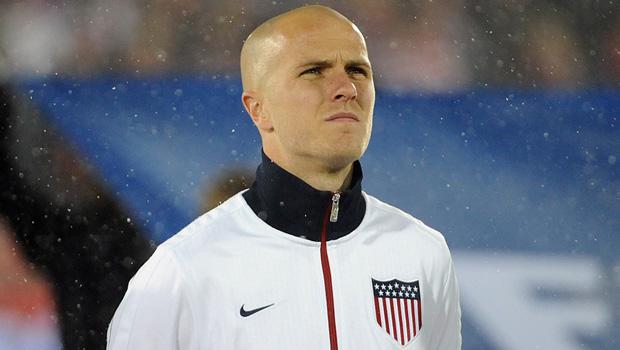 Should the USMNT start just one defensive midfielder?
Like Bob Bradley, Jürgen Klinsmann has always started two or more defensive midfielders on the United States Men's National Team. Even with Michael Bradley's and Jermaine Jones' abilities to go forward and participate in the attack, using just one defensive midfielder means that the starting line-up would have five field players with more defensive responsibilities and five field players with more attacking responsibilities.
Despite the goals that Bosnia and Herzegovina scored on the United States, both John Anthony Brooks and Geoff Cameron showed good skill on the ball, good defensive fundamentals and instincts, and good mobility and athleticism.
With two athletic and technically-skilled center backs plus a defensive midfielder, is it really necessary to use a second defensive midfielder?
Setting aside Michael Bradley's current ankle injury, starting Cameron and Brooks at center back with Bradley in front of them could allow the United States to be defensively strong down the middle with room for Aron Jóhannsson to start up top with Jozy Altidore.
Jermaine Jones' roster spot (when Bradley is healthy) should go to Jóhannsson. What would this entail? This would entail starting Michael Bradley behind a line of three attacking midfielders like Landon Donovan, Mix Diskerud or Joe Corona or Benny Feilhaber, and Clint Dempsey with Altidore and Jóhannsson as strikers.
This would result in a Front Six as follows:
Bradley; Donovan, Feilhaber/Corona/Diskerud, Dempsey; Altidore, Jóhannsson.
Behind this Front Six, this writer believes that the United States needs to use either DeAndre Yedlin or Andrew Farrell at right back with Chris Klute at left back, but the other option would be for Klinsmann to put them on the roster and start Jonathan Spector at right back with Eric Lichaj at left back.
Starting a Back Four made up of Spector, Cameron, Brooks, and Lichaj makes sense (when they are all healthy), and then the new outside backs like Yedlin and Klute could be on the roster as substitutes with Farrell listed as a center back.
Since Michael Bradley wouldn't be the only defensive midfielder on the roster, another defensive midfielder could be substituted in place of one of the attacking players, if the United States wanted to use a two-man defensive midfield.
This one defensive midfielder set-up allows the United States to have a more potent attack while having strong defending down the center of the field and out wide, and this system would look like this:
Tim Howard/Brad Guzan; Jonathan Spector, Geoff Cameron, John Anthony Brooks, Eric Lichaj; Michael Bradley; Landon Donovan, Benny Feilhaber, Clint Dempsey; Jozy Altidore, Aron Jóhannsson.
This is a strong and balanced line-up with a potent attack and stronger defense that Klinsmann has been using with the United States Men's National Team, but World Soccer Source prefers a different Starting XI.
World Soccer Source favors using the following Starting XI:
Guzan; Yedlin/Farrell, Cameron/O'Neill, Brooks/O'Neill, Klute; Bradley; Donovan, Feilhaber, Dempsey; Altidore, Jóhannsson.
If one defensive midfielder isn't enough, a substitute can be made, but using just one defensive midfielder opens up a line-up spot for Aron Jóhannsson to partner with Jozy Altidore up top.
Even if some prefer only putting Yedlin, Farrell, Klute, and O'Neill on the roster to use as substitutes, Klinsmann could certainly start a Back Four consisting of Spector, Cameron, Brooks, and Lichaj.
That Back Four with Bradley, Donovan, Feilhaber, Dempsey, Altidore, and Jóhannsson is certainly a viable and strong USMNT Starting XI.