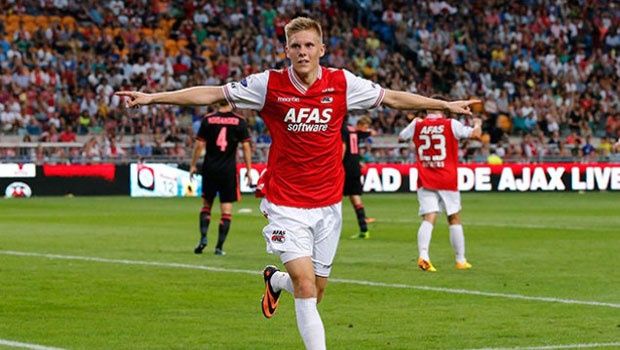 With the United States Men's National Team already qualified for the 2014 World Cup, Jürgen Klinsmann selected 20 players for the upcoming World Cup qualifiers, and he will presumably call up three more players in order to have a 23-man roster.
It will be interesting to see which three players Klinsmann calls up in the coming days, but this most recent roster is again without any of the new, young American talents who would appear to have the tools to strengthen the United States at various positions.
Below is the United States Men's National Team roster selected by Jürgen Klinsmann:
GOALKEEPERS: Tim HOWARD (Everton), Brad GUZAN (Aston Villa), Nick RIMANDO (Real Salt Lake)
CENTER BACKS: Geoff CAMERON (Stoke City), Matt BESLER (Sporting Kansas City), Omar GONZALEZ (LA Galaxy)
OUTSIDE BACKS: Brad EVANS (Seattle Sounders), Edgar CASTILLO (Tijuana), DaMarcus BEASLEY (Puebla)
DEFENSIVE MIDFIELDERS: Jermaine JONES (Schalke), Kyle BECKERMAN (Real Salt Lake)
ATTACKING MIDFIELDERS: Mix DISKERUD (Rosenborg), Graham ZUSI (Sporting Kansas City), Alejandro BEDOYA (Nantes), Sacha KLJESTAN (Anderlecht)
FORWARDS: Jozy ALTIDORE (Sunderland), Aron JÓHANNSSON (AZ Alkmaar), Terrence BOYD (Rapid Wien), Eddie JOHNSON (Seattle Sounders), Landon DONOVAN (LA Galaxy)
INJURED: Clint DEMPSEY (Seattle Sounders), Michael BRADLEY (Roma), Fabian JOHNSON (Hoffenheim), John Anthony BROOKS (Hertha Berlin)
Below is U.S. Soccer's official roster announcement:
http://www.ussoccer.com/news/mens-national-team/2013/10/klinsmann-names-roster-for-jamaica-and-panama-qualifiers.aspx 
A close examination of the roster reveals that it contains no natural outside backs, and that it contains only two center backs and two defensive midfielders with Geoff Cameron increasing those numbers to three center backs and three defensive midfielders.
Cameron normally plays out of position at right back for Stoke City, but Klinsmann has favored using Brad Evans at right back over DeAndre Yedlin, Andrew Farrell, Jonathan Spector, and Eric Lichaj – all of whom have never been called up or used by Klinsmann.
Clint Dempsey, Michael Bradley, Fabian Johnson, and John Anthony Brooks are all out injured (at this time), but Klinsmann has selected a strong group of forwards including Jozy Altidore, Aron Jóhannsson, Terrence Boyd, Eddie Johnson, and Landon Donovan, who is the only one of the forwards who isn't a first striker.
Until Klinsmann calls up the final three players up to the national team to take the roster to 23 players, not too many conclusions can be made about the amount of players selected for each position, but the pattern of not using natural outside backs and the pattern of not incorporating new talent into the USMNT continues to be disconcerting.
One of the major flaws with the roster and Klinsmann's coaching is that Klinsmann continues to say that he's trying to strengthen his best group of players, but his starting line-ups are frequently characterized by inserting Geoff Cameron at a different position almost every game, which negatively affects the ability of the national team to build chemistry.
Predicting the USMNT's Starting XIs under Klinsmann has proved to be more difficult than predicting his rosters, and the real problem with predicting the starting line-up for the upcoming games is whether or not he will start Bedoya or Zusi and who he will start up top.
Predicting the Back Four seems easy enough, unless Klinsmann wants to test out Cameron with Besler as a center back pairing. The likely Back Four is Evans, Gonzalez, Besler, and Beasley.
Based on the 20 players who have been called up to the national team so far (with Dempsey, Bradley, and F. Johnson injured) as well as Klinsmann's tendencies, Klinsmann's likely starting line-up may be as follows:
Howard/Guzan; Evans, Gonzalez, Besler, Beasley; Cameron; Jones, Diskerud; Donovan; Altidore, Jóhannsson.
It's very possible that both Jóhannsson and Altidore will start for the United States, which would either mean that one less defensive midfielder starts or that Jóhannsson lines up as an attacking midfielder, just on paper.
More answers about the line-up options will come when the final three roster spots are handed out, and these three roster spots could drastically change the likely Starting XI or not affect it at all.