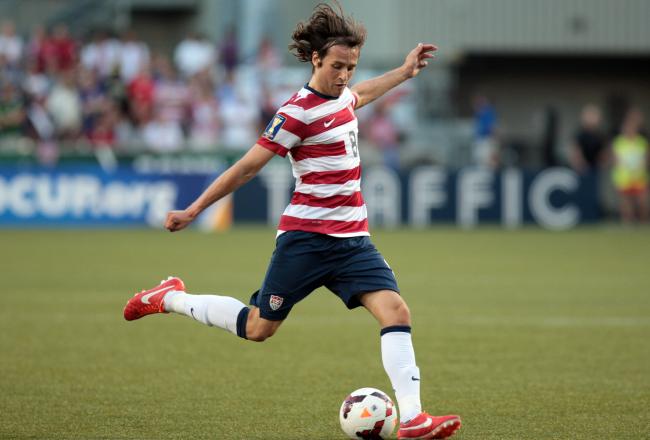 At the time of this article, Jürgen Klinsmann has only selected 20 players for the upcoming World Cup qualifiers against Jamaica and Panama, so there is a possibility that more players will be called into camp.
Predicting Jürgen Klinsmann's United States Starting XI for any particular game is problematic because he changes his line-ups so frequently, and he frequently deviates from what he hints that he's going to do.
Nevertheless, looking at this United States Men's National Team roster with all of its injuries and the absence of new faces, at the very least, Klinsmann will likely start Brad Evans at right back with DaMarcus Beasley at left back.
Other than Evans and Beasley, the other starters are more difficult to predict because Klinsmann is without regular starters such as Clint Dempsey, Michael Bradley, and Fabian Johnson.
As Omar Gonzalez has pulled out of the camp due to injury, one has to guess whether Geoff Cameron will start at center back with Matt Besler, or if Klinsmann wants to start Cameron with Jermaine Jones as the defensive midfield pairing since Michael Orozco just replaced Gonzalez on the roster.
The inclusion of Orozco makes it possible that Klinsmann may start a Back Four of Evans, Orozco, Besler, and Beasley with Cameron and Jones as the defensive midfielders. If this is the case, then the remaining four spots in the Front Six could go to Landon Donovan, Mix Diskerud, Aron Jóhannsson, and Jozy Altidore, but this leaves two players that Klinsmann rates highly on the bench: Alejandro Bedoya and Graham Zusi.
On the other hand, Klinsmann could just as easily start Geoff Cameron and Matt Besler at center back with Jermaine Jones and Kyle Beckerman as defensive midfielders.
In the formation outlined above, Jóhannsson would be lining up as an attacking midfielder out left, at least on paper, even though Jóhannsson would likely play as a center forward partner for Altidore.
Given Jóhannsson's current form and his overall skill-level and scoring ability, Klinsmann has to strongly be considering him for a starting spot, which would mean that Klinsmann's standard 4-2-3-1 formation would turn into a 4-1-3-2 where Cameron plays the midfield destroyer role and Jones plays in a more advanced position alongside Donovan and possibly Diskerud.
It's important to remember that Klinsmann could start any number of players in his Front Six, and no one knows who will start in the Front Six aside from Donovan and Jones.
Cameron, Diskerud, Kljestan, Bedoya, Beckerman, Jóhannsson, Zusi, and Altidore are all in the running for four roster spots, and Klinsmann has not indicated who he plans on starting.
Diskerud is basically the only playmaker on the roster, but even Diskerud may not start if Klinsmann views Donovan as a playmaker who doesn't make it necessary to start Diskerud.
The Starting XI will be heavily affected by who Klinsmann wants to start at center back with Matt Besler because if he doesn't start Cameron at center back, then Cameron will likely start as a defensive midfielder with Jones.
From there, Klinsmann could start Bedoya, Diskerud, and Donovan as the line of three attacking midfielders, or he could start Zusi or Jóhannsson in the line of three.
Too many variables are in play to truly have a real sense of which players Klinsmann will start, but the real storyline is the omission of so many new players at a time when the United States has already qualified for the World Cup.
With Clint Dempsey, Michael Bradley, Fabian Johnson, and John Anthony Brooks all injured (at least at the time of this article), Klinsmann cannot get a good idea of how players will perform when the likes of Bradley, Dempsey, and Donovan are all playing at the same time.
Given the lack of new faces, there's not much Klinsmann can learn from this game, if he can't test out players like Jóhannsson, Diskerud, and Altidore with Dempsey, Bradley, and Donovan. At the most, Klinsmann can see how Diskerud can provide service for Altidore, Jóhannsson, and Donovan, but he can't see how all of his best players fit together.
The United States should have taken this opportunity to look at new outside backs like Chris Klute, DeAndre Yedlin, and Andrew Farrell along with some of the U-20 players who played for Tab Ramos in the U-20 World Cup such as Benji Joya, José Villarreal, Alonso Hernandez, Mario Rodriguez, and Shane O'Neill. From the U-20 ranks, Joya and O'Neill are certainly stand out players that the United States could use in the World Cup because they strengthen the United States in areas where it is weak.
Not testing out at least a few players from the new crop of talented young Americans against CONCACAF competition as seasoning to start getting ready for the World Cup was a mistake on Klinsmann's part.
The level of CONCACAF is below the level of competition in the World Cup, but beginning to incorporate the new players into the USMNT was something Klinsmann should have used these games for.
The starting line-up that Klinsmann will field is anyone's guess, but perhaps he will go with the following line-up:
HOWARD; EVANS, CAMERON, BESLER, BEASLEY; BECKERMAN, JONES; DONOVAN, DISKERUD, JÓHANNSSON; ALTIDORE.
As opposed to the line-up mentioned above, which may prove to be much different than the one that Klinsmann uses, this writer would like to see the USMNT test out Diskerud with Jóhannsson and Altidore.
Since Besler has frequently started at center back under Klinsmann, this writer would also like to see Cameron and Orozco started at center back since they bring a nice combination of technical ability, athleticism, and strong defending.
With Brooks out injured, the United States needs to see how Orozco performs compared to Gonzalez and Besler, in order to begin to iron out the best four center backs for the World Cup.
It remains to be seen just how good Edgar Castillo is at left back, but he has played well at the club level and in several games for the United States against opponents like Bosnia and Herzegovina.
The United States has way too many players in the pool to realistically think that Beasley is the best left back the United States has. With Chris Klute snubbed from this roster, Klinsmann should give Castillo the start and see how he does.
Given the fact that Besler is left-footed, fast, and good on the ball, giving Besler a run out at left back might be a good chance to see if his left foot, his defending, and his speed can serve the U.S. well at left back. Carlos Bocanegra was used as a center back and as a left back because of his left foot, and without any real outside backs on this roster who are left-footed, Klinsmann could test Besler's ability to play left back.
World Soccer Source proposes starting the following line-up in a (4-1-2-1-2) formation:
GUZAN; EVANS, OROZCO, CAMERON, CASTILLO/BESLER; JONES; DISKERUD, KLJESTAN; DONOVAN; ALTIDORE, JÓHANNSSON.