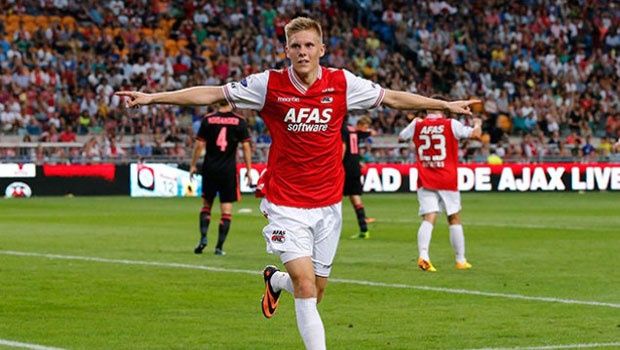 The United States Men's National Team and Jürgen Klinsmann should go ahead and start Aron Jóhannsson and Jozy Altidore as two center forwards because they give the United States two skilled goal-scorers to disrupt the opposition's defenses.
Starting Altidore and Jóhannsson shouldn't just be something that is tried in the upcoming World Cup qualifiers, but it should now be something that forces Klinsmann to change his 4-2-3-1 formation.
In a recent article, World Soccer Source discussed how starting just one defensive midfielder opened up a starting spot for Jóhannsson, but that article didn't focus on why Jóhannsson needed to start.
In addition to having some history and chemistry from playing together for AZ Alkmaar, Altidore and Jóhannsson give the USMNT center forwards who are international-caliber goal-scorers who can score on anyone.
Whereas Altidore took a while to refine his technical ability to a level that matched his athleticism and incredible physique to create a striker that was essentially complete, Jóhannsson has always been the type of striker that is described as clinical in regards to his technical ability.
Standing 6 feet tall with great speed and quickness, Jóhannsson is an aggressive striker who has textbook technical ability with both feet. He doesn't hesitate to shoot when the opportunity presents itself, and he is an accurate shooter with the full arsenal of ball-striking techniques.
The advantage of using two quality strikers is that it forces the opposition's defense to mark both strikers closely, as both are threats to score or slip behind the backline. If the United States begins to start Altidore and Jóhannsson plus Clint Dempsey and Landon Donovan on a regular basis, then the United States is fielding four players who can combine with one another and force the opposition to keep a close eye on all of them.
Combination play amongst these players can certainly produce lots of chances on goal and many goals, but the insertion of a true playmaker to orchestrate the attack and play final balls to these attacking players would be a major upgrade for the USMNT.
Just as Altidore demonstrated for two years with AZ Alkmaar and against Bosnia and Herzogovina that he was a striker to be taken seriously by elite competition, so too has Jóhannsson demonstrated a visibly aggressive elegance to his game as a striker that results in goals. Jóhannsson also has the goal-scoring rate to back up this description of his play.
The United States has a lot of options at its disposal for starting line-ups in the games leading up to next year's World Cup, but the use of two strikers of Altidore's and Jóhannsson's level plus Dempsey and Donovan floating around behind them in the attack is a way for the United States to use offense as a form of defense. Constant waves of attacks and shots on goals disrupts the ability of the opposition to develop any possession or rhythm to its play.
Four defenders plus a defensive midfielder and obviously a goalkeeper is plenty of players who are tasked with providing most of the defense, but the attack-minded players can play defense in their own way, which is pressuring the opposing defense into making mistakes and giving away possession.
While two defensive midfielders is a common strategy and a logical formation option, the United States should make it a priority to start attacking threats like Altidore, Jóhannsson, Dempsey, and Donovan at the same time.
If Jürgen Klinsmann were to also start a playmaker such as Mix Diskerud, Joe Corona, or Benny Feilhaber to orchestrate the attacking play of the other attackers listed, then the United States would be raising the quality of its play to a new level.
What would a Front Six with two strikers look like? It would look like the Front Six below:
Bradley; Donovan, Feilhaber/Diskerud/Corona, Dempsey; Altidore, Jóhannsson