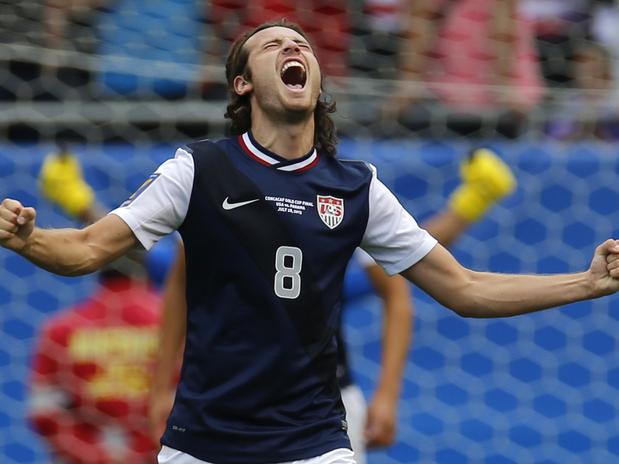 Mix Diskerud is a creative attacking midfielder and true playmaker who has oddly been described as some sort of box-to-box midfielder like Michael Bradley who forms the more attacking half of a two-man defensive midfield.
Even Michael Bradley is a defensive midfielder who uses his ability to run tirelessly to showcase his excellent technical ability and defending, but Bradley is still a defensive midfielder.
Diskerud, on the other hand, is a playmaker who has a different skill-set and playing style than Bradley, but some in the American soccer media and some in the American fan base continue to view Diskerud as a sort of box-to-box midfielder who should be used as a defensive midfield partner for a midfield destroyer.
Starting line-ups should be based on building the formation around the best players at the coach's disposal, as opposed to just forcing a player like Diskerud to slot into a role that Bradley played. A different roster requires changes to be made to the Starting XI and sometimes to the formation used.
Diskerud is best used as a central attacking midfielder playing directly behind one or two strikers where he can use his vision, his technical ability, and his passing to set up goals and orchestrate the attack. As a playmaker, he is certainly capable of scoring, but using Diskerud like Brazil uses Paulinho or Ramires is really forcing a square peg into a round hole.
While Bradley's running and his technical ability certainly make using him as a box-to-box midfielder possible, Diskerud doesn't bring the same amount of recovery defense and strong tackling that Bradley brings.
Wherever Diskerud is lining up on paper, his playing style and strength is as a creative midfielder who helps to facilitate smooth passing in the midfield and who constantly looks to set up goals. He has a strong track record of performing well for the United States, and he has a tendency to improve the passing and attacking threat of the United States, which was most recently seen in the United States' win over Mexico in World Cup qualifying.
As the coach of the United States Men's National Team, Jürgen Klinsmann should be starting Diskerud as a playmaker, especially if Diskerud is the only playmaker called up to a given roster.
Some United States rosters include Joe Corona and Mix Diskerud, but if Klinsmann is calling up only one or the other than whichever one is called up needs to start.
Diskerud has demonstrated whenever he plays for the USMNT that he provides a level of creativity and passing ability that Michael Bradley, Clint Dempsey, and Landon Donovan don't have. All of those players are excellent technically, but none of them has the same vision or ability to play final balls.
If Bradley, Dempsey, Donovan, Altidore, and Jóhannsson are likely starters for the United States, then Diskerud needs to be deployed as a playmaker whenever he is on the roster, unless Klinsmann elects to use a different playmaker.
As a player, Diskerud isn't some sort of substitute for Bradley, but rather he is a playmaker who brings a different skill-set to the national team and whose game is built around creative one-to-two touch passing that unlocks defenses. Diskerud also poses more of a scoring threat than Bradley, which makes it important to play him in a more advanced role.
Diskerud is one of the only international-caliber American playmakers in the player pool along with the likes of Benny Feilhaber, Joe Benny Corona, Freddy Adu, and Benji Joya, and if Diskerud is the only one on any given roster, then a Front Six made up of Bradley, Donovan, Diskerud, Dempsey, Altidore, and Jóhannsson would be the best way to effectively use Diskerud to bring out the most in the other players listed in the Front Six.