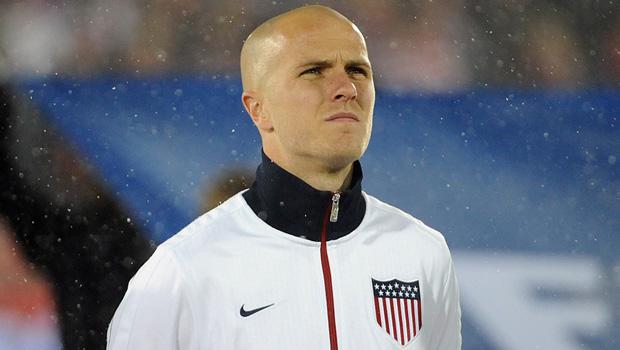 Michael Bradley may not be an elite box-to-box midfielder, but he is an elite defensive midfielder because of his combination of excellent defending, refined passing, and athleticism.
One of the keys to the United States Men's National Team's success in the 2014 World Cup in Brazil will be Michael Bradley's technical skill, defending, and athleticism as a defensive midfielder, but the USMNT also needs a viable substitute with his skill, athleticism, and defending because, should he ever be injured or suspended, the United States will be in trouble.
Michael Bradley's smooth one-to-two touch passing and his excellent technical ability with both feet cause many Americans to view him as an elite box-to-box midfielder like Arturo Vidal, Paulinho, Ramires, or Kevin-Prince Boateng, but Bradley is really a prototypical defensive midfielder only because he lacks the higher-level of technical-artistry and scoring-ability that the other midfielders listed bring.
Bradley is a fantastic midfielder, even by international standards, but using him as the same type of box-to-box midfielder as those listed above weakens the ability of the United States to defend the attacks of top national teams.
The United States Men's National Team isn't at the point yet where it has a player who can play the role of the defensive midfielder like Bradley can, and using another player there leaves the American center backs vulnerable.
To beat the best national teams, the USMNT needs Bradley playing as a defensive midfielder because this is an important position that maximizes his talents and gifts.
Delivering final balls and scoring goals needs to be primarily left to midfielders like Clint Dempsey, Landon Donovan, Mix Diskerud, Joe Corona, and Benny Feilhaber because Bradley cannot attack like they can and they can't defend like he can. This sort of division of labor and combination of players of different skill-sets allows the United States to compete when it faces top national teams.
Players like Neymar, Lionel Messi, Cristiano Ronaldo, and Mario Balotelli need to not only be defended by a strong defensive back four but they also need to be defended by someone like Bradley because no other defensive midfielder in the American player pool, when used alone, stands a chance at somewhat containing their path from the midfield through the center of the American defense.
That is the real reason that Bradley needs to be utilized as a true defensive midfielder.
Calmness on the ball and elegant passing create the illusion that Bradley should be used in a more advanced role or given more freedom to make many attacking forays, but he should be started in a deeper role where he can maximize his tireless running, his defending, and his passing.
As a defensive midfielder right in front of the defensive back four, Bradley has more touches on the ball and plays a bigger role in games, and playing deep allows Bradley to pick and chose when to go forward and when to stay back to provide defensive coverage.
Skilled passing isn't just needed in the final third, but it's also needed deep in the midfield where Bradley can help to control the passing in the United States' defensive third and where he can serve as a passing outlet for the defense.
Without Bradley roaming in front of the American Back Four, the United States cannot establish quality possession and develop a good passing rhythm because the top national teams will merely hound the American defenders and force them into giving away possession.
Winning back possession, supporting the defense, and orchestrating the passing of the USMNT from the back of the midfield is one of the most important roles in the starting line-up, and these skills complement the attacking skills of Clint Dempsey and Landon Donovan.
Starting Bradley as a midfield destroyer isn't a misuse of Bradley's skills, but rather it maximizes his combination of technical skill, defending, and tireless running.
A technically-skilled defensive midfielder is a true weapon for any national team, and Bradley is a technically-skilled defensive midfielder who also brings an imposing combination of size, athleticism, endurance, and intensity.
The United States Men's National Team needs Michael Bradley starting right in front of the American Back Four, even if he has a defensive midfield partner like Geoff Cameron, but Bradley shouldn't be used as the player who connects the defensive midfielders to Clint Dempsey, Landon Donovan, and Jozy Altidore; a playmaker is needed to connect Bradley to those three attackers.
Jürgen Klinsmann seems to think that Bradley, Dempsey, and Donovan negate the need for a playmaker, but the United States needs to start a playmaker, so that Bradley, Dempsey, and Donovan can play their natural positions, as none of these players are true playmakers.
A true playmaker is one of the keys to beating the top national teams, and no team ever wins the World Cup or the Champions League without a playmaker.
Providing excellent defending and quality passing as a defensive midfielder is an art form, and being classified as a defensive midfielder doesn't mean that Bradley isn't a smooth passer who is skilled on the ball.
For the United States Men's National Team to close the gap with top national teams, it will need technically-skilled players at every position instead of thinking that any skilled player like Dempsey, Donovan, or Bradley is some sort of playmaker.
Michael Bradley is a defensive midfielder, and many Americans need to stop considering that position as one that is beneath a player with excellent technical ability because, in fact, the defensive midfielder touches the ball the most.