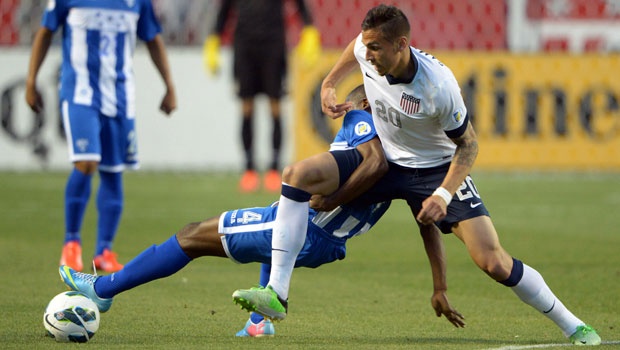 In the United States' final World Cup qualifier for the 2014 World Cup, for which it has already qualified, coach Jürgen Klinsmann has sent four players back to their club teams either due to injury or simply because he is going to rotate some of his other players into the starting line-up.
Against Panama, Klinsmann's primary intention appears to evaluate or give playing time to some of the players who he already considers part of his best group of players but who aren't starters. Klinsmann could either go with the 4-1-3-2 formation again, or he could revert back to the 4-2-3-1 formation.
Either way, one of the biggest questions is whether both Jozy Altidore and Aron Jóhannsson will start for the USMNT.
Both Jermaine Jones and Landon Donovan were released back to their club teams due to injury, but Matt Besler was sent back to his club team because Klinsmann is going to start Clarence Goodson in his place at center back instead.
Likewise, Tim Howard was sent back to Everton to allow Brad Guzan to receive some well-deserved minutes, and Guzan has already demonstrated on the club and international level that he has what it takes to be the starting keeper for the United States. While Howard is still the first-choice goalkeeper, Klinsmann needs to give Guzan some more playing time with the United States because he is roughly at the same level or higher than Howard, and the United States will need Guzan in the World Cup.
With these roster changes in mind, it would appear that the United States will likely start Brad Guzan in goal, Brad Evans at right back, Geoff Cameron and Clarence Goodson at center back, and DaMarcus Beasley or Edgar Castillo at left back.
Michael Orozco could possibly start at right back or possibly at center back, if Klinsmann wants to use Cameron as a defensive midfielder, but with Jermaine Jones and Matt Besler gone, Goodson and Cameron will probably start at center back with Kyle Beckerman at the defensive midfielder position.
There is also a possibility that Orozco could start at right back, but Klinsmann will likely start Evans, Cameron, Goodson, and Beasley as the defensive back four with Beckerman right in front of them as a midfield destroyer.
Panama's speed and technical play could be a problem for players like Beckerman and Goodson, so Cameron might be without enough defensive support around him down the center of the field.
Given the lack of quality possession from the United States against Jamaica, Klinsmann could start Kljestan and Beckerman as a two-man defensive midfield, but the coach of the United States could just as easily simply instruct one of the other midfielders to provide Beckerman with some defensive support deeper in the midfield. There is also the possibility that Diskerud could line up next to Beckerman as the player who links Beckerman to the more attack-minded players.
In the United States Men's National Team's last game against Jamaica, the United States played without much conviction or intensity, and this, and not the 4-1-3-2 formation change was the likely culprit for the U.S.' poor passing and general play.
The absence of Michael Bradley and Clint Dempsey from the midfield resulted in a lack of quality possession and good passing, and even with Landon Donvon playing, Jozy Altidore, Aron Jóhannasson, and Mix Diskerud were constantly dropping deep to show for the ball, which diminished the ability of the United States to have Diskerud playing final balls for Altidore and Jóhannsson.
There was a disconnect in the American midfield against Jamaica, but with Beckerman presumably sitting back deeper against Panama than Jones did against Jamaica, Diskerud should be able to collect the ball from Beckerman and combine with Alejandro Bedoya and Graham Zusi or Sacha Kljestan in order to attempt to feed Altidore and Jóhannsson a steady stream of passes in the final third.
All in all, Klinsmann could use a 4-2-3-1 where Jóhannsson lines up out wide merely on paper, or Klinsmann could use the 4-1-3-2 formation again given the fact that Beckerman hangs back much deeper when playing for the United States than Jones tends to do.
The United States will likely start both Altidore and Jóhannsson again, which would mean that the likely Starting XI will be as follows:
GUZAN; EVANS, CAMERON, GOODSON, BEASLEY/CASTILLO; BECKERMAN; ZUSI, DISKERUD, BEDOYA; ALTIDORE, JÓHANNSSON.
Despite the line-up prediction above, the United States could decide to give Terrence Boyd a start up top, but it's important that Diskerud, Altidore, and Jóhannsson build some chemistry.
World Soccer Source doesn't feel that Beckerman or Goodson have the athleticism to keep up with the quick and skilled attackers that the United States will see at the World Cup, so this game against Panama should be used to see how Orozcco does at center back and how Cameron can do playing as the lone defensive midfielder.
For this writer, there's no real point in giving Goodson or Beckerman minutes against Panama, even though they will both likely start. Goodson and Beckerman are fundamentally-sound players, but they lack the combination of skill and athleticism that the United States will need in the 2014 World Cup.
But, working within the constraints of the roster, this writer would like to see a  4-1-2-1-2 Starting XI as follows:
GUZAN; EVANS, OROZCO, GOODSON, CASTILLO; CAMERON; BEDOYA, KLJESTAN; DISKERUD; ALTIDORE, JÓHANNSSON.