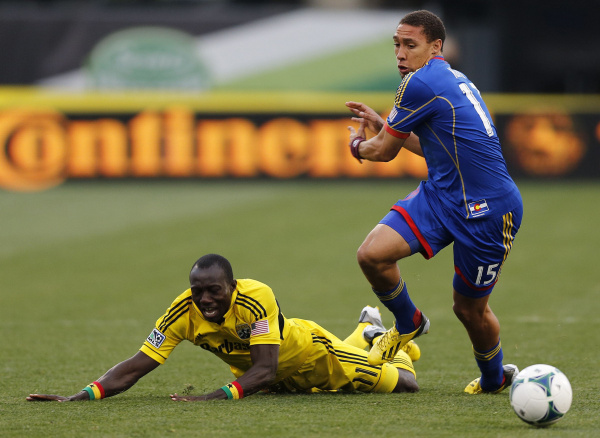 The United States Men's National Team and Jürgen Klinsmann have plenty of outside back options available to them with the 2014 World Cup coming up next summer.
Due to the fact that Jonathan Spector and Eric Lichaj are proven-performers at the international level and the club level in England, it remains a mystery why Klinsmann has insisted on stubbornly declaring that Brad Evans and DaMarcus Beasley are his best right back and left back options respectively, especially since both players are less-proven and playing out of position.
There's a widespread belief that both players have done well against CONCACAF competition and deserve recognition for holding their own at positions that neither player are naturally suited to play, but there is also widespread concern that Klinsmann is leaving the United States' defense vulnerable out wide.
Any realistic examination of the types of attackers that the United States will face in the 2014 World Cup reveals the real danger of starting two players at outside back who are not really outside backs.
Klinsmann has a wealth of options at outside back, and many of his best options are players who are experienced outside backs with international experience. Additionally, there is the issue of the group of new MLS players who have demonstrated that they have the tools to be international-caliber outside backs.
The real mystery is why Klinsmann feels that using Evans and Beasley out of position is a better option than starting professional outside backs.
The coach of the United States Men's National Team has been refusing to use outside backs that are paid to play the position at the club level for a living.
Even excluding new MLS outside backs like Chris Klute, DeAndre Yedlin, and Andrew Farrell, who are actually professional outside backs, Klinsmann has decided that both Jonathan Spector and Eric Lichaj don't deserve any call ups to the national team, despite the fact that both players have a documented history of performing well for the United States and a wealth of experience in the English Premier League.
Klinsmann's outside back selections have been a topic of discussion and debate for a long time now, and even if Klinsmann wants to start Evans and Beasley, there is no explanation for not putting Spector and Lichaj on the roster to fill the other two outside back roster spots.
Anyway that one chooses to look at this coaching situation, there is no way to counter the argument that Klinsmann has not put four natural outside backs on his rosters.
While Klinsmann can support the argument that Chris Klute, DeAndre Yedlin, Andrew Farrell, and Kofi Sarkodie are inexperienced at the international level, he can't support his stance that Spector and Lichaj are somehow less qualified to start as the outside backs than Evans and Beasley.
Spector in particular has performed well against Spain, Brazil, and a whole list of other top national teams, and Spector is under 30 years old. Lichaj too has performed well for the United States, even if he doesn't have the same experience against elite national teams.
If Klinsmann views Fabian Johnson as more of a winger now as opposed to an outside back, Timothy Chandler, Fabian Johnson, Eric Lichaj, and Jonathan Spector are still all professional outside backs who have proven that they have the speed and skill along with the defensive skills to be the United States' outside backs.
The track record of Spector, Johnson, Chandler, and Lichaj along with Klinsmann's insistence on not making them his four outside backs really calls into question Klinsmann's decision-making.
Consistently calling up the outside backs listed above was really only the first step that Klinsmann had to make in selecting his outside backs because he also needed to use some of the friendlies over the last few months to get a good look at the new outside backs like Klute, Yedlin, and Farrell.
At this point, there is no real evidence that Brad Evans and DaMarcus Beasley are more equipped to deal with better attackers than Spector, Lichaj, Chandler, Johnson, Klute, Yedlin, and Farrell because Evans and Beasley have only held their own against fairly weak competition.
Klute, Yedlin, and Farrell may be inexperienced but each of them has the technical and defensive skills along with the athleticism to stand a better chance of performing against the better competition in the World Cup. All three outside backs are skilled on the ball with both feet and extremely fast, and Klute and Farrell in particular have demonstrated very good defensive fundamentals and instincts.
Given the amount of playing time that Klute, Yedlin, and Farrell have seen as well as the quality of their performances for an entire season, all three of these outside backs have earned the chance to prove that they can outplay Evans and Beasley as outside backs.
Despite the fact that Chandler has cast doubts on how interested he is in really playing for the United States, certainly Spector, Lichaj, and Johnson should have all been a fixture on the U.S. rosters over the last two years.
Without a lot of games before next summer's World Cup, there is a real possibility that Klinsmann will simply insist on freezing Spector, Lichaj, Klute, Yedlin, Farrell, and Sarkodie out of the United States Men's National Team.
If this is the case, then the United States may very well not even put proven-players like Spector and Lichaj on the World Cup roster as outside back options, which essentially means that Klinsmann will be banking on using make-shift substitutes should his already make-shift outside backs be injured or suspended.
Klinsmann's roster selections at outside back have been a problem, and from an American perspective, player selection at outside back is a major cause for concern going into the 2014 World Cup.