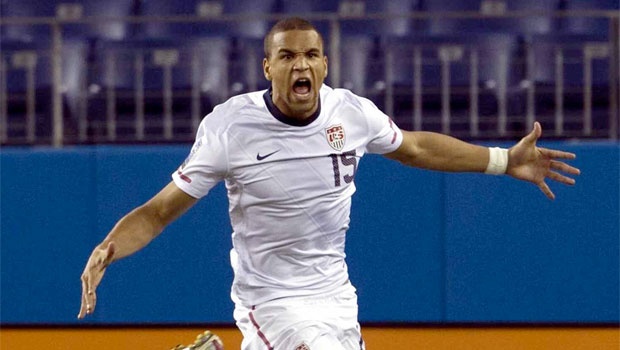 Jürgen Klinsmann and the United States Men's National Team have four complete first strikers going into the 2014 World Cup.
Jozy Altidore is the number one striker option right now, but Aron Jóhannsson is equally as skilled from a technical standpoint, if not more so. Additionally, Juan Agudelo and Terrence Boyd are very technically-gifted, fast, tall, and aggressive first strikers who are ready to face high-caliber international competition at the World Cup.
While Eddie Johnson and Herculez Gomez are quality options who are also international-quality strikers, Altidore, Jóhannsson, Agudelo, and Boyd are the best four American first strikers according to World Soccer Source.
The competition at the World Cup is daunting. Teams like Brazil, Spain, Italy, Germany, Colombia, Chile, Argentina, France (if they qualify), and others are stocked full of world-class players, but the United States can take comfort in the fact that Altidore, Jóhannsson, Agudelo, and Boyd are capable first strikers who can score on elite national teams. Every one of those American strikers is technically-advanced and fast, and every one stands above 6 feet.
The Best USMNT XI has yet to be determined, but taking the four strikers listed above to the World Cup gives the United States the firepower to score, if those strikers receive quality service and final balls.
Four USMNT Strikers for the 2o14 World Cup in Brazil:
Jozy ALTIDORE (Sunderland)
Jozy Altidore is a beast of a first striker who has cultivated a more polished set of technical skills inside of a strong, tall, and athletic physique. Altidore brings two-footed skill, size, speed, and a growing ability to do real damage against better opponents.
Aron JÓHANNSSON (AZ Alkmaar)
Aron Jóhannsson is a textbook for footwork, touch, ball striking techniques, finishing, and movement off the ball. Quick, fast, and aggressive in his pursuit of the back of the net, Jóhannsson is a clinical striker who plays with elegance and imagination.
Juan AGUDELO (New England Revolution/Stoke City)
Of all the American strikers, Juan Agudelo is the most inventive risk taker who doesn't hesitate to attempt to outfox and best defenders and goalkeepers. The United States cannot leave a striker with his invention and technical ability off the World Cup roster, especially given the fact that he also brings excellent speed and strength inside of a 6'2" frame. Agudelo is known for his creativity and refined technical-ability, but Agudelo is a big and athletic striker who will make World Cup defenders expend a ton of energy containing and marking him. Agudelo is a gifted goal-scorer who doesn't need any extra motivation to aggressively attack the goal with skill, and Agudelo looks to create space for himself to score, which helps to open up games that have stalemated.
Terrence BOYD (Rapid Wien)
Of all the American strikers, Terrence Boyd is the most aggressive of the bunch, and he plays with no respect for his opponents. Agudelo and Jóhannsson may or may not be more technically-skilled than Boyd, but Boyd is a very technically-skilled striker who is the tallest and fastest of the bunch. Boyd plays with real fire, and the United States will need a complete striker like Boyd if it wants to have strikers who can really compete against top national teams and score on them. Boyd has everything: skill with both feet and his head, good finishing, speed, quickness, a tall frame, and excellent movement off the ball.
Outlook:
When the 2014 World Cup rolls around, Jürgen Klinsmann and the USMNT would be wise to put Altidore, Jóhannsson, Agudelo, and Boyd on the roster as the four strikers. Other names have been tossed around in the American media as the best American strikers, but all four of the strikers listed above are complete strikers who can score against even the best national teams. While none of these strikers is an unstoppable goal machine, each of them is unfazed by elite defenders for the most part.
Other American Strikers to Watch:
Mario RODRIGUEZ
Herculez GOMEZ
Eddie JOHNSON
Gyasi ZARDES
José VILLARREAL (second striker)
Alonso HERNANDEZ (second striker or attacking midfielder)