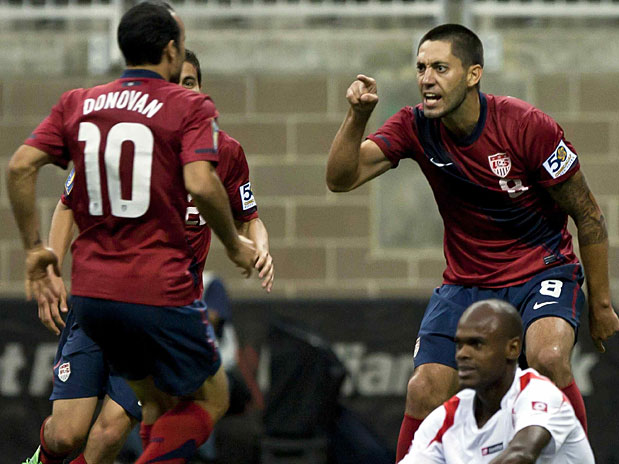 The following American soccer players are ranked subjectively. If a player is ranked higher than another player, then the higher ranked player isn't necessary a better player skill-wise.
Given the difficulty of ranking players who play different positions and given the difficulty of ranking younger players who don't have as much experience as older or more experienced players, ranking the best American soccer players with any sort of scientific system is impossible to do.
Soccer is a sport where a single play can showcase the superiority of one player over another, and soccer is also a sport where just one excellent touch on the ball can separate one player from another.
Some players like Freddy Adu get no minutes on the club level, but any time they have put on the United States jersey they have shown how their skill-level and ability to perform well and compete against quality international competition is well-above most of the players in the American player pool.
Currently, there has been an influx of better American soccer players who are younger and less-experienced than many of the players who are highly-regarded Major League Soccer players or regulars on Jürgen Klinsmann's United States Men's National Team.
Nevertheless, new players like Shane O'Neill, Benji Joya, Chris Klute, DeAndre Yedlin, and Andrew Farrell have displayed superior skill to many of the players that the American soccer media rates higher due to Jürgen Klinsmann's use of them in World Cup qualifiers.
In short, the new crop of younger internationally-inexperienced American soccer players are better than most of the players in the American player pool with the exception of players such as Clint Dempsey, Giuseppe Rossi, Michael Bradley, Landon Donovan, Geoff Cameron, Tim Howard, Brad Guzan, and Benny Feilhaber.
The Best American Soccer Players (November 2013)
1. Clint DEMPSEY* (Seattle Sounders)
2. Giuseppe ROSSI (Fiorentina)
3. Michael BRADLEY* (Roma)
4. Jozy ALTIDORE* (Sunderland) 
5. Landon DONOVAN (LA Galaxy)
6. Aron JÓHANNSSON* (AZ Alkmaar)
7. Benny FEILHABER* (Sporting Kansas City)
8. Mix DISKERUD* (Rosenborg)
9. Joe Benny CORONA* (Tijuana)
10. Freddy ADU* (E.C. Bahia)
11. Benji JOYA* (Santos Laguna)
12. Geoff CAMERON* (Stoke City)
13. Jermaine JONES (Schalke)
14. Fabian JOHNSON (Hoffenheim)
15. Brad GUZAN* (Aston Villa)
16. Tim HOWARD* (Everton)
17. Juan AGUDELO* (New England Revolution/Stoke City)
18. Terrence BOYD* (Rapid Wien)
19. Julian GREEN (Bayern Munich II)
20. Paul ARRIOLA (Tijuana)
21. Mario RODRIGUEZ (Borussia Mönchengladbach U-23)
22. Alonso HERNANDEZ (Monterrey)
23. José VILLARREAL (LA Galaxy)
24. Shane O'NEILL* (Colorado Rapids)
25. John Anthony BROOKS* (Hertha Berlin)
26. Herculez GOMEZ (Tijuana)
27. Eddie JOHNSON (Seattle Sounders)
28. DeAndre YEDLIN* (Seattle Sounders)
28. Chris KLUTE* (Colorado Rapids)
28. Andrew FARRELL* (New England Revolution)
31. Junior FLORES (Borussia Dortmund)
32. Gyasi ZARDES (LA Galaxy)
33. Jared JEFFREY* (DC United)
34. Dax McCARTY (New York Red Bulls)
35. Jonathan SPECTOR (Birmingham City)
36. Gale AGBOSSOUMONDE (Toronto FC)
37. Michael OROZCO (Puebla)
38. Kellyn ACOSTA* (FC Dallas)
39. Kofi SARKODIE* (Houston Dynamo)
40. Perry KITCHEN* (DC United)
* An asterisk indicates players that the United States should try its best to fit onto the 2014 World Cup roster.