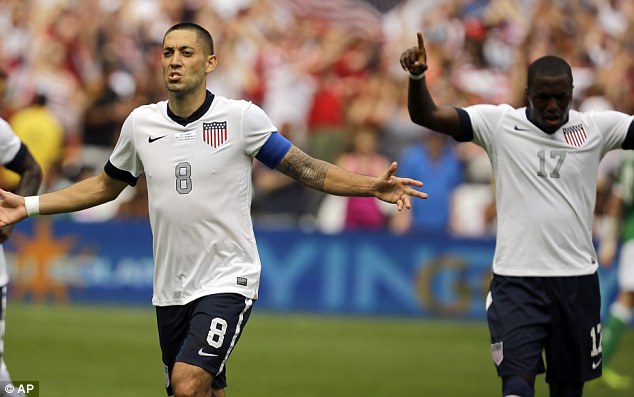 As with other United States Men's National Team roster proposals for the World Cup that this writer has made, this month's addition of "USMNT: 23 For Brazil" is based on using newer and more talented American players as opposed to many of Jürgen Klinsmann's preferences.
The United States qualified for the 2014 World Cup in first place in CONCACAF under Klinsmann's watch, but many of the American players used to qualify out of CONCACAF have shown difficulty in keeping up with the speed of play against better national teams from outside of CONCACAF, whereas players like Benji Joya and Shane O'Neill have faced off against Paul Pogba in the U-20 World Cup and done very well.
This writer considers the play of those two players against France and others as proof of an ability to excel against higher-caliber international competition. The USMNT and Klinsmann received a lot of praise for the performance of the United States in World Cup qualifying, but the quality of play on display still falls well below the general quality of play that will be present during the World Cup, which will showcase teams who play quick-passing soccer characterized by advanced technical-ability and excellent athleticism.
Therefore, World Soccer Source disagrees with the general consensus of the American soccer media that Klinsmann is using his best players and fielding the players who can play high-quality soccer that's good enough to defeat first and second tier national teams in the 2014 World Cup.
Many of the players on World Soccer Source's list are considered inexperienced and unproven by many American soccer writers, pundits, and fans, but the United States will need the players with the tools to compete against World Cup competition, even if many of these players are inexperienced.
Below is World Soccer Source's USMNT World Cup roster proposal as of November 2013:
GOALKEEPERS (3): Tim HOWARD (Everton), Brad GUZAN (Aston Villa), Nick RIMANDO (Real Salt Lake)
DEFENDERS (7): John Anthony BROOKS (Hertha Berlin), Shane O'NEILL (Colorado Rapids), Gale AGBOSSOUMONDE (Toronto FC), Andrew FARRELL (New England Revolution), Chris KLUTE (Colorado Rapids), DeAndre YEDLIN (Seattle Sounders), Kellyn ACOSTA (FC Dallas)
MIDFIELDERS (9): Michael BRADLEY (Roma), Geoff CAMERON (Stoke City)*, Jermaine JONES (Schalke), Benji JOYA (Santos Laguna), Clint DEMPSEY (Seattle Sounders), Benny FEILHABER (Sporting Kansas City), Joe CORONA (Tijuana), Mix DISKERUD (Rosenborg), Freddy ADU (E.C. Bahia)
STRIKERS (4): Jozy ALTIDORE (Sunderland), Aron JÓHANNSSON (AZ Alkmaar), Juan AGUDELO (New England Revolution/Stoke City), Terrence BOYD (Rapid Wien)
Roster Rationale and Notes:
-Despite the abundance of young and internationally-inexperienced players that give the impression of an experimental and unproven roster, this roster contains the core group of American players who are the backbone of the United States Men's National Team plus new proven players: Tim Howard, Geoff Cameron, John Anthony Brooks, Michael Bradley, Jermaine Jones, Clint Dempsey, Jozy Altidore, and Aron Jóhannsson.
-This roster also contains Benny Feilhaber, an under 30 and proven World Cup and Confederations Cup playmaker.
-With this group of players, Jürgen Klinsmann could start Howard, Cameron, Brooks, Bradley, Jones, Dempsey, Feilhaber, Altidore, and Jóhannsson, which leaves only the outside back spots as positions with internationally inexperienced starters.
-Given Klinsmann's reliance on Brad Evans and DaMarcus Beasley as his outside backs, using two new, talented, and athletic outside backs is a necessary risk, if one wishes to call it that. Evans and Beasley have done well in World Cup qualifying, but this writer questions the prudence of banking on Evans and Beasley to either have the speed in Evans' case or the defensive tools to mark the types of attackers who will be playing in the World Cup.
-Shane O'Neill, Geoff Cameron, and Andrew Farrell can all play as center backs, outside backs, or as defensive midfielders, so while this roster only has seven players listed as defenders, Geoff Cameron is a center back or defensive midfielder who is listed as a midfielder on this roster.
-Chris Klute, DeAndre Yedlin, Kellyn Acosta, and Andrew Farrell can play both right back and left back, which gives the United States Men's National Team four outside backs who can play on either side of the defense.
-Benji Joya gives the United States a complete midfielder who offers excellent creativity, passing ability, and technical play with better defense than Clint Dempsey, Benny Feilhaber, Mix Diskerud, Joe Corona, and Freddy Adu can provide. Michael Bradley is often called a box-to-box midfielder, but Joya brings a stronger attacking element than Bradley provides, which allows Bradley to play his natural position deeper in the midfield.
-Benny Feilhaber, Joe Corona, Mix Diskerud, and Freddy Adu give the roster attacking midfielders who are also true playmakers, and all four players can play in the center, out right, or out left as attacking midfielders.
-Gale Agbossoumonde has seen less playing time in MLS this season than Shane O'Neill, but Agbossoumonde is another center back who brings quality tackling and 1v1 marking, size, strength, speed, agility, good positional sense, calmness on the ball, and smooth technical ability to the center of the defense. Agbossoumonde is inexperienced at the international level, but the United States needs him on the roster for the World Cup. Is it risky? Maybe, but so is using Omar Gonzalez, Clarence Goodson, and Matt Besler against elite attackers.
-This writer made including Freddy Adu on the roster a priority due to Adu's ability to break down opposing defenses and put opposing players on their heels. Adu is a very skilled playmaker that the United States would be wise to include on its roster if only for the sole purpose of having a game-changer if a must-win game was looking like defeat was inevitable. One pass or one play could be the difference between being knocked out of the World Cup or living to fight another day.
-The roster contains an appropriate balance of all of the types of players needed on a World Cup roster, and several of them play more than one position. A close examination of the roster will show that every position is several players deep.
–With this group of players, Klinsmann could start the following Starting XI in the first game of the 2014 World Cup:
Howard; Yedlin/Farrell, Cameron/O'Neill, Brooks, Klute; Jones/O'Neill/Cameron, Bradley; Corona, Feilhaber, Dempsey; Altidore/Jóhannsson.