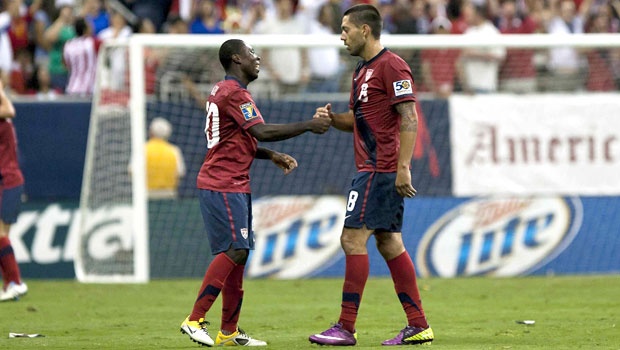 When the 2014 World Cup rolls around, Jürgen Klinsmann and the United States Men's National Team will need to select more talented midfielders like Mix Diskerud, Joe Corona, Benny Feilhaber, Benji Joya, and Freddy Adu over lower-level players like Graham Zusi, Sacha Kljestan, Brad Davis, and Kyle Beckerman.
An attacking midfielder such as Alejandro Bedoya plays at a level well-above that of Zusi, Kljestan, Davis, and Beckerman, but Bedoya still falls short of Feilhaber, Diskerud, Joya, Adu, and Corona because Bedoya's game is restricted to receiving the ball out wide and immediately looking to cut inside.
On the other hand, Corona, Diskerud, Joya, and Adu are less one-dimensional players that constantly look to pass and move wherever the game takes them instead of just always looking to cut inside with their heads down.
Combining Seasoned Veterans with Newer Talent
Assuming Klinsmann selects Clint Dempsey, Landon Donovan, Michael Bradley, and Jermaine Jones, there is room for four or five of the players listed above as more talented midfielders than other American options.
Narrowing down the list of midfielders to eight or nine will be a difficult task, especially if the United States selects four first strikers and eight defenders.
Part of the solution would be to list Geoff Cameron as a defender, which would mean that even if Cameron was listed as a defender, then the United States Men's National Team would still have three defensive midfielders: Michael Bradley, Jermaine Jones, and Geoff Cameron.
If Shane O'Neill were to be included on the World Cup roster as a defender, then the United States would really have four defensive midfielders available on the roster.
Skill and Proven-Ability Over Club Form
The United States doesn't enjoy the luxury of calling up a revolving door of international-caliber midfielders based on current club form, so the United States needs to place a premium on selecting its most talented midfielders at all costs, regardless of fluctuations in playing time at the club level.
Klinsmann would be wise to make sure to include gifted attacking midfielders and playmakers such as Corona, Diskerud, and Feilhaber on the roster to be available to play with Dempsey, Donovan, Bradley, and Jones. Despite their skill-level, Joya and Adu would be less likely to make the roster because Klinsmann has shown less interest in them than he has shown in Diskerud, Corona, and to a lesser extent, Feilhaber.
A Baseline of Excellent Talent
From a practical standpoint, selecting Bradley, Jones, Joya, Dempsey, Donovan, Feilhaber, Diskerud, and Corona would at the very least ensure that every midfielder on the roster had the technical ability, playing style, and physical gifts to keep up with the faster speed of play at the World Cup.
Certainly, starting a Front Six made up of Bradley, Jones, Donovan, Feilhaber, Dempsey, and Altidore would leave little doubt that the United States had players that were equipped and proven at the international level against quality national teams, and starting Feilhaber might prevent both Jones and Bradley from making attacking forays at the same time. In short, having Feilhaber as a passing outlet discourages Jones from feeling the need to constantly storm downfield with dribbling forays or runs off the ball.
These five midfielders plus Altidore as a striker guarantee that the United States is at least using players who can play one-to-two touch soccer against top national teams, and this is a superior strategy than using somewhat pedestrian players like Zusi against real competition, even if Zusi is a two-footed and fundamentally-sound player who excels at crossing the ball.
A close examination of the skill-level, playing style, and athletic ability of players like Feilhaber, Diskerud, and Corona quite clearly shows a far superior ability to play at the level and style of Bradley, Jones, Dempsey, and Donovan compared to Zusi, Bedoya, Kljestan, and Davis.
The Freddy Adu Dilemma
For all of the criticism and mockery that Freddy Adu has received from most of the American soccer media and the American fan base, no one has ever disproven the fact that Adu can compete against any level of competition and bring a level of playmaking and 1v1 abilities that exceed almost every player in the American pool.
Despite his carousel of clubs and coaches at almost all of his clubs, Adu has generally displayed a superior ability to excel against elite players compared to many of the ex-U.S. internationals who mock him. Many of the ex-U.S. internationals can laugh at Adu, but the skill-level that he has displayed against Brazil, Spain, Argentina, and Mexico in particular far exceeds what all of the ex-player critics were able to show; players with poor technical-ability don't sign with Benfica.
Critics like to scoff at Adu, but the playmaker has always shown that that he can break down elite competition and disrupt the defensive shape of strong national teams more so than almost every American soccer player.
Making room for Adu on a 23-man World Cup roster isn't a bad idea, even if it is an unpopular one. Even Jozy Altidore once told Jimmy Conrad in an interview for KICK TV that Adu was the most talented player with whom he had ever played.
Benji Joya's Unique Skill-Set and Playing Style
Turning to Joya, Stuart Holden has always been highly-regarded for his ability to bring excellent technical and passing ability to the American midfield combined with defensive coverage and tackling, but with Holden suffering injury after injury, Benji Joya is the player that brings the same package of skills.
Formation Versatility
The midfielders discussed in this article give the United States Men's National Team and Jürgen Klinsmann lots of starting line-up and formation options. All of the playmakers listed can start on either side of the field in addition to starting as central attacking midfielders, so this gives the United States the ability to use different combinations of these players with Dempsey, Donovan, Bradley, Cameron, and Jones.
Whether the United States starts one defensive midfielder or two, players like Corona, Diskerud, and Feilhaber can be deployed out wide if Dempsey or Donovan are started as second strikers, and all of these players are versatile and dynamic enough to not allow themselves to be isolated and shut out of games by being pinned to the sideline.
The Possibility of Injuries to Key Midfielders
One real possibility that needs to be taking seriously is that there could be a time when both Donovan and Dempsey were either suspended or injured, and having Feilhaber, Diskerud, and Corona on the roster gives Bradley and Jones players who can play quick passing soccer on their level.
Furthermore, Bradley, Donovan, and Dempsey could all be unable to play at some point in the World Cup, and having Cameron, Jones, Joya, Corona, Diskerud, and Feilhaber on the roster gives the United States viable replacements that won't be overrun by World Cup competition.
Looking ahead toward the 2014 World Cup, this writer would select the following group of eight midfielders to represent the United States (and find a way to fit Freddy Adu onto the roster):
Michael BRADLEY, Jermaine JONES, Benji JOYA, Clint DEMPSEY, Landon DONOVAN, Benny FEILHABER, Joe Benny CORONA, Mix DISKERUD
*Geoff CAMERON and Shane O'NEILL, listed as defenders, also excel at the defensive midfielder position, so this list of midfielders doesn't overlook the need for more than two defensive midfielders on a roster.