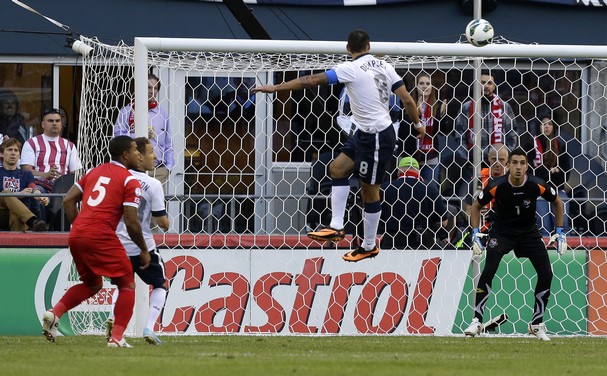 It's no secret that players such as Neymar, Lionel Messi, Mario Balotelli, Andres Iniesta, Thiago Silva, Marcelo, Philipp Lahm, David Luiz, Paulinho, Thomas Müller, Ramires, and Arturo Vidal are going to be the types of players that the United States Men's National Team will have to compete against in the 2014 World Cup.
With this in mind, Jürgen Klinsmann needs to only select players for the United States' World Cup roster who have the tools needed to be competitive against players of that level.
For the most part, Klinsmann has been using many of the players who can play at the necessary level at the 2014 World Cup, but he hasn't been starting them together. For example, Klinsmann has recently been using Mix Diskerud more and more as a playmaker, which was a needed shakeup to his line-ups, but due to some recent injuries, he hasn't started Diskerud with Michael Bradley, Jermaine Jones, Landon Donovan, Clint Dempsey, and Jozy Altidore yet.
Since Klinsmann is finally beginning to trust a playmaker like Diskerud more, the following Front Six would be the first step in closing the gap with top national teams: 
Jones, Bradley; Donovan, Diskerud, Dempsey; Altidore.
While Klinsmann has plenty of time to also use Joe Corona in the central attacking midfielder role, starting the Front Six listed above offers the USMNT two defensive midfielders who have the skill, athleticism, and pedigree to break up the possession of the opposition and play a major role in facility quality passing and ball movement from the back of the midfield.
Furthermore, using Donovan and Dempsey out wide where they have the freedom to roam around where they see fit allows a playmaker like Diskerud quality attacking players with whom he can combine and to whom he can look to play final balls.
Given Jozy Altidore's improved technical ability, scoring ability, and overall movement off the ball over time, the United States has a real weapon at the first striker position that can not only score but also draw defenders away from Donovan and Dempsey. With Diskerud deployed as a playmaker, the United States has a more potent attack that has four players who can cause problems for even elite national teams.
The United States still isn't as good as Brazil, Germany, Spain, Italy, and the like, but a Front Six made up of Jones, Bradley, Donovan, Diskerud, Dempsey, and Altidore is a balanced and talented Front Six that no national team would dismiss lightly.
For the time being, that Front Six is at the very least a legitimate group of players who are all capable of playing one-to-two touch soccer against first and second tier national teams. The next thing to consider is the American Back Four.
While Omar Gonzalez and Matt Besler have done well in World Cup qualifying, one has to be realistic and concede that center backs like Geoff Cameron and John Anthony Brooks are more equipped to deal with better attackers. Cameron and Brooks give the USMNT a center back pairing where both center backs are not only quick, tall, and strong but both are also technical players who have the defensive instincts and fundamentals to fair better against World Cup attackers.
Brooks is a 20 year old starting Bundesliga center back who has been named to the Bundesliga Team of the Week multiple times, and Cameron is a smooth and graceful player with the technical ability of a midfielder who also brings aggressive and elegant defending.
Besler and Gonzalez are certainly talented center backs, but Cameron and Brooks are not only good defenders but they are soccer players who are quite frankly much closer to Bradley, Jones, Donovan, Diskerud, Dempsey, and Altidore in terms of skill-level.
If the goal is to field 10 field players who are all comfortable with the ball at their feet, then Cameron and Brooks bring this along with their defensive skills to the center of the USMNT's defense.
The final step to fielding a strong Starting XI is to swap out Brad Evans and DaMarcus Beasley with DeAndre Yedlin and Chris Klute. After almost an entire Major League Soccer season, it's quite clear that the skill, speed, and defending that Yedlin and Klute are displaying as right and left backs are the types of qualities that the United States will need in the World Cup.
Yedlin used to be thought of as more of an attacking threat than as a quality defender, but over time the quality of his defending has begun to match the quality of his passing and dribbling out of the back. Recently, his defending against the LA Galaxy showed how much he had improved his ability to tackle, dispossess, and mark fast, quick, and skilled attackers.
Klinsmann needs to accept the need for Yedlin or Farrell at right back with Klute as a left back as a change that needs to be made to field a Starting XI where all 10 field players not only excel at their natural positions but where all 10 aren't weak links from a technical standpoint.
Beating top teams and going deep in the 2014 World Cup will require fielding a Starting XI where all of the players are capable of passing the ball well and not turning over possession too often.
Brazil and company will be better than the United States, but starting Howard, Yedlin or Farrell, Cameron, Brooks, Klute, Jones, Bradley, Donovan, Diskerud, Dempsey, and Altidore is an upgrade in skill and athletic ability to the line-ups that Klinsmann has been fielding, and none of these players are players who haven't seen heavy minutes at the club level and proven that they have the tools and gifts needed to perform at the international level.
In addition to the starters just listed, the United States will also need 12 substitutes who are able to compete against top competition as well, and this will require selecting several skilled players who didn't play a major role or any role in World Cup qualifying such as Benny Feilhaber, Joe Corona, Shane O'Neill, Andrew Farrell, Benji Joya, Juan Agudelo, Aron Jóhannsson, and Terrence Boyd.
The need for all of these players is just a reality that American soccer fans and the American soccer media will have to accept, but more importantly, Jürgen Klinsmann will have to accept it and learn to listen to Tab Ramos' recommendations more.