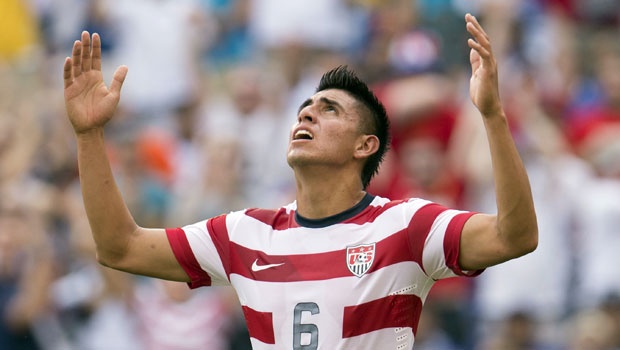 The United States Men's National Team roster discussed in this article differs from the roster proposed in the recent article, "USMNT: 23 For Brazil (November 2013)," but the new roster proposed in this article is a product of this writer's realization that World Soccer Source criticized Jürgen Klinsmann for not selecting balanced rosters.
World Soccer Source criticized Klinsmann for not selecting enough playmakers, attacking midfielders, outside backs, and center backs, but World Soccer Source was advocating for a midfield roster with too many playmakers, which eliminated enough room for the right amount of quality players of every position.
The new roster below contains three goalkeepers, four center backs, four outside backs, three defensive midfielders, a box-to-box midfidler (Joya), four attacking midfielders (including two playmakers), and four first strikers.
The United States Men's National Team is at a point where there are more quality American soccer players with international-caliber abilities than ever before, and there isn't room for all of them on the roster.
This realization makes any hypothetical discussion of who deserves to represent the United States in the 2014 World Cup or who the United States needs in the 2014 World Cup controversial and full of hard decisions.
Normally, any World Cup roster would consist of three goalkeepers, four center backs, four outside backs, four defensive midfielders (two of both varieties), four attacking midfielders, and four forwards.
In addition to this pro forma distribution of types of players, the issue of players who play more than one position arises, and the question of whether certain players should be classified as forwards or midfielders.
On top of this, a coach has to decide whether the forward spots should all be occupied by first strikers or whether some of the four forward spots should go to second strikers.
For any national team with more worthy players than roster spots, players that deserve to be on the roster are often undeservedly left off, and choosing one player over another almost feels like a coin toss.
Although Jürgen Klinsmann hasn't used many of the players that World Soccer Source believes are some of the most talented American soccer players at their various positions, there are still a lot of indicators that many of the players that Klinsmann snubs are exactly the types of players that the United States will need in the World Cup.
Normally, World Soccer Source would make space for Freddy Adu and Benny Feilhaber because this writer believes that these two players bring special playmaking, technical, and passing qualities that Michael Bradley, Clint Dempsey, Landon Donovan, and Jozy Altidore need to perform their best.
With the arrival of Joe Benny Corona and Mix Diskerud, the United States Men's National Team has too very talented playmakers that bring similar passing qualities, that can also both score, and that have a degree of speed and quickness to allow them to keep up with fast-paced international soccer.
If Corona and Diskerud are on the roster, then one of the priorities changes from including legitimate playmakers to making sure the USMNT is deep enough at every position. If Feilhaber, Adu, Corona, Diskerud, and Feilhaber are all included, then there isn't enough roster spots for the other types of players that are needed.
Looking at the midfield, the United States can use certain center backs like Geoff Cameron, Shane O'Neill, or Amobi Okugo as back ups for defensive midfielders like Michael Bradley or Jermaine Jones (if he's not too much of a card liability), but a real roster shouldn't depend on arguably the first choice center backs as back ups for Bradley.
Therefore, an eight-man midfield roster still requires three to four defensive midfielders, which makes it impossible to fit in all of the attacking midfielders that World Soccer Source rates highly.
Nevertheless, it's more important that Corona and Diskerud take Graham Zusi's and Brad Davis' roster spots than it is that Corona, Diskerud, Feilhaber, and Adu are all on the roster; this takes priority.
The wise decision is to select four defensive midfielders and four attacking midfielders, and a new midfielder like Benji Joya has shown that he can play as a box-to-box midfielder, a playmaker, or an outside midfielder with the freedom to roam and cut inside.
Despite Joya's youth and lack of significant minutes for Santos Laguna, Tab Ramos' comments about him, in addition to how well he played against Paul Pogba, should carry a lot of weight.
If Bradley, Joya, Dempsey, Donovan, Corona, and Diskerud are on the World Cup roster, then the final two positions need to go to defensive midfielders, and the likely suspects are Amobi Okugo, Perry Kitchen, and Jared Jeffrey who are all more equipped to keep up with the pace of the international game than Kyle Beckerman.
Frankly, Kyle Beckerman should not be anywhere near the World Cup roster because he can't track and mark fast and skilled international attackers and midfielders, and this should automatically rule him out of a World Cup roster spot.
While soccer is a game where technical ability is more important than athleticism, a baseline of athleticism is needed to even compete at the upper levels of international soccer, and Beckerman doesn't have it.
So, who should Jürgen Klinsmann select to be the defensive midfielders besides Michael Bradley?
Jermaine Jones is a logical choice because of his playing resume, his technical ability, his defending, and his athleticism and physique, but Jones really is a card machine. Jones is a dirty tackler, and he also refuses to cooperate with Bradley in a two-man defensive midfield where one player covers for the other when the latter storms forward with the attack.
While Jones and Bradley could simply agree to not go forward at the same time, Geoff Cameron showed that he was much more willing to sit back deeper to cover for Bradley. Therefore, any system based on using Jones and Bradley at the same time is destined to leave a big hole right in from of the U.S.' Back Four, which first and second tier national teams will exploit.
The United States can simply not tolerate leaving the center backs to have to back pedal with no defensive coverage from defensive midfielders in front of them as opponents attack them with combination play, through balls, and individual dribbling runs.
If Jones is unable to partner with Bradley, then perhaps Jones still deserves a roster spot as a substitute for Bradley, but the cards are still a major problem for Jones. The United States can't be in the situation where Bradley is injured or suspended and Jones receives a red card or becomes suspended due to yellow card accumulation.
Klinsmann should consider other defensive midfielders such as Jared Jeffrey, Perry Kitchen, and Amobi Okugo to be on the roster with Bradley.
Which one or two of these defensive midfielders can play better with players like Bradley, Dempsey, and Donovan?
Who knows?
The friendlies and January camp before the 2014 World Cup need to answer that question.
Whichever defensive midfielders Klinsmann selects besides Bradley (if Klinsmann is even willing to accept that Beckerman is simply too slow), the roster needs three defensive midfielders, Benji Joya, and four attacking midfielders.
Selecting Diskerud, Corona, Joya, and two new defensive midfielders is something that the USMNT needs to do.
Turning to Klinsmann's selections in the defense, there has been a tendency to not select eight defenders, and there has been a disturbing tendency to basically never select at least three to four natural outside backs.
Klinsmann has been selecting Brad Evans and DaMarcus Beasley as outside backs, and while Evans has proven that he has the technical ability and the athleticism to play at the international level as a central midfielder, using him as a right back can't be the U.S.' best option.
Therefore, Klinsmann needs four center backs and four outside backs who are naturally suited to play those positions and who have the requisite tools and physical gifts to play those position against strong international competition.
World Soccer Source has always contended that Klinsmann's selections in the defense are not as good as they could be, and any real improvement to the Back Four will require using a better Back Four than Brad Evans, Omar Gonzalez, Matt Besler, and DaMarcus Beasley.
Using DeAndre Yedlin, Geoff Cameron, John Anthony Brooks, and Chris Klute would be a better defensive back four in terms of defending, technical ability, and athleticism. With those four defenders as starters, the roster still needs two more outside backs and two more center backs.
This writer contends that Shane O'Neill and Gale Agbossoumonde are better center backs than Omar Gonzalez and Matt Besler, and this writer also contends that Andrew Farrell and Kofi Sarkodie are better outside backs than Brad Evans and DaMarcus Beasley.
As far as playing World Cup competition goes, Evans, Gonzalez, Besler, and Beasley can hardly be described as experienced defenders against that level of competition. Using that Back Four is itself a gamble against top national teams, and it's a bigger gamble than letting the inexperienced but better new defenders start.
As for the forwards, Jozy Altidore, Aron Jóhannsson, Juan Agudelo, and Terrence Boyd are the best four according to this writer, and all four of those strikers can score against even the best national teams.
The qualities that all four of those strikers possess make it a priority to include them all on the World Cup roster, and they deserve to have midfielders who can provide them with the quality service that they need to not be stranded up top without seeing many touches on the ball.
Below is a 23-man USMNT World Cup roster proposal, which has the correct amount of players of every position:
GOALKEEPERS: Tim HOWARD, Brad GUZAN, Clint IRWIN
CENTER BACKS: Geoff CAMERON, John Anthony BROOKS, Shane O'NEILL, Gale AGBOSSOUMONDE
OUTSIDE BACKS: Chris KLUTE, DeAndre YEDLIN, Andrew FARRELL, Kofi SARKODIE
DEFENSIVE MIDFIELDERS: Michael BRADLEY, Amobi OKUGO, Jared JEFFREY
ATTACKING MIDFIELDERS: Clint DEMPSEY, Landon DONOVAN, Joe Benny CORONA, Mix DISKERUD, Benji JOYA
STRIKERS: Jozy ALTIDORE, Aron JÓHANNSSON, Juan AGUDELO, Terrence BOYD
*SNUBS: Benny FEILHABER, Freddy ADU, Fabian JOHNSON, Jermaine JONES, Matt BESLER, Eddie JOHNSON, Omar GONZALEZ, Michael OROZCO, Jonathan SPECTOR, Eric LICHAJ, Timothy CHANDLER, Herculez GOMEZ, Maurice EDU.
World Soccer Source's Preferred USMNT Starting XI:
Guzan; Yedlin, O'Neill, Cameron, Klute; Bradley, Joya; Donovan, Corona/Diskerud, Dempsey; Altidore.
Selected Highlights of Various Players on World Soccer Source's Roster: