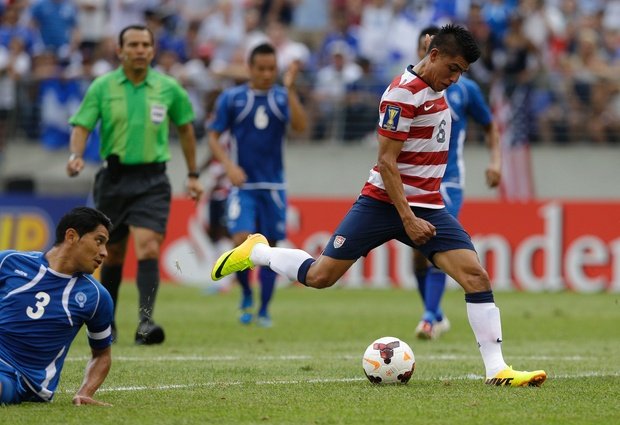 USMNT Best XI (November 2013)
World Soccer Source's USMNT Best XI for November of 2013 is a 4-1-3-2 formation featuring Brad Guzan, DeAndre Yedlin or Andrew Farrell, Shane O'Neill, Geoff Cameron, Chris Klute, Michael Bradley, Joe Corona, Mix Diskerud, Clint Dempsey, Jozy Altidore, and Aron Jóhannsson.
GOALKEEPER: Brad GUZAN
Tim Howard excels at making point blank miracle saves, but he also stands on his goal-line even when the ball is floating in the air only six yards off his goal line. One should be cautious when criticizing goalkeepers because goalkeepers don't have the luxury of having anyone behind them to make up for their mistakes. Tim Howard and Brad Guzan are probably equals, but Guzan just might be a version of Howard who has better instincts about when he needs to come off his goal line.
RIGHT BACK: DeAndre YEDLIN / Andrew FARRELL
For all of the deserved praise that DeAndre Yedlin has received, Andrew Farrell is a terrifying defender for any level of soccer. Not many American soccer players can be described as terrifying, but Farrell is a monster of an athlete who possesses a great technical skill-set and the willingness to storm forward with reckless abandon. Farrell is a better defender than Yedlin who himself has evolved into a strong tackler and a good marker. Yedlin and Farrell are both known for speed and technical ability, but Farrell is the right back who tackles like a freight train without the reckless and criminal butchery of Jermaine Jones. Farrell is really a center back, and playing him at center back some is something that the United States Men's National Team needs to do. If the USMNT has Yedlin and Farrell, then Farrell's speed, defending, size, and technical ability are greatly needed in the center of the defense, especially when Geoff Cameron is being used as a midfield destroyer partner for Michael Bradley's box-to-box defensive midfielder role.
CENTER BACK: Shane O'NEILL
Shane O'Neill is better than Matt Besler, Omar Gonzalez, and Clarence Goodson. That's not a widely held belief among American soccer fans and the American soccer media, but it is nevertheless the truth. The other three center backs have nothing close to the defensive fundamentals and athleticism as Shane O'Neill, and O'Neill is a tall player. To top it off, O'Neill is a better soccer player than Besler, Gonzalez, and Goodson, and O'Neill is a player of Cameron's technical ability and agility.
CENTER BACK: Geoff CAMERON
All center backs are heavily criticized for any mistake, but Geoff Cameron along with Shane O'Neill is the best American center back. Cameron brings the ability to mark slippery attackers with his agility and speed, and Cameron is a towering defender whose control of the ball is normally seen in much shorter players. Too good not to start as a center back or a defensive midfielder, especially for the United States. With Jürgen Klinsmann's inexplicable decision to not cap-tie John Anthony Brooks when he had the chance, Cameron and O'Neill are the best American center backs for now.
LEFT BACK: Chris KLUTE
Chris Klute is the only American left back of any consequence, but he is an excellent left back despite the dearth of competitors. Fabian Johnson has never shown the same ability to track back on defense, mark, or tackle like Klute. Klute has world-class speed, and his crossing and passing ability is much more refined than merely sending crosses in the general vicinity of his teammates in the penalty box. Klute crosses with soft chips with both feet, and he also plays harder crosses directly to the head or feet of his teammates. Klute has shown a strong ability to execute clean tackles from a sprint, but he has also proven an ability to mark and defend opponents who try to take him off the dribble from a standstill either through tricks, changes of pace, or by trying to lose him by twisting and turning around him.
DEFENSIVE MIDFIELDER: Michael BRADLEY
One defensive midfielder in the Starting XI is probably enough for the United States to succeed because it means that the USMNT Starting XI has five defensive field players and five attacking field players. By playing deep, Bradley can break up the passing of the opposition, collect the ball from the Back Four, and help to orchestrate the passing of the United States from the back of the midfield. With players like Yedlin or Farrell and Klute making overlapping runs and participating in the attack, Bradley covers for both outside backs and plugs the gap between the two center backs. There's no law that says a national team has to use two defensive midfielder, and Cameron, O'Neill, and Bradley defending down the middle is an acceptable and sound tactical game plan. Bradley is a defensive midfielder, but he is also a technically-skilled and complete midfielder who is a key component of the United States' passing and attacking play. Labels are often meaningless, but Bradley is a defensive midfielder who defends when needed and attacks when needed.
RIGHT ATTACKING MIDFIELDER: Joe CORONA
Joe Corona is likely a more creative attacking midfielder than Landon Donovan, and he is more equipped than Landon Donovan is to combine with Michael Bradley, Clint Dempsey, and Mix Diskerud to play final balls for Jozy Altidore and Aron Jóhannsson.
In short, the USMNT doesn't need Donovan in the Starting XI to score goals if Clint Dempsey, Jozy Altidore, and Aron Jóhannsson are all starting.
Corona's game is more based on one-to-two touch passing than Donovan's, whose game is based on speed. Donovan is an excellent player, but Corona is a better passer and playmaker; Corona can also score.
CENTRAL ATTACKING MIDFIELDER: Mix DISKERUD
Jürgen Klinsmann used to not use true playmakers until very recently, but Diskerud has shown time and time again that he brings a level of effortless passing, technical grace, vision, and a surprising level of quickness: all of which the United States needs to get the most out of Michael Bradley, Joe Corona, Clint Dempsey, Jozy Altidore, and Aron Jóhannsson. Diskerud also knows how to score. It's yet to be determined who the best American playmaker is, but Diskerud has certainly shown recently just how much the USMNT was missing a skilled playmaker. Tall, smooth, and creative, Diskerud is a player who connects Michael Bradley to the U.S.' other attacking midfielders and forwards.
LEFT ATTACKING MIDFIELDER: Clint DEMPSEY
The best soccer player ever produced by the United States has been on the receiving end of the usual baseless criticism about trying to force too much and being selfish. Dempsey is still the most technically-skilled American soccer player who matches his skill with his intensity, toughness, and his desire to win. Dempsey is an automatic starter. Deuce Dempsey is the most elite and the most effective of all American soccer players.
STRIKER: Jozy ALTIDORE
Jozy Altidore has recently developed into a complete striker who has earned his starting spot. Having several skilled and athletic strikers is a good problem for the USMNT, but Altidore's tremendous development over the past two seasons makes him a starter for the USMNT. Marking someone of Altidore's skill, size, strength, and speed will be a problem for any defense. Furthermore, starting him alongside his ex-teammate, Aron Jóhannsson of AZ Alkmaar seems like a great idea for a national team that struggled to score goals for years. Nevertheless, Juan Agudelo is coming.
STRIKER: Aron JÓHANNSSON
Aron Jóhannsson, Jozy Altidore, Juan Agudelo, and Terrence Boyd are all way too good for the United States to only start one center forward. Jóhannsson's play with AZ Alkmaar in Holland along with his play for the United States Men's National Team whenever he has been used make him simply too good to not make room for in the Starting XI. In addition to a laundry list of goal highlights for AZ Alkmaar, Jóhannsson scored a ridiculously difficult golazo to beat Panama in the last game of World Cup qualifying, and he did it like it was nothing.