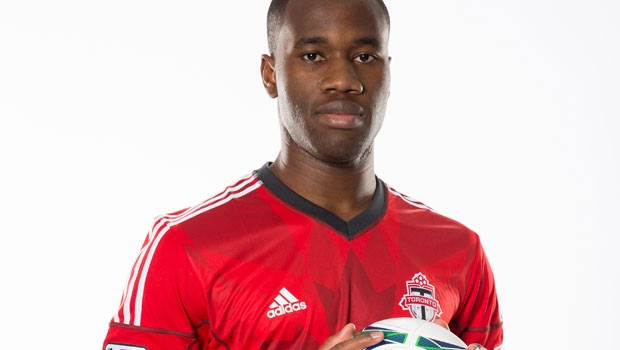 With the caveat that the United States Men's National Team is clearly not as good as Germany, Brazil, Spain, Italy, France, Chile, Argentina, Colombia, Nigeria, and the like, the United States does actually have too many good players than it can fit on its national team.
While everyone knows the United States has plenty of excellent goalkeepers, the United States actually has more qualified defenders than it has roster spots. At center back, the United States has Geoff Cameron, John Anthony Brooks, Shane O'Neill, Michael Orozco, George John, Omar Gonzalez, Matt Besler, Maurice Edu, Gale Agbossoumonde, Andrew Farrell, Amobi Okugo, and Caleb Stanko, and that's more than four talented center backs.
This writer considers Cameron, O'Neill, and Brooks to be better than Gonzalez and Besler, but Gonzalez and Besler are much better than many of the center backs who played for the United States in the past, with the exception of Eddie Pope and Jay DeMerit. Besler is somewhat one-footed, but he can certainly use his weaker right foot; Besler is also deceptively fast.
Gonzalez has been criticized for making some mistakes, but that's the nature of the beast when you are the last line of defense. Gonzalez has shown his technical ability, his aerial ability, his ability to time his tackles well, and a good baseline of athleticism. Gonzalez might not have as much lateral quickness as Cameron, but Gonzalez isn't a lumbering mastodon.
Gonzalez and Besler are good center backs, but they very likely aren't the best.
Brooks' club resume and his outing against Bosnia and Herzegovina showed that he was likely a level above both Gonzalez and Besler, and Brooks does wish to play for the United States, even though Germany might strongly consider him an option for the near future.
Klinsmann didn't cap-tie Brooks in a recent World Cup qualifier when he had the chance, and that was likely a big mistake.
As for the other center backs, Orozco has shown a level of defensive timing and positional sense along with speed and technical ability that was clearly international-caliber, and Edu put in a performance against Mexico in Estadio Azteca with Cameron that showed that Edu was also capable of marking forwards like Chicharito while also possessing the requisite technical ability to play at the international-level.
Edu occasionally plays some hospital balls, but his fundamentals are still respectable by international standards, plus his athleticism is a huge asset against the better attackers of the world.
Agbossoumonde is inexperienced at the international-level, but he has shown that he has the tools needed to be an international-caliber center back. Agbossoumonde's technical ability, defending, physical gifts, and athleticism have also received enough praise from a variety of respected coaches in American soccer to consider him to be a legitimate option for the USMNT.
Finally, Amobi Okugo and Caleb Stanko have impressed enough people and displayed enough talent at the club and international level to be considered potential options for the United States either as defensive midfielders or as center backs.
The outside back positions have correctly been identified as a weakness by this writer and basically everyone writing about American soccer, not to mention all of the fans and neutral observers, but the United States does have outside backs.
Timothy Chandler and Fabian Johnson, both German-Americans, are obviously legitimate outside backs at the international level, and Jonathan Spector and Eric Lichaj have shown that they too have all the qualities needed to play well at the club and international level.
Support for some of the new MLS outside backs like Chris Klute, DeAndre Yedlin, and Andrew Farrel has picked up steam over the course of this MLS season, and each of them is arguably better than the other outside back options because not only are they technically-skilled two-way outside backs, but their athleticism eclipses that of all the other options mentioned above.
Furthermore, Kofi Sarkodie, Zach Loyd, Edgar Castillo, Kellyn Acosta, and several other outside backs from the youth ranks or in MLS have shown enough defensive skill and technical ability to make them at least worthy of being seriously considered, and Castillo has recently shown an improved ability to tackle, mark, and use both feet.
Therefore, the United States doesn't have too many defenders, but there are a lot of defenders mentioned in this article that deserve to been put in a situation where they can been evaluated by the USMNT's coaching staff when they are in the same training camp, so that the coaching staff can see how they compare to one another.
Shane O'Neill, John Anthony Brooks, Michael Orozco, and Gale Agbossoumonde deserve the chance to try and beat out Matt Besler and Omar Gonzalez, and Andrew Farrell, Chris Klute, and DeAndre Yedlin deserve the chance to try and beat out Brad Evans, DaMarcus Beasley, Edgar Castillo, and Fabian Johnson.
Jürgen Klinsmann owes it to the fans and to the United States Soccer Federation to prove that his defenders are better than the newer defenders who have clearly shown that they just might be better than Klinsmann's normal picks.
If there is a real contest, then Cameron, Brooks, O'Neill, Agbossoumonde, Farrell, Klute, Acosta, and Yedlin will likely at least beat out Besler, Gonzalez, Goodson, Evans, and Beasley.