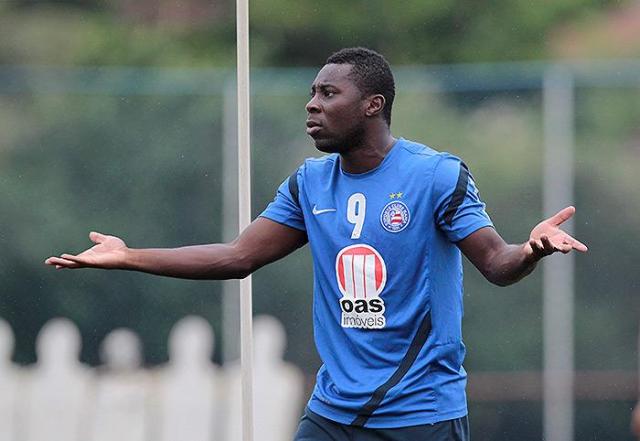 Two things are clear about Freddy Adu: 1.) his technical skill-set, passing, and 1v1 abilities are very rare for an American (even if he is from Ghana); and 2.) Adu has been sold or loaned from club to club where he often saw lots of coaching changes.
Adu isn't free of some flaws in his game, and these will be discussed later in this article.
In the recent takedown piece from LANCE!NET, the writer of the article, Igor Sigueira, (writing from Rio de Janeiro) wrote that the reason that Adu was not going to have his contract renewed was "technical deficiency," but no coach was quoted as saying that.
The article itself was entitled "Bahia is going to release Freddy Adu who adds another failure to his career," which implies that the purpose of the article was to trash Adu.
http://www.lancenet.com.br/minuto/Bahia-dispensar-Freddy-Adu-carreira_0_1025297465.html
In fact, the quote from the technical director stated that they felt that other players were better than Adu, and this is different than saying that someone doesn't have the requisite technical ability to play in Brazil. Nevertheless, many articles emerged in the United States saying that Bahia would not be renewing Adu's contract because of a lack of technical ability, which is simply not what any member of Bahia was quoted as saying in the article.
This was the belief of the writer of the article, Igor Siqueira. While Siqueira is entitled to draw the conclusion that the comments about Adu implied that the technical director or "director of soccer", Anderson Barros, felt Adu didn't have the required skill-level, no one at Bahia was quoted in the LANCE!NET article as saying that Adu's problem was a lack of the needed technical ability.
In fact the exact quote was this:
"Ele não joga porque entendemos que outros são superiores e aí ele não teve tantas oportunidades assim. Vai acabar o contrato e o Adu vai seguir a vida dele. Vai ficar livre para procurar outro clube." This quote means: "He doesn't play because we know (literally, understand) that others are superior and so he didn't have many opportunities due to that. His contract is going to end and he's going to continue on with his life. He'll be free to look for another club."
Turning to Adu's reputation in the United States, the reason why Freddy Adu has so many critics is that he displays a prolific skill-set for an American soccer player, which rightly makes people have very high expectations of him. Expecting a lot from a player of his technical quality and quickness is fair, but there is a double-standard applied to Adu that other American players aren't subjected to.
In many ways, Clint Dempsey is also the subject of a lot of criticism and cheap shots from American soccer writers, pundits, and fans. Dempsey is frequently openly disrespected by the American media, despite his outstanding club and international resume for an American soccer player, and it should be said that playing for seven seasons in the English Premier League and scoring as many goals as he did as a midfielder is a great achievement for any player.
Dempsey and Adu are similar in their willingness to try tricks or low percentage passes or flicks that most American soccer players aren't willing to try, so when these flashes of imagination fail, the critics pounce.
Unlike Adu, Dempsey has a very consistent and impressive club resume in terms of goals, performances, and playing time, but Adu deserves a certain level of respect for playing for Benfica and Bahia.
Whatever you think of Freddy Adu, not many Americans or soccer players of any nationality would have been signed by Benfica or a Brazilian club in the Brasileirão, and that's a testament to his skill-level.
While Clint Dempsey disproved the belief that soccer players born and raised in the United States couldn't play creative, skillful, and world-class soccer, Freddy Adu's early childhood spent in Ghana playing pickup soccer or whatever you wish to call it has to be given much of the credit for his playing style and ability.
Nevertheless, Freddy Adu lived in the United States as long or longer than he lived in Ghana, and he was able to further cultivate his touch, tricks, vision, passing ability, and shooting in the United States.
Adu's quick and inventive passing combined with his trickery and scoring ability make him a rare commodity among American soccer players, but he does have a few areas of his game that need to be improved.
As Adu looks to play one-to-two touch soccer based on passing and moving with creative play, he frequently appeared to get frustrated with his former teammates in MLS' inability to quickly receive and release passes, in addition to their failure to make runs into the pockets of space where he played passes for them.
Given this problem of playing with many players in the United States who were unable to play up to his level, the thing Freddy Adu needs to do if he comes back to MLS is to continue to make runs, show for the ball, and display lots of movement off the ball, even when his teammates aren't playing the more advanced style of soccer that he plays.
Adu must continue to make runs and demand the ball whether or not his teammates are passing and moving in order to facilitate a superior brand of play.
One thing that was apparent with the Philadelphia Union was that Adu would frequently play first time passes into space for his teammates after they passed to him, and they just didn't continue their runs or even see the space available to them.
The frequency with which scenarios such as the one described above occurred caused Adu to be frustrated, and they caused him to frequently begin to start running less or become less active off the ball after his teammates were struggling to play a more advanced school of soccer.
Recently with Bahia, Adu saw many coaching changes, and the current coach, Cristóvão Borges, either didn't rate Adu or he saw Adu as a less important bench player than players of other positions. In short, Cristóvão made a point of frequently using most of his bench spots for players who weren't attacking midfielders.
Ivan Dias Marques of CORREIO described Cristóvão (as he's known in Brazil) as a defensive-minded coach, and many of the professional reporters and journalists in Salvador such as Ivan Dias Marques, Pedro Sento Sé, Miro Palma, and Felipe Santana took to Twitter on several occasions to voice their belief that Adu deserved more playing time based on their evaluations of him in person at practices.
With Bahia's games basically only available in the United States via streaming with poor video quality, it's difficult to really draw any strong conclusions about Adu's play in Brazil since he rarely played, and his coach didn't rate him. Coaches frequently have their favorites, and maybe Cristóvão had a justifiable reason for not playing Adu.
Even Adu's critics and detractors are quick to concede that Adu has the talent and the quickness to play at a high level and for the United States, but many critics don't value Adu's creativity and technical-ability very much because they view him as a player that doesn't play enough defense or that doesn't show enough running and movement off the ball.
World Soccer Source views Adu as a special talent that has the ability to excel even against elite competition, but World Soccer Source also concedes that fair or not, Adu might need to display some more movement off the ball and a greater urgency to stamp his imprint on games when his teammates aren't passing and moving in a fashion that he feels is the correct way to play soccer.
The United States Men's National Team has other playmakers such as Benny Feilhaber, Joe Corona, and Mix Diskerud, but Adu is too talented to close the book on.
Either Freddy Adu himself or his next coach should make a point of encouraging Adu to show more movement and urgency in games with disorganized passing and lots of long balls. Additionally, Adu like all players has areas of his game that could use some improvement.
For the most part, Adu knows when to dribble, when to pass, and when to look to shoot, but certainly any player could benefit from a thorough evaluation of their play, in order to correct any weaknesses in their play.
Based on Freddy Adu's play with Michael Bradley, Landon Donovan, Clint Dempsey, and Jozy Altidore, in addition to Joe Corona, Juan Agudelo, and Mix Diskerud, it would appear that Adu is certainly a player who performs well and thrives with players of their technical ability and playing style, but some coach or trainer would be wise to maximize Adu's abilities by improving any areas of his game that are causing him to not see enough playing time or to garner so much criticism, even if he receives equally as much praise from supporters.
The United States is experiencing the deepest player pool in its history, but Freddy Adu is still a special talent who can be very useful to Jürgen Klinsmann, the USMNT, and MLS if those people and entities learn how to take his talents and improve them. After all, the job of a coach is to teach and improve players, as well as offering constructive criticism and observations.
Real change comes from the player himself, but much of the criticism of Freddy Adu is excessive especially when clearly inferior players such as Brad Davis, Kyle Beckerman, Graham Zusi, Sacha Kljestan, and José Torres are playing for or being call up to the USMNT with some frequency.
All of those players are respectable professional players who have done well in their careers, but as long as players such as Freddy Adu, Benny Feilhaber, Joe Corona, and Mix Diskerud are all not seeing significant minutes with the full-strength USMNT on a consistent basis, there is a systemic problem with Klinsmann's USMNT that goes deeper than freezing out Adu: an undervaluing of creative midfielders who are natural playmakers.